Introduction
Which is the best 64GB microSD card out there? Yup, I want to know the answer too because I want to use it on my latest gadget ~ Samsung Galaxy S4. Therefore, I got myself a 64GB Samsung microSDXC Pro UHS-1 Card. It is Samsung fastest microSD card with UHS-I support (Class 10) which provides up to 70 MB/s read and 20 MB/s write speed. And it is waterproof, shockproof against small drops, X-ray proof, magnet-proof and temperature-proof to extremes. How does 64GB Samsung microSDXC Pro UHS-1 Card perform? Let's find out…
Performance Results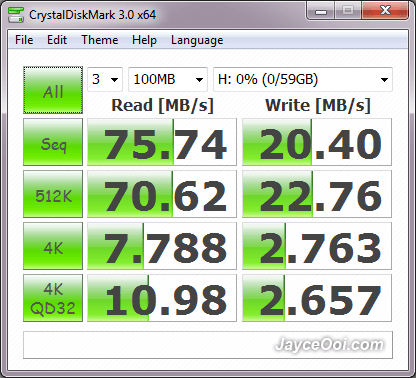 64GB Samsung microSDXC Pro UHS-1 Card manages to get 75.74 MB/s reading and 20.40 MB/s writing in sequentially on CrystalDiskMark disk benchmark software. No surprise here as it have extra 5 MB/s reading speed of official specifications and same writing speed. However, random reading and writing speeds do look good here.
Err… Samsung Galaxy S4 micro SD card slot is not UHS-I enabled. So 64GB Samsung microSDXC Pro UHS-1 Card performance is lower on Galaxy S4 because can't use UHS-I feature. Only get 36.6 MB/s sequential reading speed and 16.5 MB/s sequential write speed.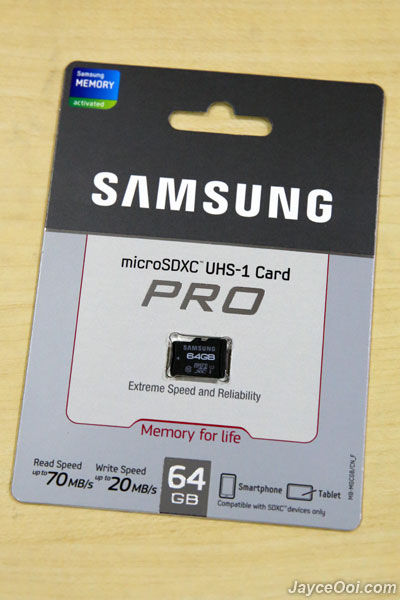 Conclusion
64GB Samsung microSDXC Pro UHS-1 Card is a nice addition to your smartphone and tablet. Lot of disk space for movie, music and other more. And high reading and writing performance on UHS-I supported device. This surely shortens file transferring time and improves overall performance on your device.
Interested? You can grab one here.