Introduction
I love my SonicGear Pandora Neo Classic 800 speaker. Meet the junior – Pandora Mini New. Like its bigger brother, it is loaded with FM radio, MP3 player (TF-card & USB port) on top as a Bluetooth speaker. And powered by 400mAh lithium battery for continuous music playback up to 4 hours. Can it keep up like the big brother? Let's find out…
Features
Bluetooth wireless music playback
Built-in FM receiver
Built-in USB slot: MP3 music playback
Built-in TF-card slot: MP3 music playback
AUX-in audio output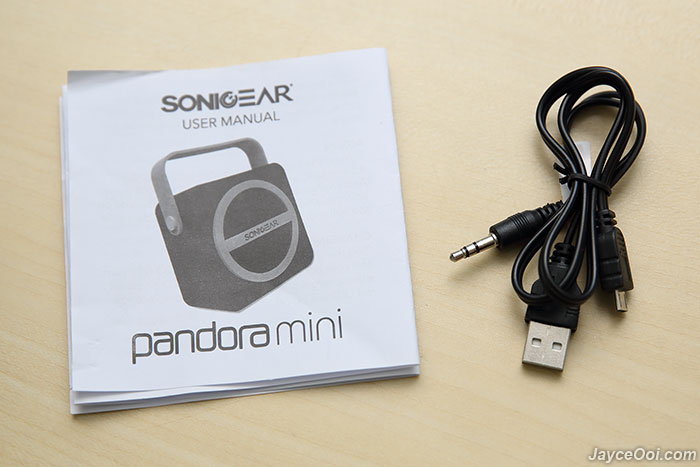 Package Content & Design
There are Pandora Mini New, 2 in 1 micro USB & AUX cable and user manual in the package. Hmm… Why include 2 in 1 cable? Because there is no AUX in port. You need to use micro USB port as AUX in port. Not a deal breaker here as you just can't use normal AUX cable. Build quality is solid for this budget Bluetooth speaker. The blue parts are plastics. Speaker grill is metal. However, I am not sure about the tough housing material. Just refer to below photos to know more.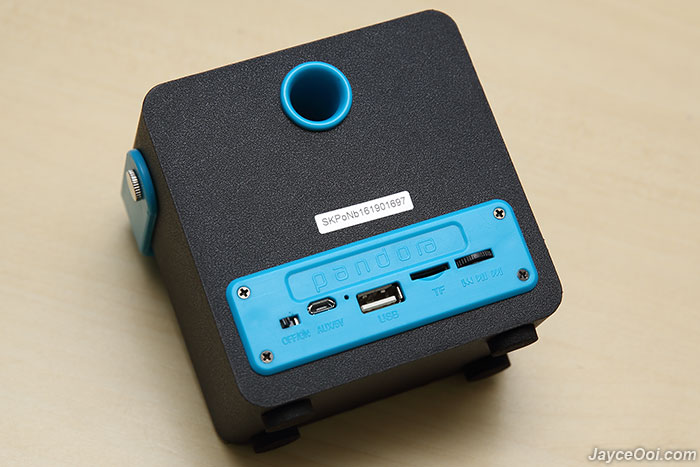 Specifications
BLUETOOTH: Version: 2.1 + EDR
Support HSP, HFP, A2DP and AVRCP
Battery: 400mAh lithium – up to 4 hours operation @50% volume
Driver size: 2.5" Full range
Frequency response: 150Hz ~ 18KHz
Impedance: 4Ω
Total system power: RMS 5 Watts
Performance Result
Pandora Mini New Bluetooth range is great. Exceeds the standard 10m Bluetooth range in straight sight line with no obstacle easily. Up to 7m with obstacles. And Bluetooth media controls work well too. Yes, you can use the multi-function button to control track, volume, playback and change mode (MP3, FM, Bluetooth) too. The built-in MP3 player works as advertised. Yup, plug in micro SD card or USB flash drive and you are ready to rock the world. However, FM radio does not work well (or at all at most location) without external antenna. Yes, the 2 in 1 cable get another function here as external antenna.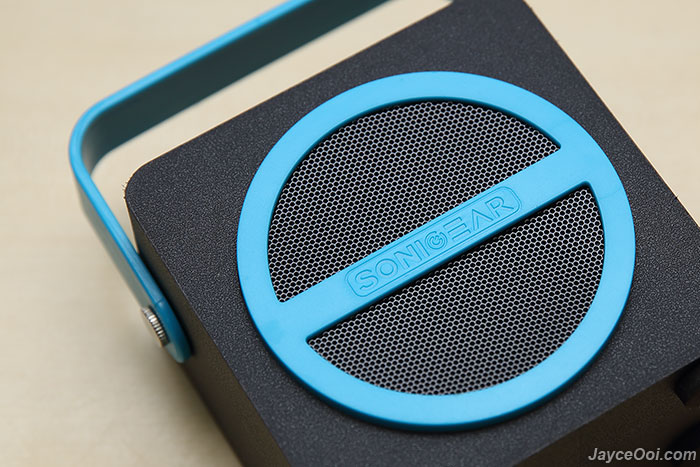 Hmm… This is my 3rd device that have charging LED indicator issue lately. Yes, the red charging LED indicator keep light up even it was fully charged. My USB volt meter did not detect any voltage intake after reached 200mAh in an hour. Yup, you did not read it wrong. It's 200mAh. Not 400mAh as per specs. Therefore, I am getting 1 and a half hour of non-stop music playback only. As usual, tests were done with average room sound level through Bluetooth connection. Battery life will be shorter when play louder.
Lastly, the sound quality is okay at this price point. Overall, you have bright sound signature from it.
Advantages
Great Bluetooth range
Built-in FM radio
Built-in MP3 player (USB & microSD)
Decent build quality
Take it anywhere you like
Limitations
Very poor battery life
FM radio won't work without external antenna
Conclusion
SonicGear Pandora Mini New is a budget Bluetooth speaker that loaded with multiple playback functions. Ease to carry around. And sound nice too. However, its terrible battery performance crushes them all. Still need more information, do check out SonicGear Website then.