Sprint HTC EVO 4G is one of the best Android phones out there. I wish that I can own it but it is for US only. It is a nice phone but can be improved further with some tweaks and hacks. Below are the tweaks and hacks that I found so far. Let me know if I left out anything important. I will update it then.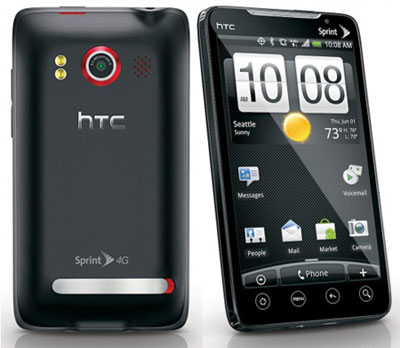 1. How to root HTC EVO 4G? – To get more than 100% ability from HTC EVO 4G, you need to root it. Rooting will provides full access to its system files which allow you to modify the phone's firmware and install third party applications, themes and custom ROMs. Custom ROMs usually come along with lot of nice tweaks and hacks. In addition, lot of best third party applications can be used too. Do be careful when rooting, you don't want to brick your precious HTC EVO 4G. Get the guide here.
2. How to install Android 2.2 Froyo on HTC EVO 4G? – Don't wait for HTC official release. It will take sometimes. Just like HTC HD2, I am still waiting for Windows Mobile 6.5.3 version and getting nothing yet. If you want to enjoy the latest and greatest Google Android 2.2 Froyo now, get the unofficial one here (Note – 4G and camera are still not working yet for EVOlutionV9 and EVOlutionX2). Or wait for another half year…
3. How to increase HTC EVO 4G battery life? – HTC EVO 4G is a battery eater like its elder brother ~ HTC HD2 (due to its large screen I think). There are some tweaks to improve the battery life like reduce brightness and display on-time, close the applications that are not in use, turn off wireless functions like 4G, WiFi, Bluetooth, Mobile Hotspot and GPS when not in use. Try to undervolt it with the guide here. It should help to reduce battery drain. Or overclock it (but this will eat more battery)…
4. How to enable wireless N on HTC EVO 4G? – HTC EVO 4G wireless chip support 802.11n WiFi but HTC disabled it by default. Luckily, there is a hack to enable it back. The WiFi performance will be improved and like never before. Grab the guide here to get better and faster connection.
5. How to get FREE WiFi Tether Mobile Hotspot on HTC EVO 4G? – Why need to pay Sprint $30 per month when you can get it free? However, this android-wifi-tether hack is for those with root. As I said, rooting is important (No 1 hack). More info here.
6. How to install Swype on HTC EVO 4G? – Want to type (swype) like superman? Do install one of the sliding inputs ~ Swype. It provides a faster and easier way to input text on HTC EVO 4G. Grab it here. It is a must installed keyboard tweak.
7. How to install Droid X multitouch keyboard on HTC EVO 4G? – Besides Swype, here is another great multitouch keyboard input from the up coming Motorola Droid X. Download it here. And you can press more than one key at a time then. Holding down Shift key while pressing a letter key to capitalize it is possible now.
8. EnamoRED Theme for HTC EVO 4G – Sprint HTC EVO 4G outlook has some red behind. Therefore, a red colour theme like EnamoRED Theme is a match for it. A tweak for those wanted to have a new better look on their phone. Get it here.
9. How to uncap 30 fps graphics limit on HTC EVO 4G? – There was a xda thread mentioned about uncapped graphics limit (removed now). But you still can fight for it by contacting HTC and Sprint support, make some (or lot of) noises. Hopefully, they will come out a fix soon. More info here.
10. The last one. You name it. I will post it. 😉
Finally, thanks xda-developers for all the precious information. Enjoy your Sprint HTC EVO 4G…