Introduction
Hey guys, check out my very first M.2 Solid State Drive. Yup, 128GB Transcend MTS400 M.2 SSD is the star today. Its space-saving M.2 form factor (42mm) is ideal for mobile computing devices. And great for PC building perspective as it doesn't require separate data and power cables that essentially eliminates cable management. Supports DevSleep mode, S.M.A.R.T., TRIM and NCQ commands too. Sound great? Let's find out…
Special Thanks
This review is possible thanks to below companies. Be sure to check them out too…
Features
Space-saving M.2 form factor (42mm) – ideal for mobile computing devices
Supports DevSleep mode, which allows devices to completely shut down the SATA interface and conserve battery life, unlike existing partial/slumber states
DDR3 DRAM cache
Supports S.M.A.R.T., TRIM and NCQ commands
RoHS compliant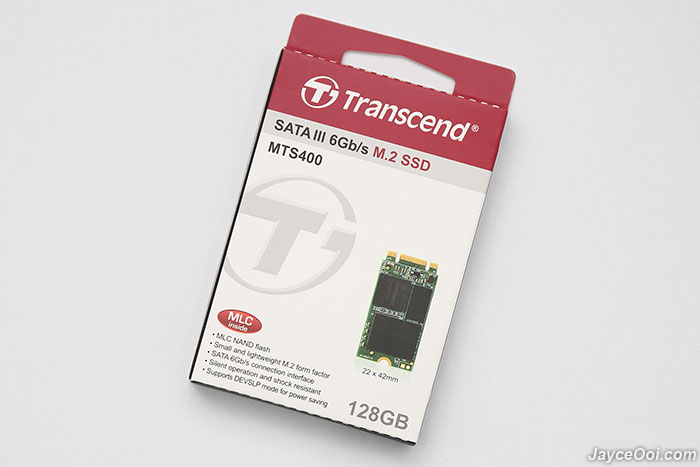 Package Content & Design
Transcend has lot of M.2 SSDs on both PCIe Gen3 x4 and SATA III 6Gb/s lines. And capacity from 16GB to 1TB in size. MTS400 model that I have is based on MLC NAND flash memory. Besides SSD, there are product brochure and warranty card in the package too.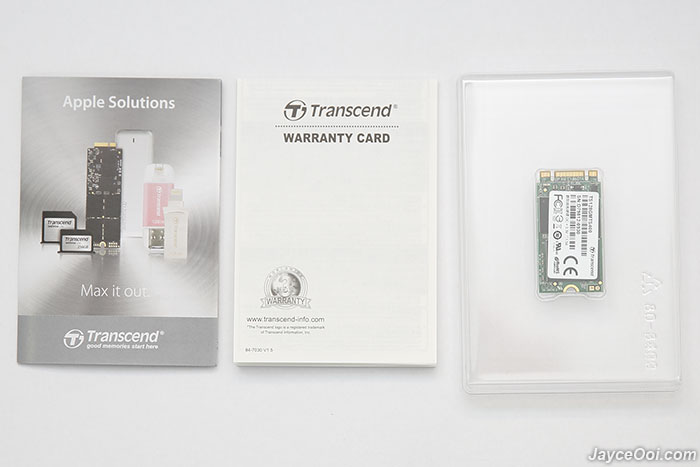 Transcend MTS400 M.2 SSD build quality is great. And back with 3 years warranty. Its ultra compact dimensions are perfect for use in today's modern Ultrabooks and thin, light notebooks. And virtually does not add any weight to your laptop with just 4g.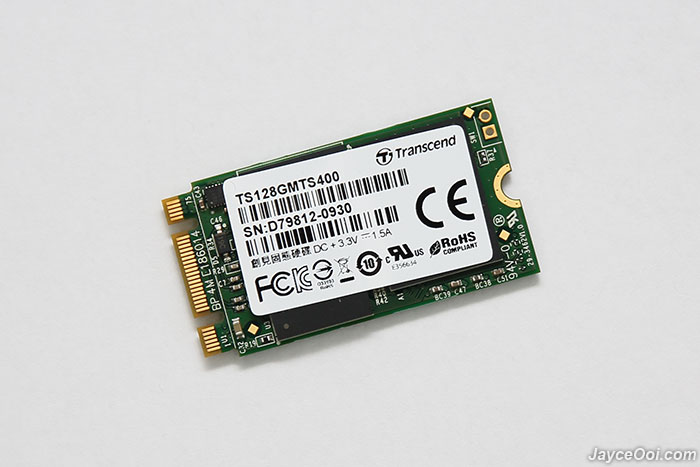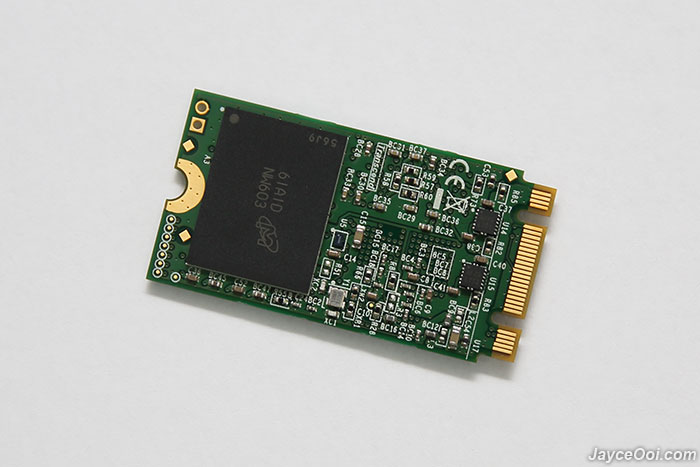 Specifications
Dimensions (max.): 42.0mm × 22.0mm × 3.58mm (1.65″ x 0.87″ x 0.14″)
Weight: 4g (0.14 oz)
Storage Media: MLC NAND Flash memory
Operating Voltage: DC 3.3V±5%
Operating Temperature: 0°C(32°F) to 70°C(158°F)
Performance: Read up to 540MB/s; Write up to 170MB/s
Certificates: CE, FCC, BSMI
Warranty: Three-year Limited Warranty
Performance Result
Transcend MTS400 M.2 SSD shock and vibration-resistant are perfect for notebook and other mobile computing devices. Mechanical HDD will stop function or files might get corrupted if keep on spinning when there is shock. Furthermore, it has a lot faster access time. You will get performance boost on Windows PC boot up, applications loading and of course faster on both reading and writing files. By the way, Transcend MTS400 supports Intel Smart Response Technology (ISRT), which allows you to configure your computer system with an SSD used as cache memory between the hard disk drive and system memory. This provides the advantage of having a hard disk drive for maximum storage capacity with SSD-like overall system performance.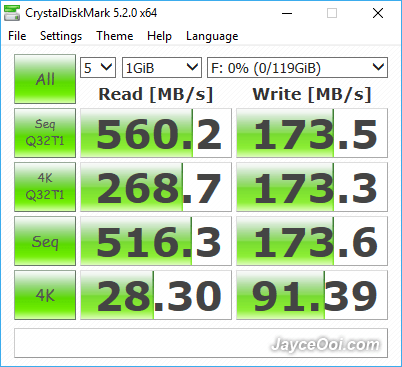 Transcend MTS400 performs align to its specs with sequential Q32T1 test with 560 MB/s read and 173 MB/s write on CrystalDiskMark. For your information, higher capacity will have better result – read up to 560MB/s and write up to 460MB/s.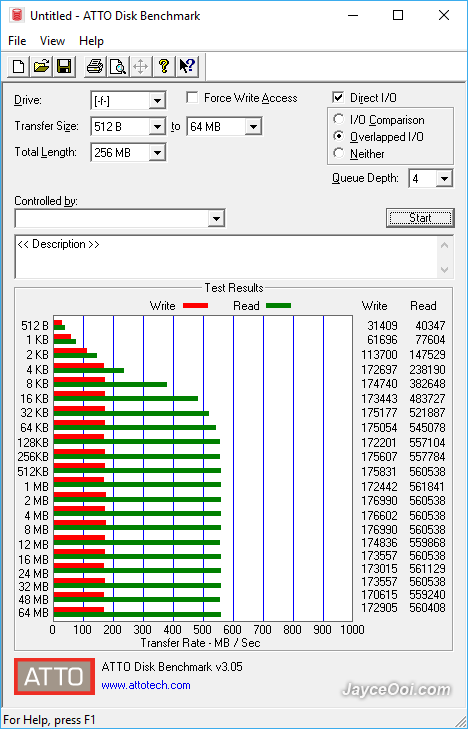 ATTO Disk Benchmark is getting the same result for both read and write tests like CrystalDiskMark.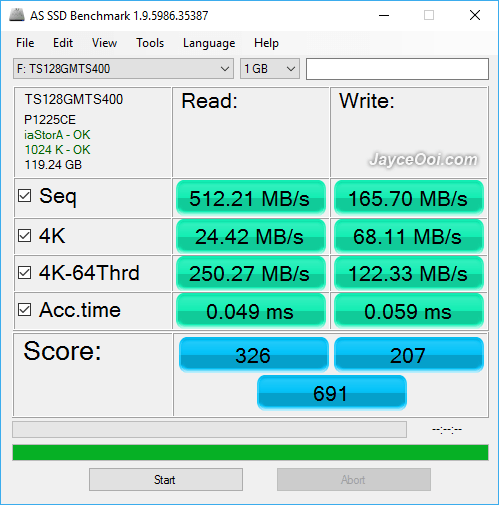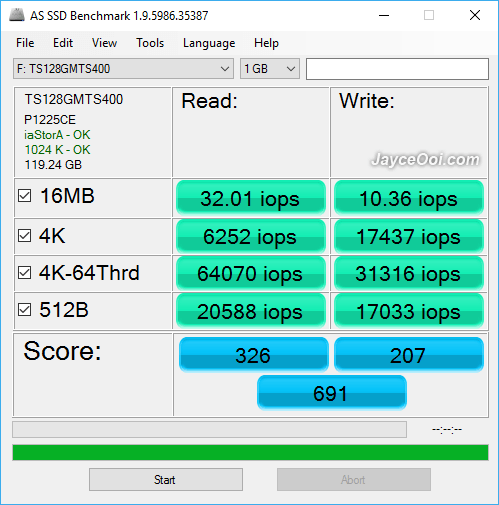 AS SSD Benchmark has slower reading speed compare to previous benchmarks which is common on all my SSD reviews. And very fast access time on both read and write at around 0.05 ms. FYI, normal HDD has 14 ms access time.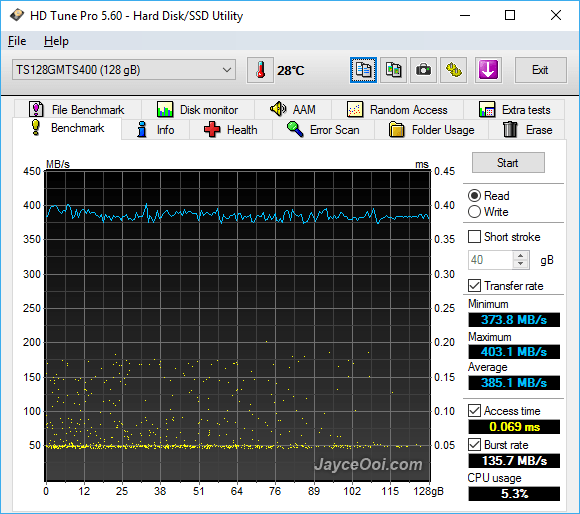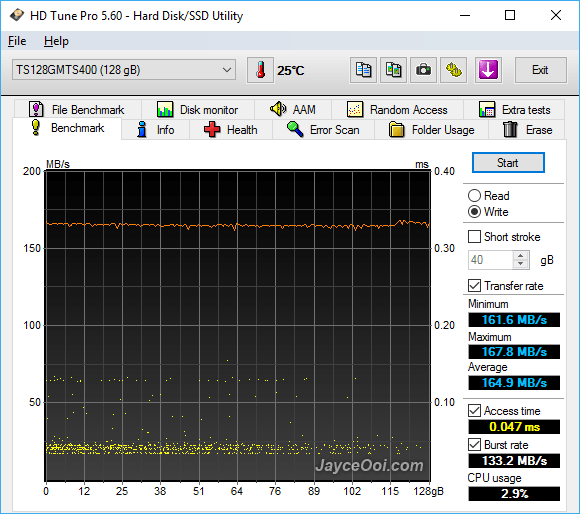 Transcend MTS400 performs very well in HD Tune Pro. I am getting consistent performance on both reading and writing. Unlike Kingston SSDNow UV400 SSD, it has plenty of SSD caching write buffer to keep on writing large files. Great for those who need to write a lot of files into SSD.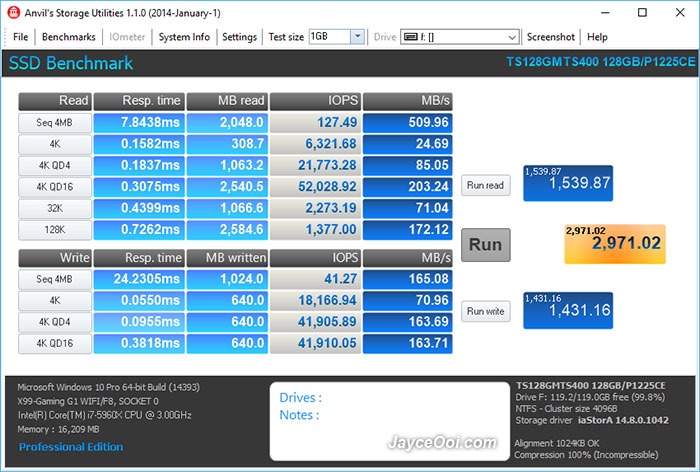 Anvil's Storage Utilities consists everything that you need to know from response time to IOPS. And it also provide the system information that been used for this benchmark. Yes, I am using Intel Core i7-5960X Processor Extreme Edition, Gigabyte GA-X99-Gaming G1 WIFI with 16GB of RAM and Windows 10 Pro 64-bit to run these tests.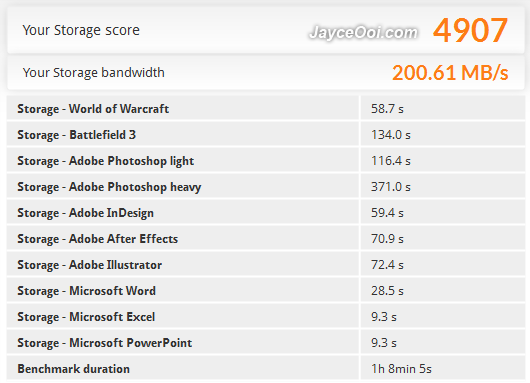 Transcend MTS400 is almost 20X faster than 7200RPM hard drive in PCMark 8 storage bandwidth test. FYI, my 3TB HDD scores 11.20MB/s only while Transcend MTS400 is getting 200MB/s here. And no worry about its average writing speed compare to other SSD with higher speed. You won't feel any different on daily casual usage (unless you write a lot of files). Do get higher capacity drive if you need more writing speed. It has 16GB, 32GB, 64GB, 128GB, 256GB and 512GB in capacities.
Advantages
Up to 560MB/s read & 173MB/s write
Shock & vibration-resistant
Ultra compact & lightweight
Excellent build quality
3 years warranty
Limitations
Average writing speed (for 128GB model)
Conclusion
Transcend MTS400 M.2 SSD is great for those strict size limitation of small form factor devices with its ultra compact dimensions. Value in price yet packed with high performance. Lot of capacity to choose from 16GB to 512GB for all your needs. What are you waiting for? Head to Transcend Website to get more information. And buy yours at Amazon.