Introduction
Prevention is always better than cure! Yes, that's why I have 1TB Transcend StoreJet 25MC portable storage to safe keep all my data from virus like WannaCry ransomware. StoreJet 25MC comes with a reversible USB Type-C cable for the next generation devices. Furthermore, it has three-stage shock protection system with durable anti-shock rubber outer case that meets U.S. military drop-test standards. Superior protection for your stored data and enjoy ultra-fast file transfer rates with SuperSpeed USB 3.0 interface. Sound great? Let's find out…
Special Thanks
This review is possible thanks to below companies. Be sure to check them out too…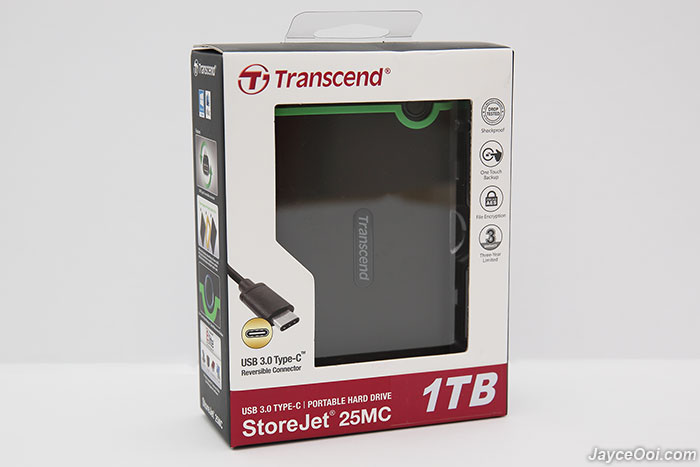 Package Content & Design
Transcend has several series of external portable hard drives – classic, rugged, cloud and for Mac. 1TB StoreJet 25MC (Iron Gray) falls into rugged series and comes with reversible Type-C connector. You can find StoreJet 25MC, microUSB 3.0 to Type-C cable, quick start guide (in multiple languages), warranty card and Transcend product brochure in the package.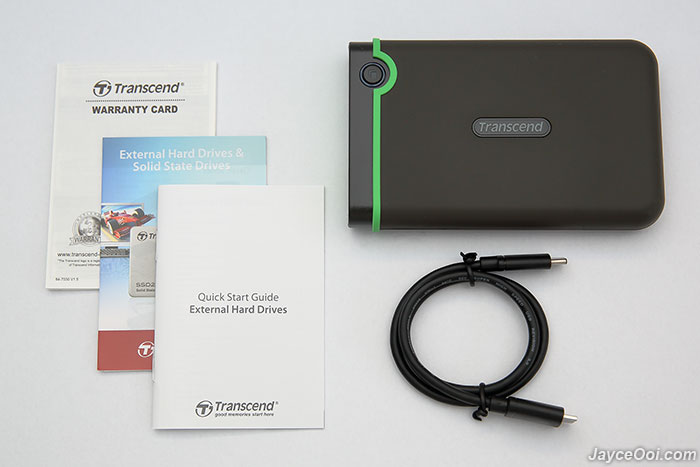 StoreJet 25MC build quality is outstanding. That's for sure as it is military-grade shock resistance (based on U.S. military drop-test standards MIL-STD-810G 516.6). No doubt here. In short, it has a sturdy plastic housing and covered with durable anti-shock rubber outer case (you can remove it too). It supports advanced 3-stage shock protection system. And has advanced internal hard drive suspension system.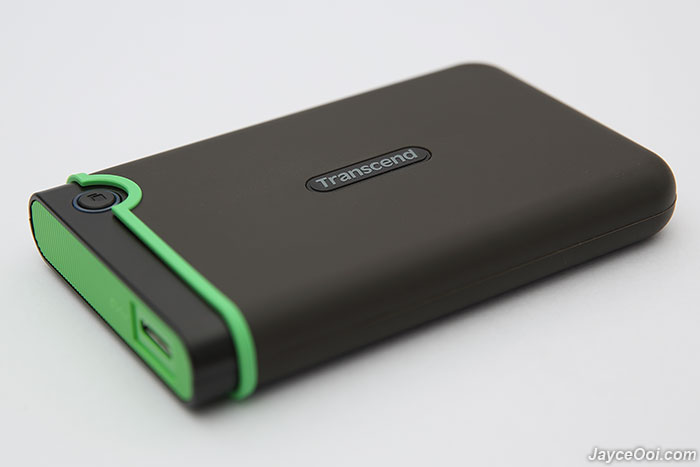 Yup, that's the One Touch Auto-Backup button (with LED light indicator) and microUSB 3.0 port. Note – Transcend Elite data management software is required in order for that function to work. 256-bit AES file and folder encryption are supported through that application as well.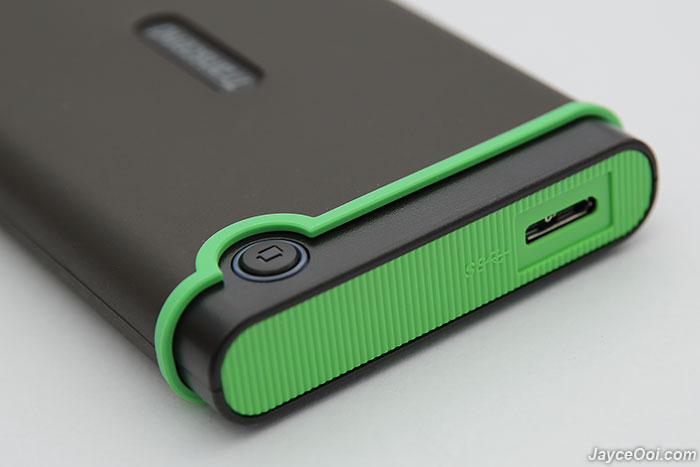 Here is the anti-shock rubber case that protect and provide grip while holding on hand too.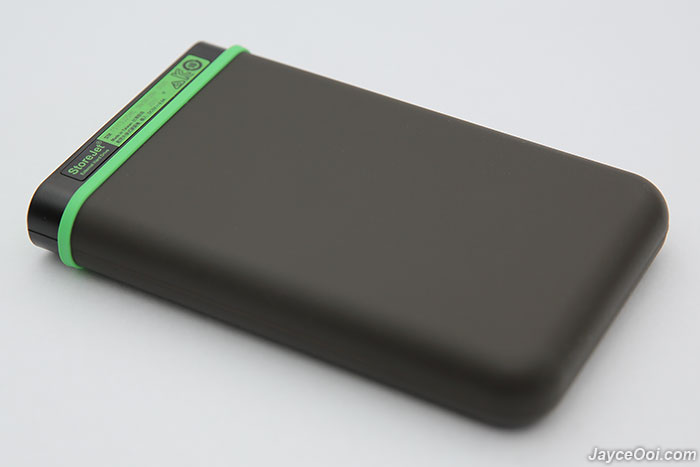 Software
Transcend Elite, StoreJet ToolBox and RecoveRx are included in the hard drive. You can always download the latest version from Transcend Website directly too. StoreJet ToolBox for low level format. RecoveRx to search deep within a storage device for traces of erased files that can be rescued (including digital photos, documents, music and videos). Finally, Transcend Elite which is star here – an advanced software developed for use with Transcend's JetFlash, StoreJet and Portable SSD products.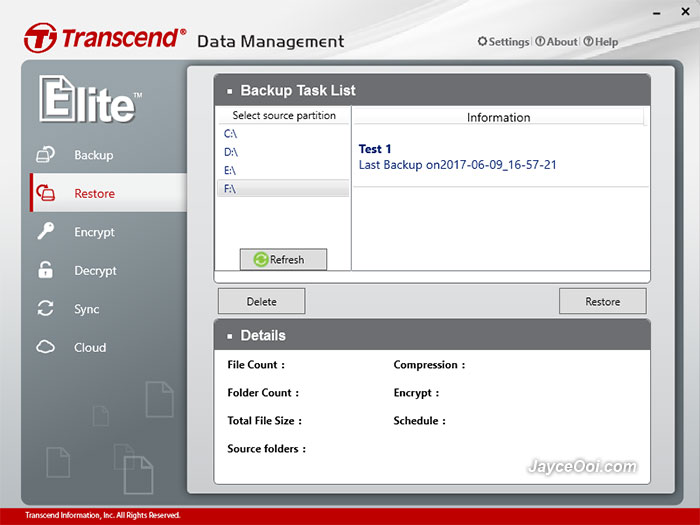 This powerful user-friendly application can help you manage data and increase productivity. You can use it to backup and restore all your important files. Yes, the One Touch Auto-Backup button is supported here. Perform instant backups and scheduled backups. Switch on/off OTB to allow the one-touch backup function. Protect your files with powerful 256-bit AES encryption. Synchronize files in a source folder and a destination folder is supported as well. Back up files from Google Drive or Dropbox to Transcend's storage device. Dropbox is working fine but no luck on Google Drive.
Performance Result
Transcend's advanced 3-stage shock protection system and internal hard drive suspension system are working great. Yup, StoreJet 25MC will automatically stop reading / writing whenever there is shock that might causing the hard drive from working properly. This will make sure that all the data are intact and safe without getting any corruption during a bumpy ride along the road. As usual, StoreJet 25MC supports Windows, Mac OS X and Linux. And mobile platform like Android as well. Yup, it is working great on my Mi Pad 3 tablet. It requires less power to operate because even my Redmi Note 4X smartphone is able to connect through OTG. For your information, you can use USB Type A cable too. Perfect portable for all your devices, right?
CrystalDiskMark is my main benchmark tool for storage devices on Windows. StoreJet 25MC is getting 130 MB/s for read and 135 MB/s for write. Not sure 7200 RPM or 5400 RPM 2.5″ SATA HDD drive is being used here. But solid performance is what you get. Of course, you can't compare it to faster and much more expensive SSD drive.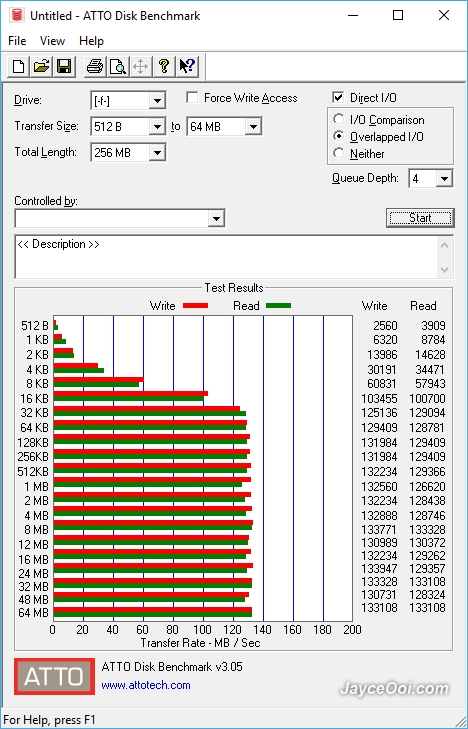 ATTO Disk Benchmark is getting almost the same result for both read and write tests like CrystalDiskMark.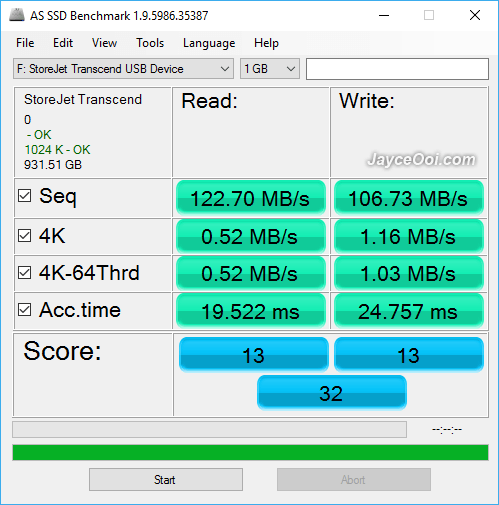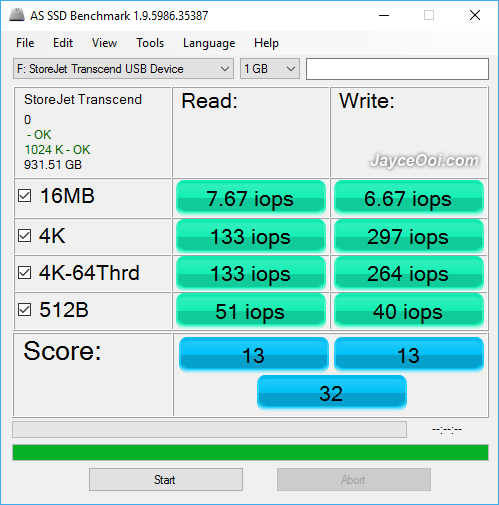 AS SSD Benchmark results are slower a bit when compare to previous benchmark tools. But this is normal as all the drives that I have tested are facing the same. Access time result is here for your reference as well.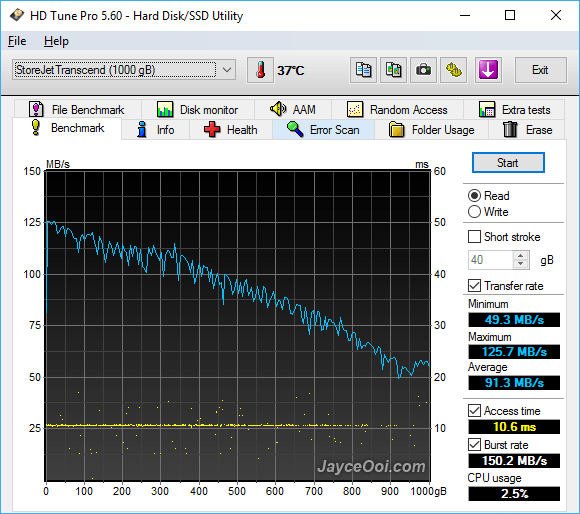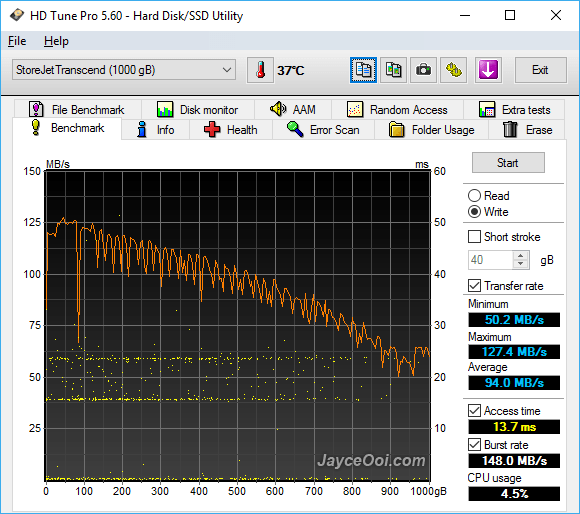 HD Tune Pro gives you the idea on how the drive is performing when more and more disk space is used up. Performance is better when the drive is new and slower when lot of files are there. This is perfectly normal for HDD.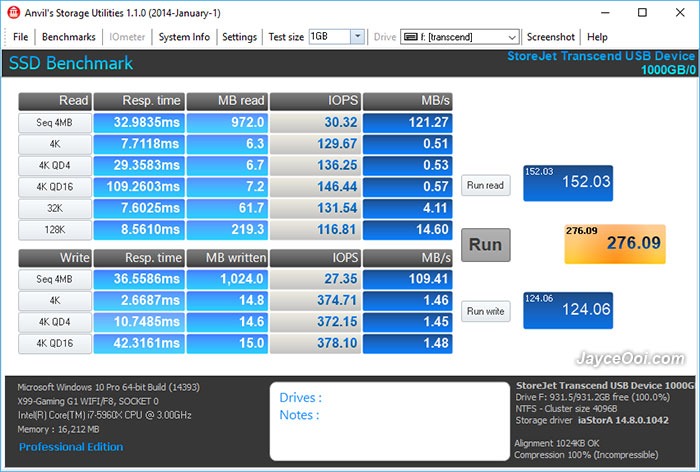 Anvil's Storage Utilities consists everything that you need to know from response time to IOPS. And it also provide the system information that been used for this benchmark. If you have only one choice of benchmark tool to use, this is the one that you need.
Advantages
Solid performance
Military-grade shock resistance
Excellent build quality
256-bit AES encryption
3 years warranty
Limitations
Conclusion
Looking for a portable hard drive? Give Transcend StoreJet 25MC a try. Enjoy solid performance and military-grade shock protection. Don't forget Transcend Elite that provide One Touch Auto-Backup and 256-bit AES encryption for your important files, photo, video and music. Future proof with reversible USB Type-C cable and back with 3 years warranty. Feel free to visit Transcend Website for more information. Do check out their other range product too.