Introduction
Hey guys, check out this powerful 200W soundbar with subwoofer from Vinnfier. Unlike normal budget soundbar, it is loaded with digital optical and HDMI (ARC) connections. Of course, it comes with other usual ones like AUX, Bluetooth 5.0, MP3 player and remote control. Does it sound great for less than RM400? Let's find out now…
Special Thanks
This review is possible thanks to below companies. Be sure to check them out…
Vinnfier for this Vinnfier HyperBar 500 BTR Wireless Soundbar with Subwoofer
Egreat for Egreat A10 4K Blu-ray HDD Media Player
Zorloo for Zorloo Ztella USB DAC
Package Content & Design
Everything is nicely packed and protected. There are remote control, optical cable, stereo 3.5mm audio cable, EU power cable and user manual in the package.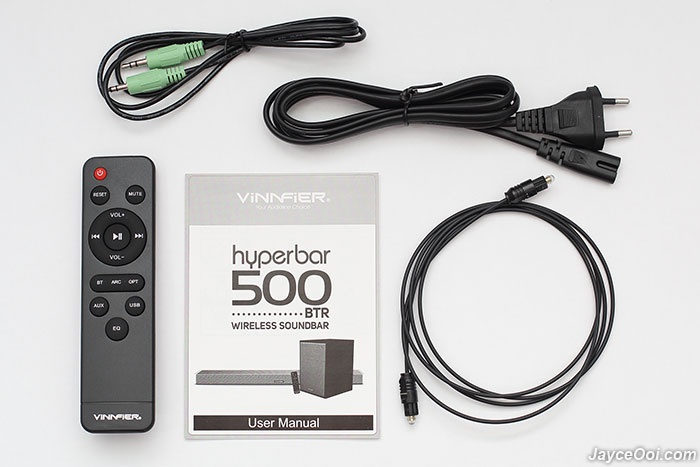 Build quality is great and stylish in design as well. The soundbar is loaded with sturdy plastic housing with metal speaker grill. And the subwoofer is made by MDF wood with metal speaker grill in front. As usual, do refer to all the photos for details.
The soundbar is powered by 2 x 2.25″ speaker driver. And is has total output power of 50W (RMS). That's a lot when compared to normal TV built-in speakers.
All the navigation buttons are located on the right. Same applies to the USB port for MP3 songs. You won't be using these buttons since remote control is there for you.
Here are the wall mount holes and 2 anti-skid pads. They are located on both left and right as usual.
50W (RMS) total output subwoofer with powerful and ultra-low bass. It is loaded with 6.5″ speaker driver. By the way, the subwoofer size is huge.
At back, there are reflex port and audio port. The cable is long enough for you to place subwoofer at the place that you prefer.
Performance Result
Yes, both digital connections HDMI (ARC) and optical are working great! You get the cleanest audio quality through digital. As long as your TV and TV Box support them, you are good to go. Of course, other connections are working well as expected too. The built-in LED display is very useful and clear. As you can see, OP15 is optical audio mode with 15 volume levels. Maximum volume is 30 by the way. Lastly, you can always use analog AUX input if your device does not support both digital connections.
Bluetooth range is great. Can reach up to 7m+ with obstacles like wall. As long as you are in the living room, you are good to go. In addition, it has almost no lag between video and audio. That's great for games, movie on your smartphone and tablet indeed. Besides Bluetooth, you can also plug in USB flash drive for music. No FM radio though.
Yes, HyperBar 500 remembers the last used audio source after power off. Same applies to EQ settings as well. There are several EQ to select – normal, pop, classic, jazz, country and rock. Just pick the one that suits you most. Personally, I keep it as normal. And pop sometimes to reduce treble a little bit.
Amazing sound for the price. Period. Totally knock out TV built-in speakers thanks to 100W (RMS) total power output that easily fill up the whole large living room. In addition, the large and powerful subwoofer is the star. Yes, it does produce deep and low bass. It surely brings a lot of excitements especially in the bass department (where TV ones lack). In short, you can enjoy better sound and listening experience in all your movie, TV drama and games.
As for sound signature, it is toward slightly V-shape. Optical connection is being used here so everything is processed by the soundbar itself (HDMI ARC is the same). It will sound different if AUX connection is being used. Do take note. And there is no treble and bass volume control. Just several EQ modes to select as I mentioned previously. In details, highs are clear and sharp. Mids are good. Vocals sound natural for both male and female. Lows are the great part. Powerful deep bass indeed. You will love it on action movies and games.
Advantages
Powerful deep bass with clear sound
100W (RMS) total power output
HDMI (ARC) & optical support
Bluetooth & MP3 support
Great build quality
Remote control included
LED display for audio mode & volume
Limitations
No treble & bass volume control
Conclusion
Vinnfier HyperBar 500 BTR is a budget soundbar with powerful subwoofer that you don't want to miss. It's loaded with HDMI (ARC) & optical connection. Easily level your TV sound listening experience to another level. Get yours at Shopee or Lazada now.