Introduction
Blu-ray, HEVC 10Bit, 4K 60Hz, HDR, Dolby Vision, Dolby Atmos, DTS:X and HDMI 2.0a… Yup, that's part of the features from the latest media player with me – Egreat A10 4K Blu-ray HDD Media Player. It is the first exclusive Android HDD media player with full function 4K Blu-ray navigation, decoding all contents of the Blu-ray movies. Powered by HiSilicon Hi3798CV200 chipsets. Loaded with 2GB of RAM and 16GB of storage. Come with an internal 3.5 inch HDD rack with support up to 8TB drive for all your favourite movies. Lot of connectivity like 802.11 b/g/n/ac 2.4G/5G Wi-Fi, Bluetooth 4.0 and Gigabit LAN. And a have stylish yet durable casing just like the photo. Interested? Read on to find out…
Special Thanks
This review is possible thanks to below companies. Be sure to check them out…
Package Content
The largest package for TV box that I own. As usual, Egreat A10 comes in a well-protected packaging. Mine is from Unimax Pro, Malaysia locally this round. After took out Egreat 10, you can find other stuffs like 2 detachable antennas, HDMI, composite audio video & SATA cable, power adaptor, IR remote control with battery and user guide. Yes, the best user manual is there for A10 too. For your information, it is very detail and loaded with lot of coloured pictures. And soft copy is available to download from their website. Do check out A10 specs there too. Lot of them to be listed here.
Build Quality & Design
Egreat A10 is using Aluminium alloy with wire drawing process as casing. Top notch build quality no doubt – stylish, premium and sturdy. Just refer to the photos below and you will know what I mean. And it has a very unique front metal cover that hide the hard drive too. You can insert / remove HDD from front and not top or side. A saver for those with small cabinet. There is a LED white-Light dot matrix panel just besides it. Infrared receiver and power light indicator are there too.
Yup, this is the hidden internal 3.5 inch HDD rack that I talking about. All metal material is being used here.
LED display that show useful information like clock, remaining movie time, Wi-Fi, resolution and more. Brightness is good for both day and night. You can turn it off totally too.
Here is the air intake. Yup, there is a fan behind the case that keep the media player cool especially when there is HDD spinning. No worry, it is quiet and fan speed is automatically controlled based on temperature. Manual control is available too.
All the inputs / outputs are located at the back. There are 2 antenna ports, cooling fan, AC input, power switch, RS-232 port, optical, coaxial SPDIF, composite, HDMI 2.0a, USB 2.0 & USB 3.0 ports, Gigabit Ethernet and reset switch. Oh, there is a SATA port for extra hard drive too.
Here is the look when antennas were attached to Egreat A10. You can remove them if you plan to use Ethernet only.
Hey, check out this high quality leg. Rest assure that you are getting the best build quality here.
Wow… The bundled IR remote control has lot of buttons. Furthermore, it has LED light backlit for dark environment usage. Cover all the stuffs you need for media playback except mouse function. And 4 IR programming buttons for TV which you can keep TV remote control away. However, you still need to use air mouse for certain task as the bundled remote doesn't has mouse function at all.
Software
A new OTA firmware update is the very first thing that I got when connected to Internet. Yes, I have no doubt of Egreat excellent support on software update. They are working hard on getting new features on the media player every month. And of course fix bugs as well. Just check their website for previous firmware revisions and you will know what I meant here. Besides OTA update, it supports local USB update too. Great if you need to start a new and clean firmware.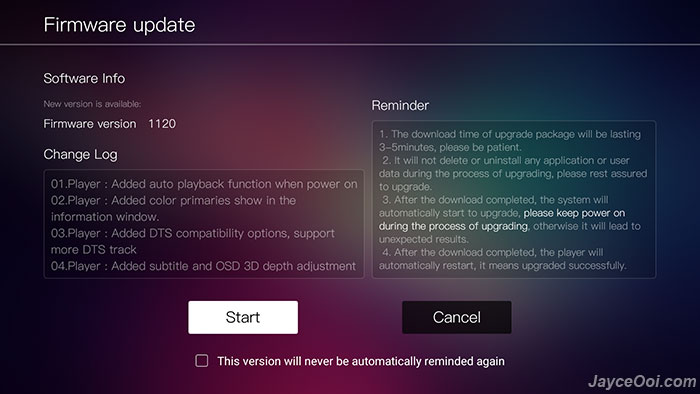 Clean, simple yet stylish is part of Egreat EG-UI 2.0 launcher. All the settings are matched to the main GUI as well. You can configure general, display, playback, sound and subtitle there. Also the advanced stuffs with vanilla Android interface. And Great A10 comes very clean with minimum applications installed which I prefer. There are VidOn XBMC Pro (Kodi), HappyCast, Miracast, Clean, App Store, CetusPlay and Google Play Store. For your information, Samba server is pre-installed and active. With HDD installed, you can turn A10 into a local NAS as well.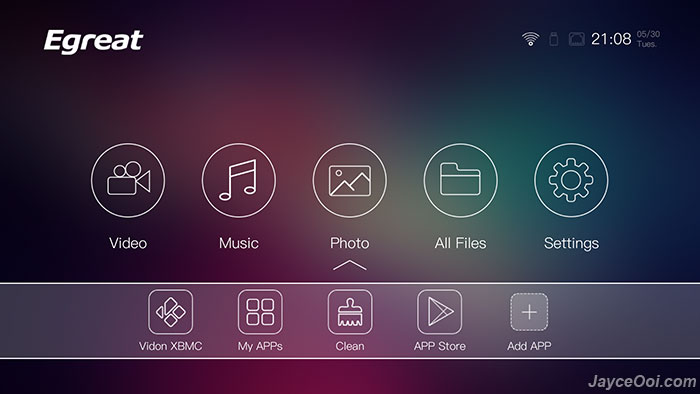 You can use CetusPlay as air mouse replacement with your iOS and Android devices. Yes, CetusPlay is a multi-function remote control app to ease your life. Normal navigation is working perfectly. Same apply to mouse function which is a must have when using Google Play Store. Everything look good until I tried to use the keyboard. Err… It is not working. Back to my air mouse.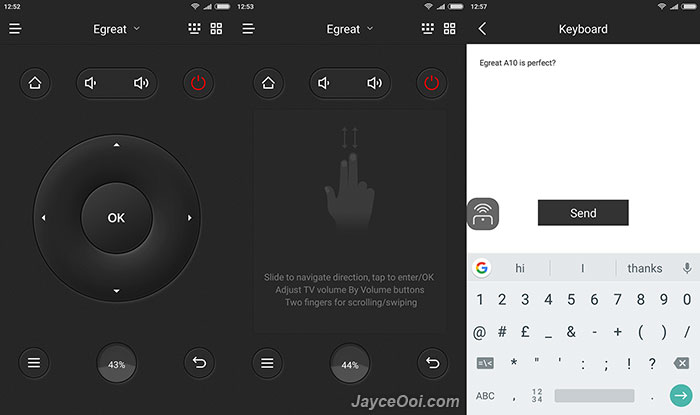 Benchmark
HiSilicon Hi3798CV200 chipsets with ARM Cortex A53 64-bit CPU and multi-core Mali-T720 GPU are the one that power Egreat A10. With 2GB of RAM and 16GB of storage, how is the performance this round? Just check out my AnTuTu Benchmark, A1 SD Bench and Geekbench 4 results below to find out. As usual, 3DMark Ice Storm Extreme benchmark does not able to run due to compatibility issue with Hi3798CV200.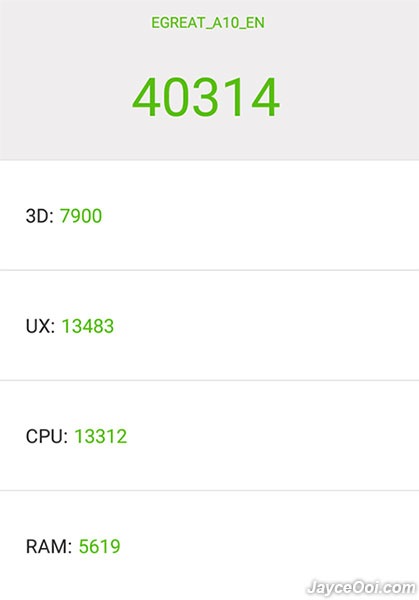 AnTuTu Benchmark result is align with Egreat A5 that using the same Hi3798CV200 chipset. Yes, almost the same as Amlogic S912 boxes too.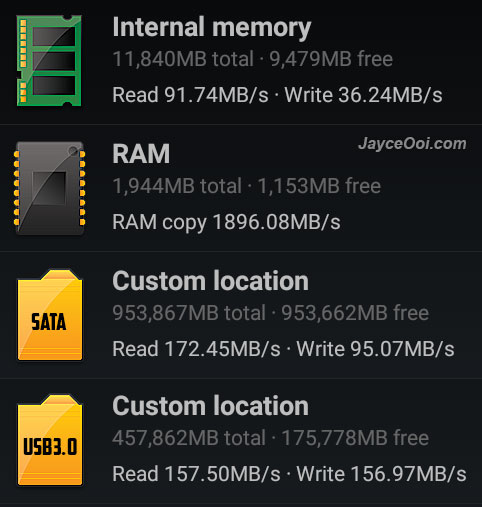 I am not able to use SSD for internal HDD test as the rack supports only 3.5″ HDD. So 1TB hard drive is being use this time. Above screenshot SATA result reflexes it. USB 3.0 result is using SSD by the way. Memory speed is the same as A5 but internal storage has improvement. For your information, the external SATA connection is limited to USB 2.0 speed only. I am getting around 38MB/s for both read and write.
Geekbench 4 is performing better than A5. Maybe more storage space and firmware improvement help.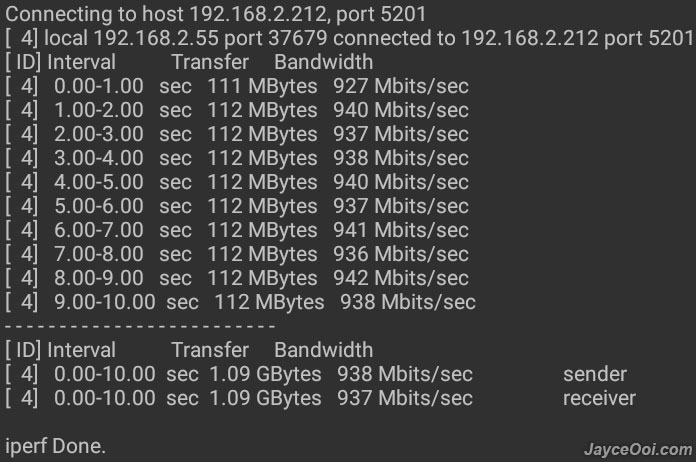 As for connectivity, Wi-Fi range is the great. Full speed at 433 Mbps 5GHz AC and 2.4GHz at 72 Mbps. For transfer speed performance, 2.4GHz performs very well at 56 Mbits/sec on iPerf3 test. 109 Mbits/sec only for 5GHz AC which can be improved. And finally Gigabit Ethernet is scoring excellent result at 938 Mbits/sec. Ethernet connection is needed for above 100Mbits video files for sure in this case. As for Bluetooth performance, it passes 10m Bluetooth range in straight sight line easily. And manage to get connected up to 8m with obstacles. Great performance indeed. Best for gaming with Bluetooth gamepad, right?
Performance Result
Egreat A10 gives you the best visual and experience with HiSilicon Hi3798CV200 chipset and full 4K function Blu-ray navigation. Yup, you can enjoy all the videos on HDD just like Blu-ray discs themselves with native Blu-ray navigation menu. The same experience but with lot of storage disk space support up to 8TB. And don't forget that Egreat A10 supports 4K Ultra HD H.265/HEVC high bit rate to up 400Mbps smoothly. Yes, it can play virtually any video files and types that you throw at. Furthermore, a must have feature – auto frame rate switching is supported. Smoothest playback is what you can get. And enjoy best picture quality with Imprex Engine 2.0 that gives HDR10 deep colour and BT.2020 wider colour gamut support. For your information, you can tune lot of image settings like brightness, chroma, contrast and saturation. Colour spaces like RGB, YCbCr for both 8Bit and 10Bit too to suite your preferences with Imprex Engine 2.0. Finally, popular audio codec like Dolby True HD, Atmos, DTS HD-MA and DTS:X are supported on both 5.1 and 7.1 channels (passthrough supported too).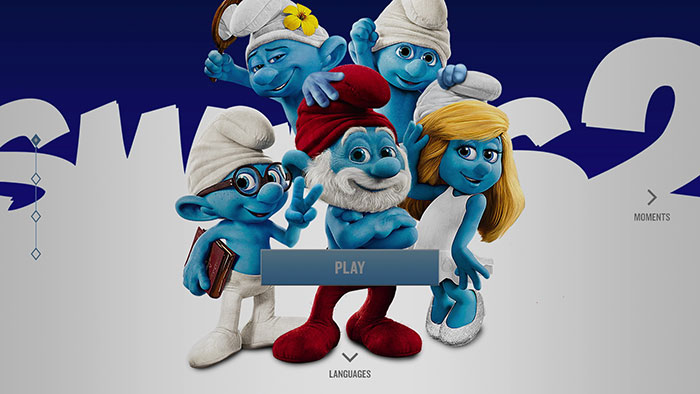 Posters Wall is one of the nice features of A10. All these posters (or cover arts) are populated based on your local movie collections through Internet automatically and categorized. Therefore, you can further narrow down your search with filter based on type, region and year. Detailed movie information will be displayed once you click on the movie. Blu-ray navigation menu will be shown if movie supports it.
VidOn XBMC Pro which based on Kodi 16.1 is available totally free on Egreat A10. It performs just like Egreat video player with Hisicodec codec support. Therefore, you get the full hardware video acceleration but no Imprex Engine 2.0 configuration. Better user experience I must admit compare to other box that I own which need additional wrapper when Kodi is your main player. And lot of Kodi add-ons to enjoy with VidOn XBMC Pro too. Things to take note… Egreat A10 needs 30 seconds to boot up. Shutdown is instant. No root access nor Google Widevine Modular and Microsoft Playready DRMs. Therefore, Netflix in SD only. As for direct casting like miracast, it is working properly but not the smoothest out there. And Moonlight (NVIDIA GameStream) is still playable through Ethernet with 58ms latency.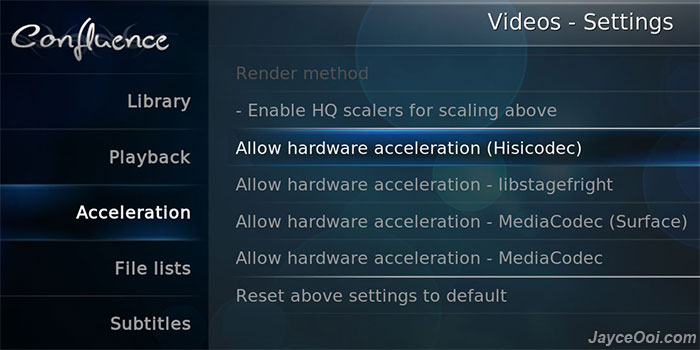 Egreat A10 firmware still can be improved. I am facing the same application compatibility and multi-tasking under-performing issues just like A5. Example, Asus Zen File Manager is facing force close issue where can't open it at all. And system started to slow down / hang once with more than 3 games opened at the same time. Hopefully, they can be solved soon…
Advantages
4K Ultra HD & H.265 codec support
Crazy high bit rate videos support
Auto frame rate switching support
Great wireless range & Ethernet speed
Top notch build quality
VidOn XBMC Pro included
Hidden internal HDD slot
USB 3.0 port & extra external SATA port
4K Blu-ray navigation menu
Limitations
Firmware still can be improved
IR remote control without mouse function
No physical power button
Conclusion
Egreat A10 is my daily media player in living room now. Period. Not perfect but it has the best video and audio quality. In addition, provide the best movie experience among all media players that I tried. Interested? Do visit Egreat Website for more information. And buy yours at GearBest (10% discount code – GBCNA) and Amazon.