My home broadband connection is down. Luckily, I have HTC HD2 with me. I can do Wi-Fi and USB tethering in Windows Mobile. But some of the Android ROMs cannot do both. So here is an Android application that can help those who like me ~ Wireless Tether for Root Users. It enables tethering via Wi-Fi or Bluetooth. I did not try on Bluetooth mode but I am a happy user with Internet connection through Wi-Fi.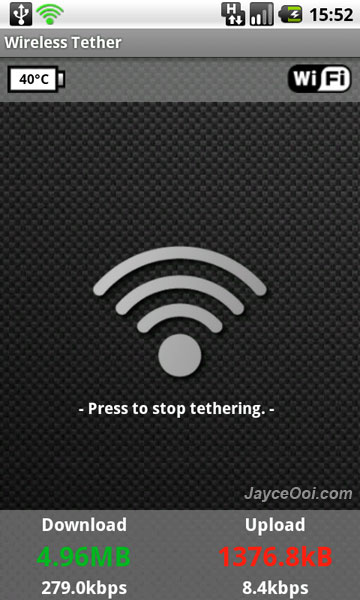 Note – besides root level requirement, Wireless Tether needs a custom-kernel which supports netfilter (iptables). Do refer to its website for more info if you cannot use it.
Download Wireless Tether v2.0.5 RC2 here or search for 'Wireless Tether' at Android Market to download.