Introduction
Not satisfy with your current devices' audio quality? I have a solution for you. Yes, try out Zorloo ZuperDAC. It is a portable Hi-Fi USB DAC that can transform your existing PC, Mac, Android, iPhone and Raspberry Pi into a Hi-Fi music system. What makes ZuperDAC special? It is powered by the famous ESS Sabre ES9018K2M DAC which can be found in many high end digital audio players. And equipped with ESS Sabre ES9601 headphone amplifier too. Has USB Audio Class 2 compatibility and support up to 192kHz and 24-bit high resolution audio. Sound good? Read on to find out…
Features
Portable Hi-Fi Music, Anytime, Anywhere
Great Sound in a Small Package
Support All Major PC and Mobile Phone Operating System
Powered by ESS Sabre ES9018K2M DAC & ES9601 Amp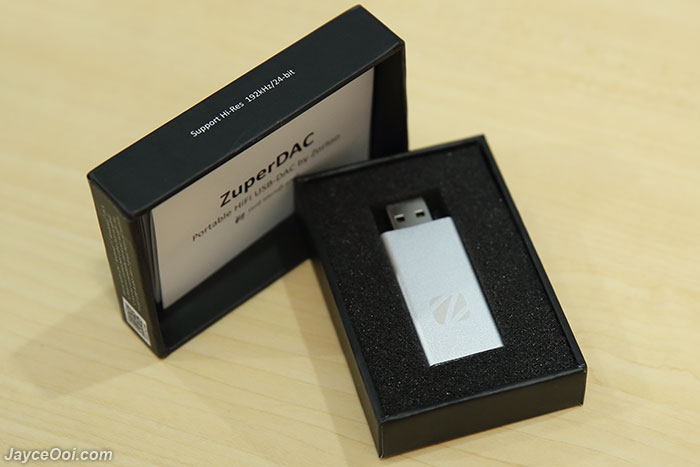 Package Content & Design
Zorloo ZuperDAC comes with a nice and small packaging. Yes, it is really a small box just like ZuperDAC itself. After opened the package, you can see ZuperDAC well protected with hard foam. And there is a quick start guide included as well. That's all. ZuperDAC measures just 46mm (L) x 23mm (W) x 10mm (H) which excluding USB connector. And weights 20g only. Yup, just like your USB thumb drive. Super easy to carry it around and use it wherever you want. Besides, it has matte aluminum casing for the best physical and interference protection. And rest assures that the build quality is top north. You can find the Zorloo logo in front to the USB DAC. And male USB plug on top. Finally, there are 3.5mm headphone jack and small LED status light at bottom. The LED light will turn red when powered on and green when ready to use. By the way, there are 2 colours to choose from – gold and silver. The only thing that disappoints me – USB plug cap is not included.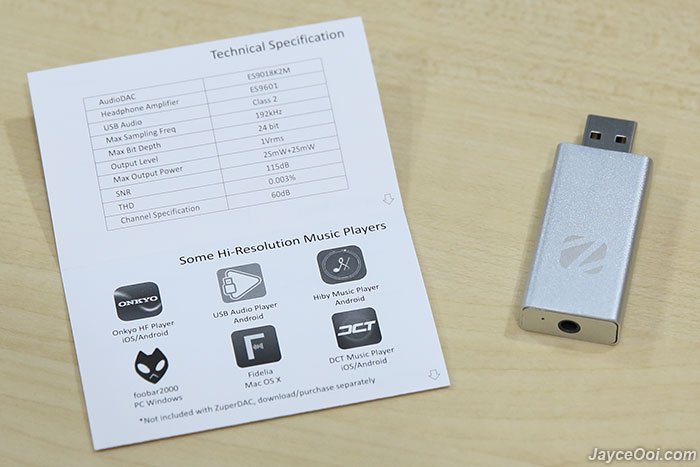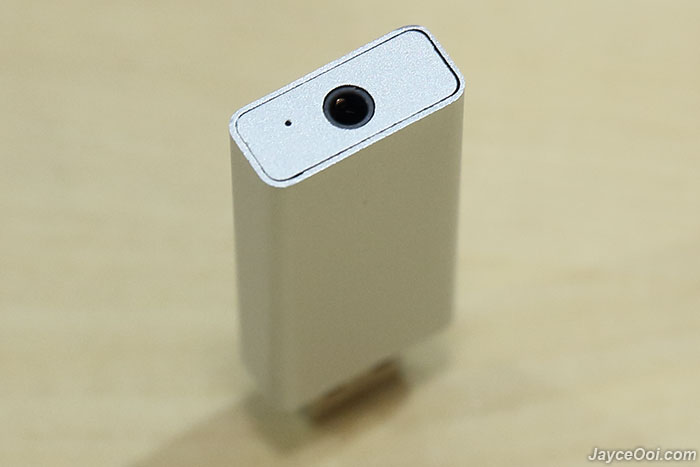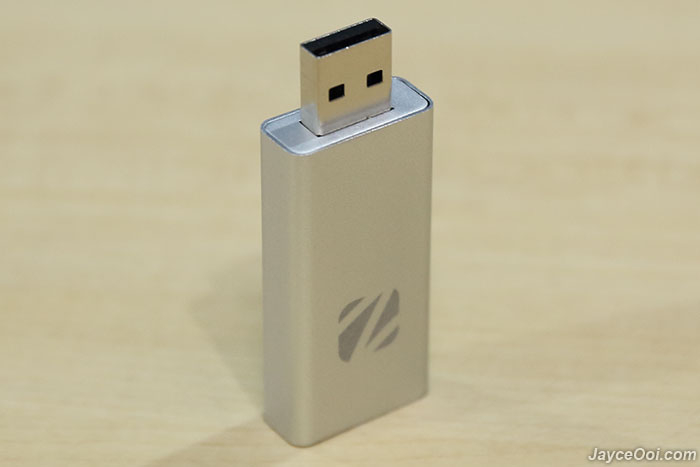 Specifications
AudioDAC: ESS Sabre ES9018K2M
Headphone Amplifier: ESS Sabre ES9601
USB Audio: Class 2
Max Sampling Freq: 192 kHz
Max Bit Depth: 24 bit
Output Level: 1Vrms
Max Output Power: 25 mW + 25 mW
SNR: 115dB
THD: 0.003%
Channel Separation: 60 dB
Installation & Usage
It is fairly easy to use Zorloo ZuperDAC. Just plug it in any USB port and you are done. Yes, this is for devices with built-in USB Audio Class 2 support like Mac OS X, Ubuntu LTS and Raspberry Pi. You need to install Zorloo provided USB Class 2 driver on Windows 7, 8 and 10 devices. Android and iOS devices will need extra cable like USB OTG cable and Lightning to USB Camera adapter (older 30-pin Camera Connection Kit (CCK) is working as well). iOS 7 and Android 5.0 onward support USB DAC natively. You will be able to start using ZuperDAC right after plugged it in with your iPhone or iPad. Same apply to Android devices with OTG support. All the applications like YouTube, stock music player will output sound through ZuperDAC then. However, it provides CD sound quality only. You will need to install 3rd party applications like Onkyo HF Player, USB Audio Player Pro, Hiby Music Player in order to get high resolution audio playback up to 24bit resolution / 192KHz sampling. And Foobar2000 for Windows PC and Fidelia for Mac OS X.
For your info, ZuperDAC consumes around 115mA per hour. Therefore, your mobile devices battery life will shorter when using it. You can always counter it by using external power source through Y cable. No such issue on desktop which use AC power though. Will it overheat? Not at all. Thanks to aluminum casing helps to disperse heat fast. So you can feel it warms up a little bit after used for awhile.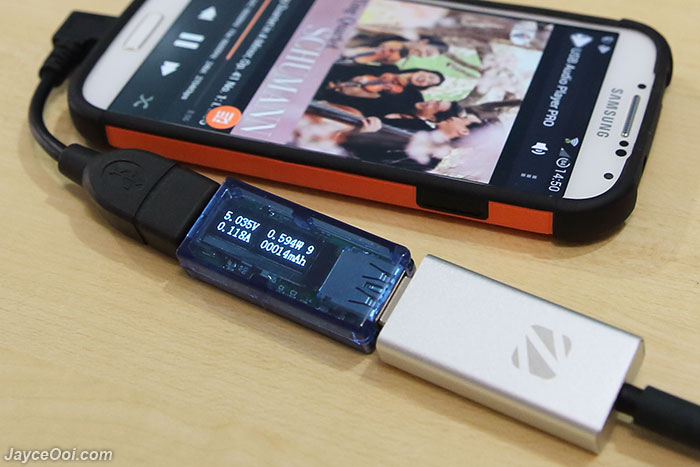 ZuperDAC is working great on all my devices. Windows 10 notebook and tablet are working fine just the way it should be. Android smartphones like Galaxy S4, Note 3, Redmi 2 with Android 4.x work well too with OTG cable through USB Audio Player Pro. Same apply to Nexus 7 tablet. Too bad that all my Android devices still did not get Android 5.0 Lollipop update (my bad), so can't test Android built-in USB DAC function. iOS devices like iPhone 4 and iPad 3 are working instantly after connected with CCK. Yup, just plug and play will do. By the way, there is no hardware volume control on ZuperDAC. Therefore, you need to use software to control it. Volume control on Windows work like normal PC sound card but could use some fine-grained on adjustment steps. A bit jumpy sometime. Volume adjustment works very precisely on iOS and Android though.
Sound Quality
Wow… The very thing that I noticed about Zorloo ZuperDAC is its spacious soundstage. Yes, that's the first thing I always test. And ZuperDAC passes with flying colours. It manages to makes all my headphones to have even wider and deeper soundstage from my current sources. Yup, sound separation and layering are great as well thanks to spacious soundstage. Therefore, you get better instruments' placement in classical music like orchestra too. Arcason by Candido Camero and Oh by Dave Matthews surely performs nicer here. In addition, they are precise, clean and crisp on the treble. Analytical and it's a great details retrieval even on normal CD sound quality that we usually hear. Even better when on 192kHz and 24-bit hi-res music. You might hear something that you usually don't. Yes, my Nexus 7 can't even play those FLAC files at all.
Oh, here are the headphones and in-ear monitor that I use to test – Brainwavz HM5, Audio-Technica ATH-M50x headphones and DUNU Titan 1 in-ear earphones. ZuperDAC is able to drive all of them easily with 64 ohms impedance as the highest. It has more than enough power to output most consumer level headphones out there. Just don't expect this tiny little guy can drive headphones with extremely high impedance.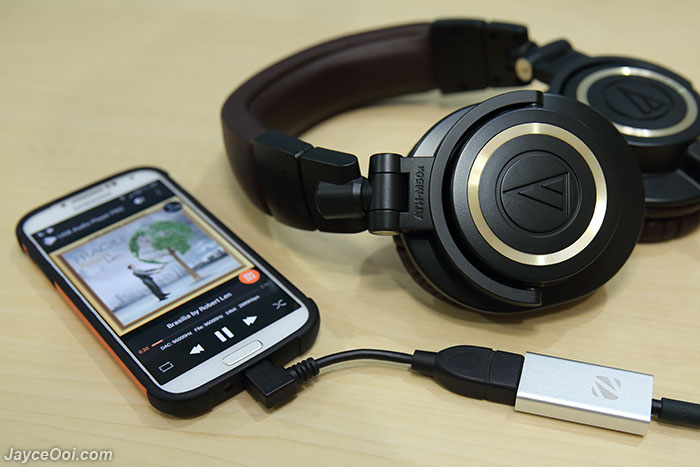 Overall, ZuperDAC has neutral with slightly relaxing bass sound signature. Super clarity and transparent. No hiss at all with my IEM (which I can hear with my desktop PC). Highs are clear and airy. In addition, well-articulated and analytical too. For mids, it is playing very well here. All the instruments and vocal can be heard clearly even in the complex scene. You will notice vocals for both male and female sound better and nicer when listen carefully. For example, Girls' Generation's Lion Heart MV. They are much more lively and smoother, just the way it should be. Lows are fast and full. But it is a little bit gentle here. So you will get a slightly softer bass on songs like Michael Jackson's Billie Jean, Beat It and Black or White. No worry, it is certainly not a deal breaker here. And it is a plus on headphones with too much bass.
Advantages
Spacious soundstage & imaging
Super clarity and transparent
Great details retrieval
Multiple platform support
Ultra portable and lightweight
Decent build quality
Limitations
Consume a bit mobile devices' battery life
Where is my USB plug cap?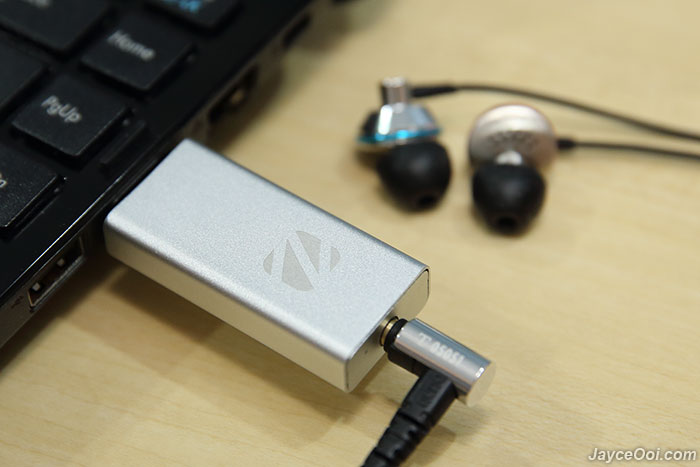 Conclusion
All in all, Zorloo ZuperDAC will definitely upgrade your mobile devices' sound quality (desktop too). It has spacious soundstage with great sound separation and layering. Added with super clarity and transparent. Truly your portable Hi-Fi music for anytime and anywhere. Interested? Head to Zorloo Website for more information. And get yours there too.