Introduction
Hey guys, meet Armaggeddon MKA-13R little brother – Armaggeddon MKA-11R RGB Raptor. This is the latest 2018 edition. As usual, it has removable modular Outemu blue switches. Loaded with 16.8 million colour programmable RGB lights, fully macro-able, built-in program, adjustable backlight effect on keyboard buttons and more. How does it perform? Let's find out together…
Special Thanks
This review is possible thanks to below companies. Be sure to check them out…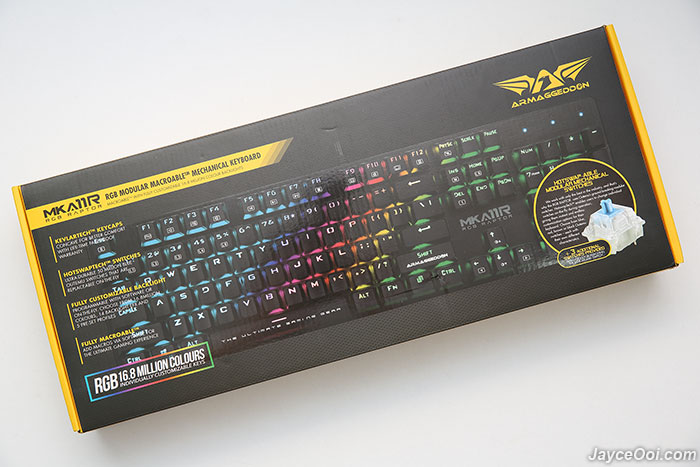 Package Content
As expected, Armaggeddon MKA-11R comes well protected. And no user manual can be found as well. No worry, all the information and guide are located on packaging box and behind the keyboard. Just go through them to get started. As part of modular design, you have 3 extra Outemu modular blue mechanical switches, key cap puller and switch puller in the package.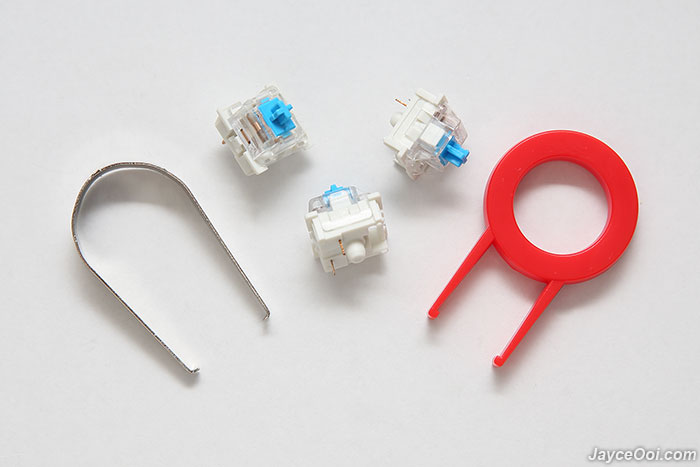 Design & Build Quality
Build quality is excellent for the price. Period. Thanks to top metal panel and solid plastic bottom. In addition, it has sleek form factor that ease carry in your bag. The cable is not braided but still has magnet ring. No gold plated USB plug and velcro cable tie when compare to MKA-13R.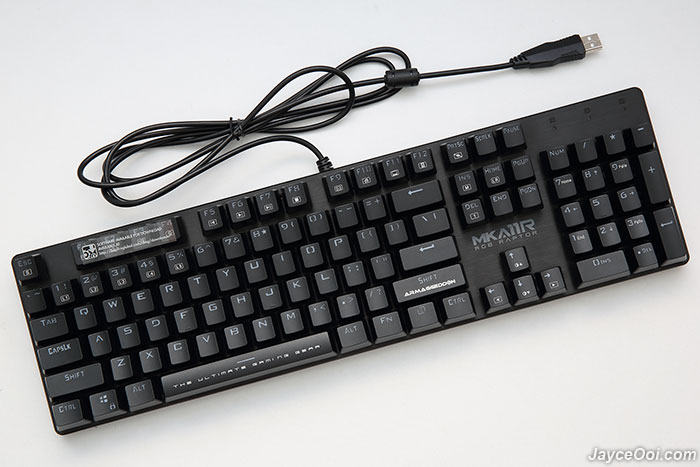 At bottom, everything are the same. There are 6 anti-skid pads including 2 rubber anti-skid pads on keyboard legs. Yup, it does provide good grip and stability. No worry about keyboard moving around for sure. As I told you, all the useful information like shortcuts, functions are there.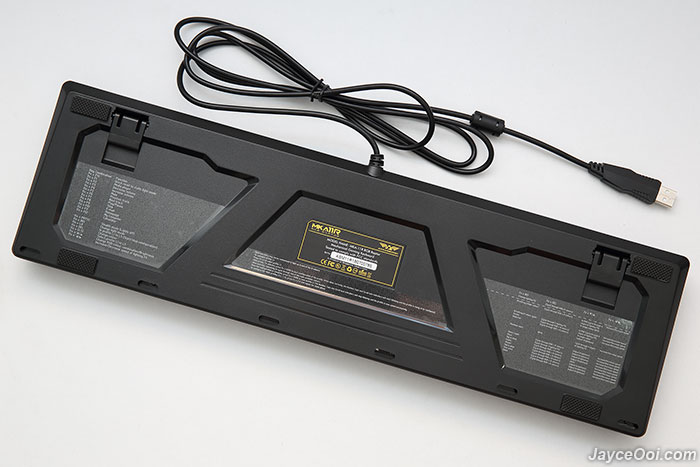 Closer look on these anti-skid pads. Good grip no doubt.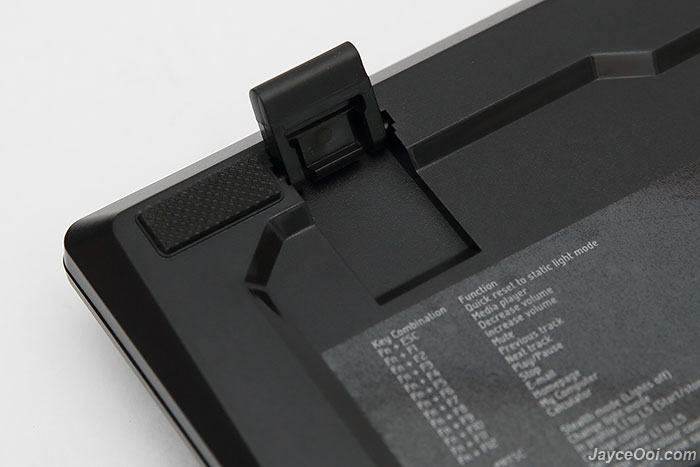 High profile keycaps are what you can get here. And come with life time fade proof warranty too all thanks to KevlarTech high quality concave keycaps.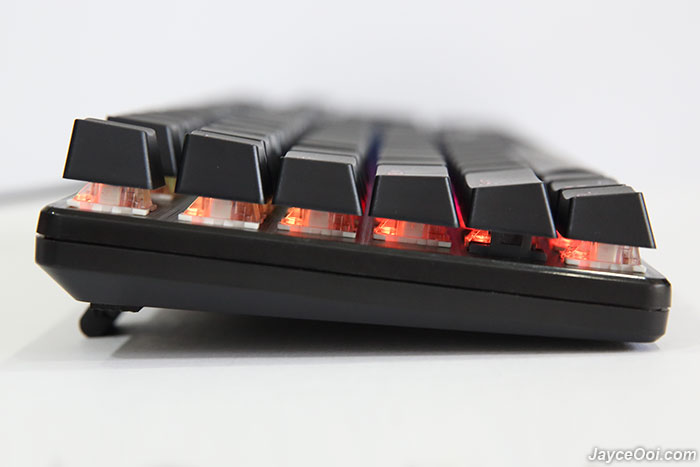 Software
Armaggeddon MKA-11R 2018 edition is using the same software as MKA-13R. After installed software driver, you can configure 14 lighting effects and 5 game lighting profiles. You can control the effect speed and light brightness too. As you can see, up to 3 user profiles for you to choose. There is macro editor as well. You can also assign shortcut like Ctrl + C on key that you prefer. Other quick launch like volume up/down can be assigned too. Just like macro by using Armaggeddon software. By the way, you can use MKA-11R directly without any software. Just software driver has more stuffs to play with.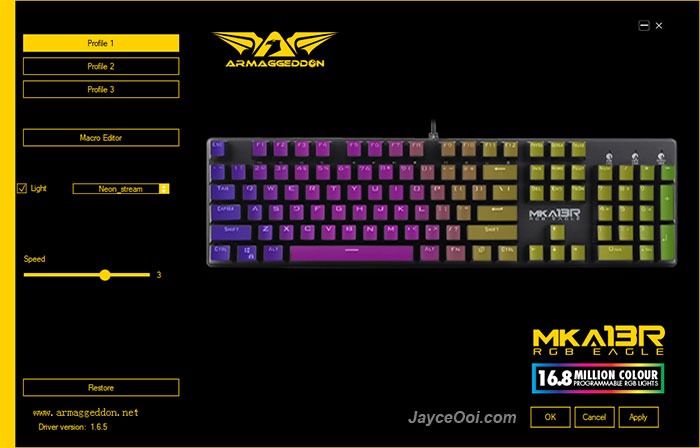 Performance Result
Yeah… NKRO (N-key rollover or 100% Anti-Ghosting) is supported on Armaggeddon MKA-11R RGB Raptor. Every key on your keyboard that you pressed will all be registered correctly. Yes, even at the same time. Windows key can be locked to avoid accidental interruption during gaming too. A must have feature for gamers. There are lot of Fn shortcut keys for you and me. Control volume and music playback. Or launch calculator with just click on buttons. A very useful shortcut for sure.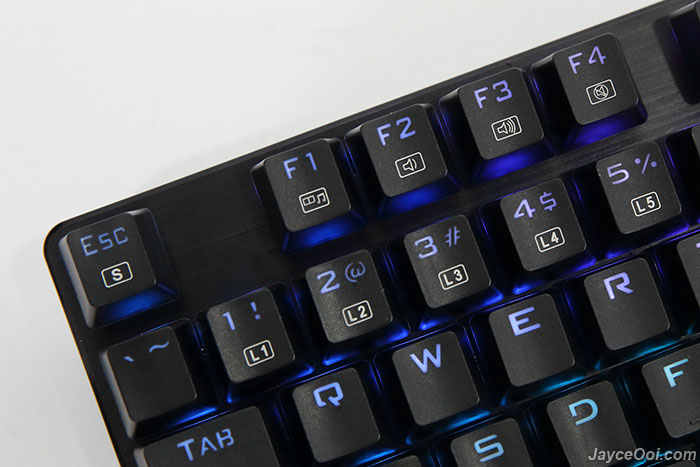 Most of the Armaggeddon mechanical gaming keyboards are using Outemu blue mechanical switches. Same apply to MKA-11R RGB Raptor. You should know a little bit of this switch if you have read my previous Armaggeddon keyboard reviews. In short, it is the loudest when compare to Cherry MX and Kailh blue switches. Has the lowest actuation force too. Tactile feedback is good but the other two are better. No the best out there but it's the cheapest among all. What you pay is what you get. But being modular type is great for long term investment. You can replace the switch by yourself manually even warranty is over. No addition fee incurs. That's great.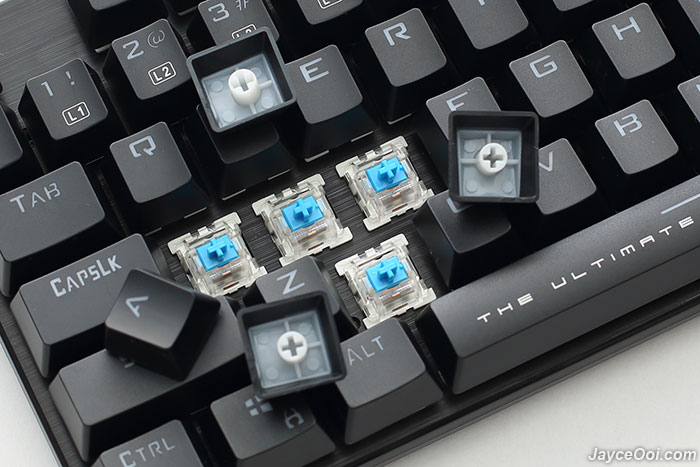 14 backlight movement effects are supported. 5 game lighting profiles that can customize to suit games like FPS, CF, COD, LOL and QQ. Up to 4 brightness levels to select. Or turn off totally. Animation speed can be adjusted as well. Or turn it into breathing light mode. Or trigger on by touch mode as you please. Change it everyday to suit your mood.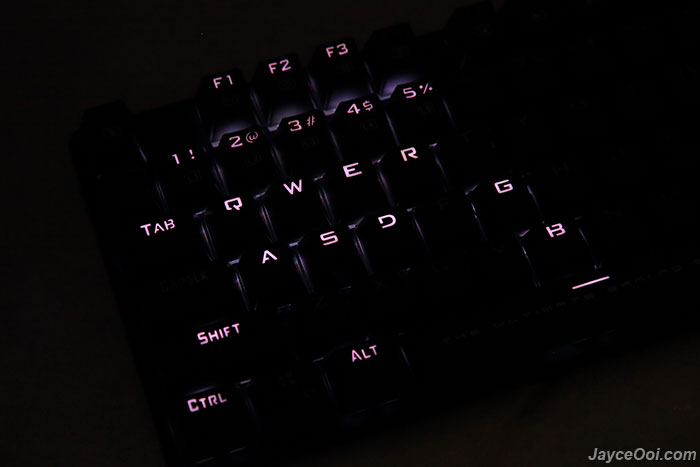 Yup, that's one of the game lighting profiles. And below is how the LED lights perform in totally dark environment. These colourful RGB lights will surely level up your gaming experience on top of just show off…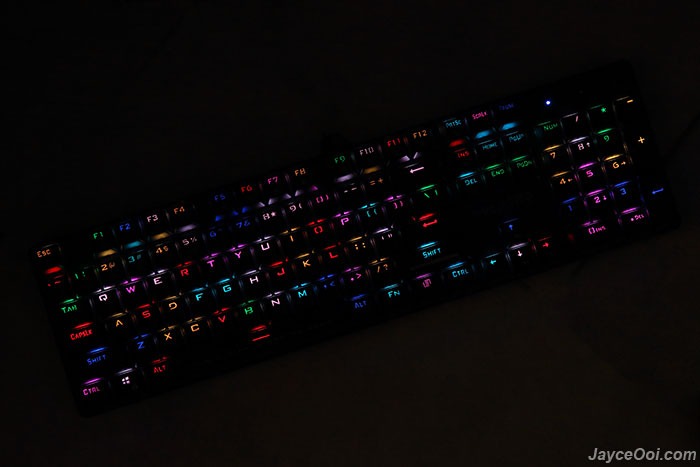 Advantages
Anti-ghosting with n-key rollover
Illuminated character keys
Hot-swap modular switches
Windows key lock
12 multimedia function keys
Solid build quality
Macro, shortcut & key assign support
Cool RGB backlight effects
Limitations
Can't set LED brightness on certain effect
Slightly loud clicking sound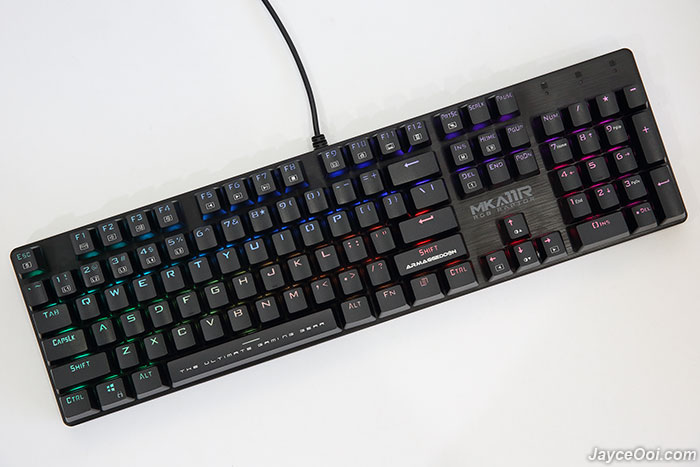 Conclusion
For below RM150, you can't go wrong with Armaggeddon MKA-11R RGB Raptor as your first mechanical gaming keyboard. 100% anti-ghosting on gaming. Hot-swap modular switches design and comes with lot of interesting features. Don't forget the colourful RGB lighting effects too. As usual, more information can be found at Armaggeddon Website. Get yours at Lazada.