Introduction
Cherry MX Blue Switches, NKRO, FPS compact design, detachable cable, red backlit keys with dynamic lighting effects, textured WASD keycaps… Yup, that's part of the features of HyperX Alloy FPS Mechanical Gaming Keyboard that I have with me. In addition, it has solid steel frame that is built for long-lasting durability and stability. And comes with travel pouch to ease carry around. Does it the perfect mechanical gaming keyboard for FPS gameplay? Let's find out…
Special Thanks
This review is possible thanks to below companies. Be sure to check them out…
Features
Compact design ideal for FPS gameplay
Solid-steel frame
Ultra-portable design with detachable cable
Cherry MX mechanical keys
Convenient USB charge port
Game mode, 100 per cent anti-ghosting and full N-key rollover functions
HyperX red backlit keys with dynamic lighting effects
Additional coloured, textured keycaps for FPS gameplay
2 years warranty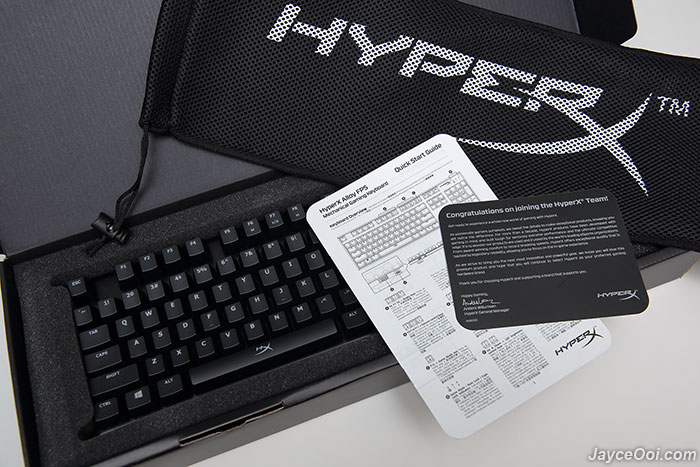 Package Content
HyperX Alloy FPS comes in a well-protected package. Yup, it is covered with foam holder and the included mesh travel pouch on top. Thank you card and multi-language quick start guide are there too. Once took out HyperX Alloy FPS, you can find thick detachable & braided cable, coloured & textured keycaps and keycap removal tool. AWSD keys are textured to provide maximum control and enhanced feel to be quickly found while 1 to 4 keys are coloured. As for the cable, it is using mini USB port to attach to keyboard. And 2 type-A USB ports that connect to PC – one for keyboard itself and another one to charge your mobile device.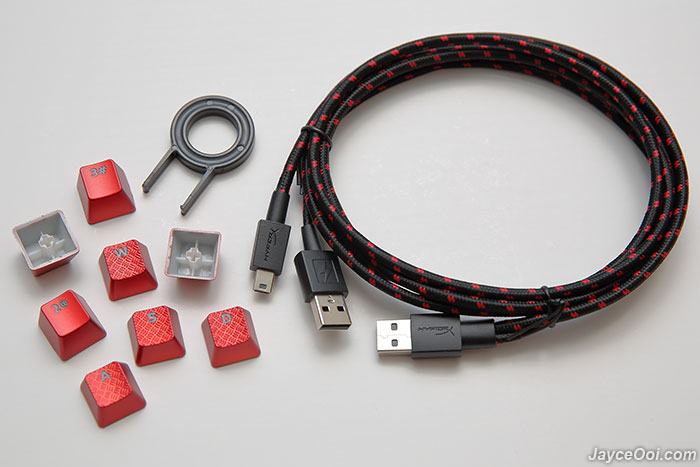 Design & Build Quality
HyperX Alloy FPS has top notch build quality no doubt. All thanks to the sturdy metal alloy top plate and solid plastic housing. It has the minimalistic compact design that ideal for FPS gameplay. This will maximize desktop real estate for FPS mouse movement. And it is also Ultra-portable for gaming on the go.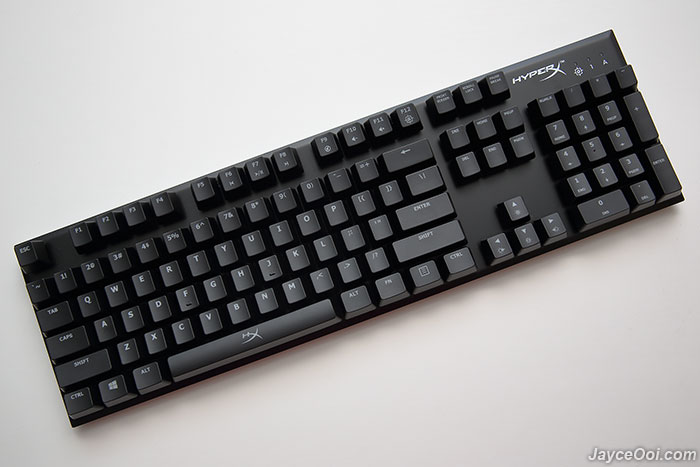 Mine comes with English (US) layout and loaded with Cherry MX Blue switches. Brown and red switches are available as well. Same apply to keyboard layout too. For your information, all the keycaps are very well made. And coated with layer that give smooth and soft touch experience. Yes, the smoothest keycaps that I had even touched. All the letters are clearly been seen even without LED backlit. Finally, you can find light indicators for game mode, num lock and caps lock on top right corner.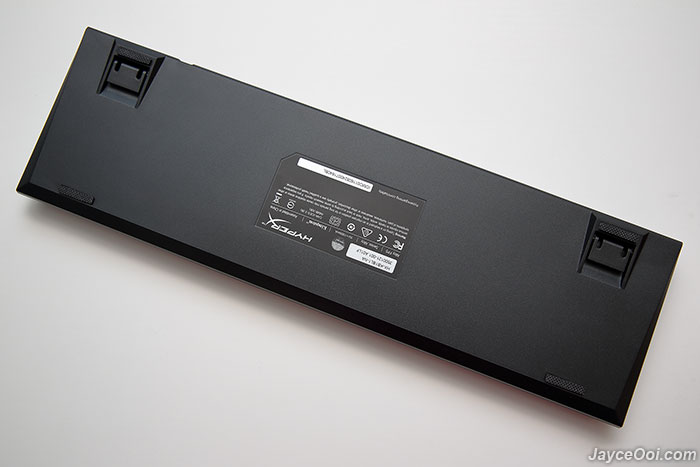 There are total 6 high quality anti-skid pads (including 2 on keyboard legs). Don't be fooled by their tiny sizes. They do provide strong grip and stability here. You need to apply quite some force in order to move the keyboard.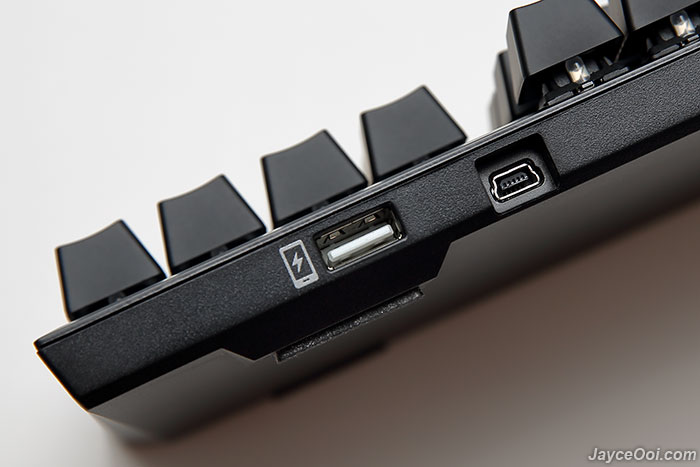 Here is the mini USB port for keyboard's data and power. And USB port for charging your mobile phone. Have a closer look on the super grippy anti-skid pad too.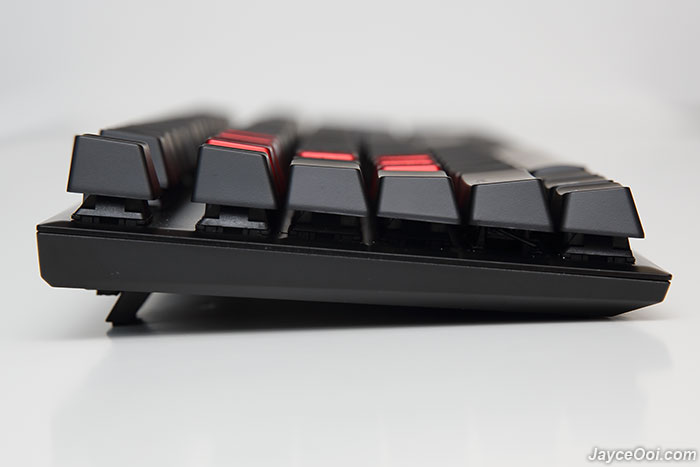 High profile keycaps and 1 level height adjustment. Indeed, it has minimalistic compact design. No more, no less. Thanks to that, HyperX Alloy FPS and detachable cable can be easily stored in the high-quality mesh travel pouch for protection. And ease to carry around with you to any tournaments and LAN events. Yes, there is a separate storage slot for cable and replacement keycaps.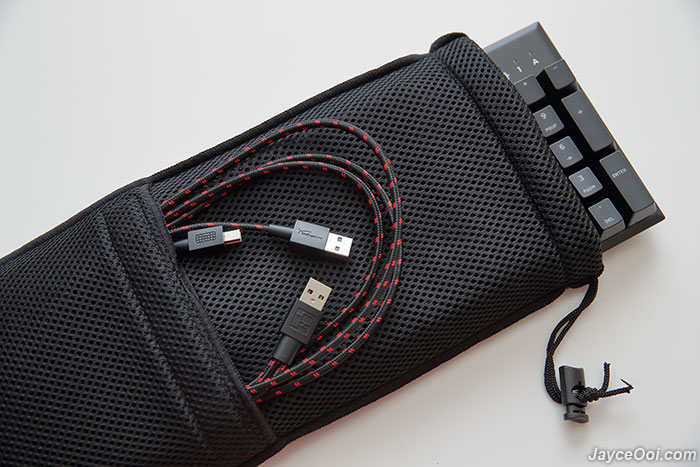 Specifications
Keyboard
Switch: Cherry MX
Type: Mechanical
Backlight: Single color, Red
Light effects: 6 LED modes and 5 brightness levels
Connection type: USB 2.0 (2 USB connectors)
USB Passthrough: Yes (mobile phone charging only)
Polling rate: 1000Hz
Anti-ghosting: 100% anti-ghosting
Key rollover: 6-key / N-key modes
Media control: Yes
Game mode: Yes
Cable
Type: Detachable, braided
Length: 1.8m
Dimensions
Width: 441.65mm
Depth: 129.38mm
Height: 35.59mm
Weight (keyboard and cable): 1049g
Performance Result
The one of the most important parts of a mechanical gaming keyboard – switches. Yes, HyperX Alloy FPS is using Cherry MX mechanical keys which use pioneering Gold Crosspoint technology to provide high-precision key contact and provide unmatched reliability. For those who are new to switches, blue switches are click-style switches that provide much more substantial audible and tactile feedback with each keypress. Yes, they are a lot louder than the usual membrane keyboard. Clicky and provide much better tactile feedback.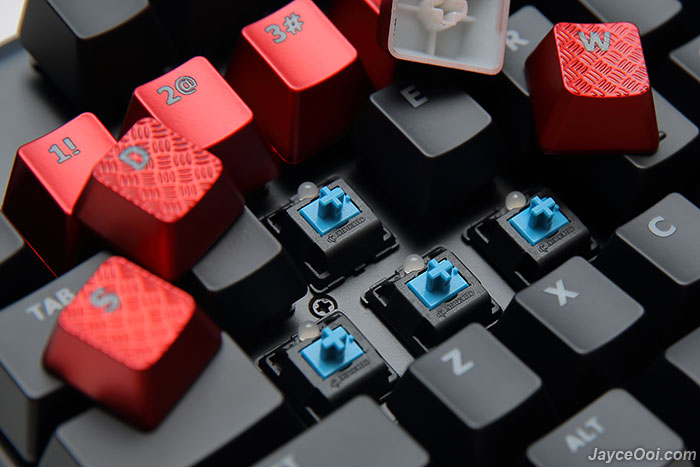 Cherry MX Blue Switches are the key factor that bring the price range of this keyboard. How does it compare to other blue switches keyboard with lower price range? I have Kailh and Xinda blue switches' keyboard with me right now to compare. Among them, Cherry MX has the highest actuation force, follow by Kailh then Xinda. This make Cherry MX much more clicky. As for loudness, Xinda is the loudest, follow by Cherry MX then Kailh. Cherry MX gives the best tactile feedback, follow by Kailh and Xinda at last. Overall, Cherry MX has the best clickly feel and experience yet having moderate loudness.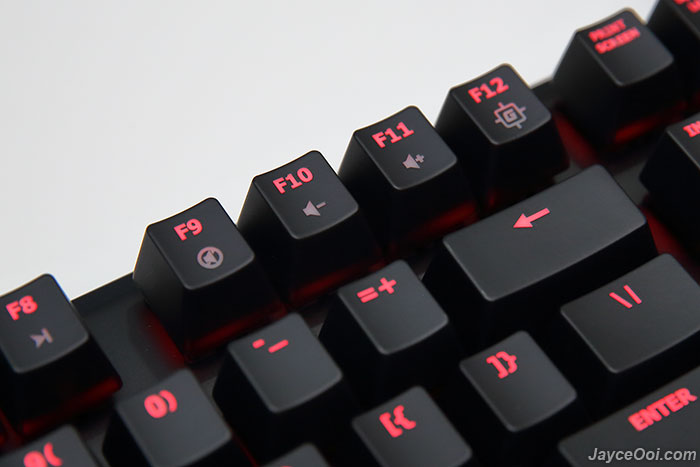 HyperX keyboard offers two modes – 6KRO and NKRO (N-key rollover or 100% Anti-Ghosting). 6KRO mode is enabled by default. What are 6KRO and NKRO? Up to 6 keys and 4 modifiers keys (Windows, Alt, Ctrl, Shift) can be pressed and correctly registered at the same time on 6KRO. On NKRO mode, you can press every key on your keyboard and they will all be registered correctly. And there is Game Mode where Windows key is disabled to avoid accidental interruption during gaming. These are must have features for all the hardcore gamers out there, right?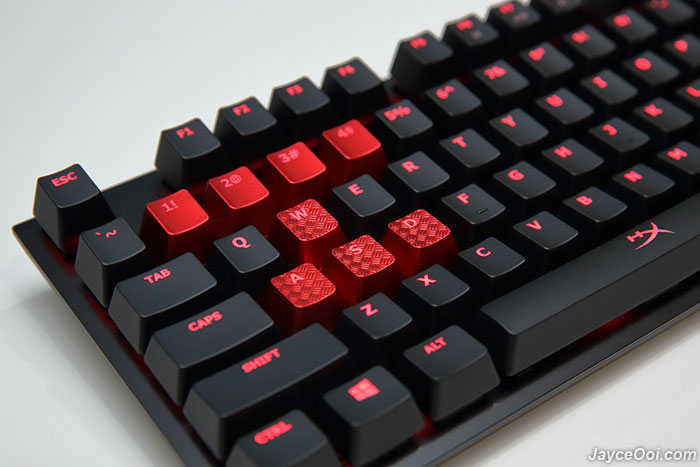 Yes, I can get into action even with my eyes closed thanks to textured AWSD keys. No need to look for them here. And red coloured number 1 to 4 for weapons. A really nice touch by HyperX. This surely enhance my first person shooting (FPS) gaming experience. In addition, keys response is really fast. Hehe… You are the only one that need to catch up with the games and keyboard. For music listeners, there are 6 media shortcut function keys for you and me. You can control volume and music playback with them. A very nice feature that I can't live without on my daily music listening with my PC.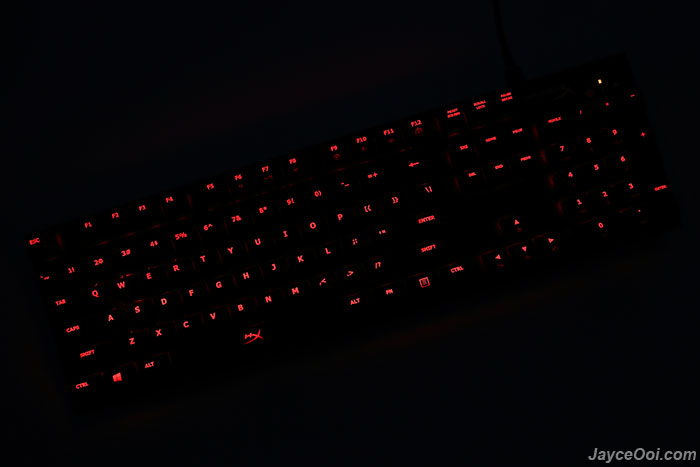 HyperX Alloy FPS has red backlit keys. And offers dynamic lighting effects with six preset LED modes – solid, breathing, trigger, explosion, wave and custom. Just pick the one that you like. Up to 5 brightness levels to select. And you can turn it off totally too. Personally, I love to use trigger and wave modes while typing. And custom mode while gaming. Yes, I enable backlight those keys that needed in games. This will help to ease finding those keys faster. Just take a look on below example where number 1 to 4, WASD, ctrl and space are having backlight only.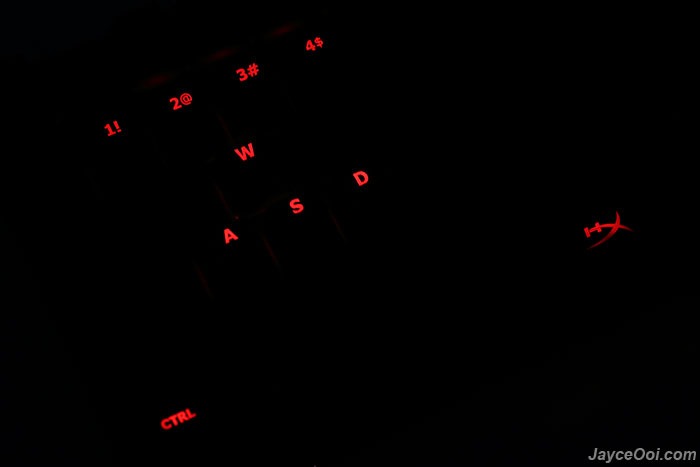 Advantages
Cherry MX Switches
6KRO and NKRO support
Textured AWSD keys for FPS
Illuminated character keys
Windows key lock
Top notch build quality
Detachable braided cable
Carrying pouch
Cool backlight effects
USB charging port
Limitations
No software driver (macro) support
Red backlight only (for some)
Conclusion
HyperX Alloy FPS surely is the must have mechanical gaming keyboard for FPS gameplay. Period. Fast response and great clicky experience with Cherry MX Blue Switches. Don't forget the textured AWSD keys too. Mesh travel pouch to ease carrying around for LAN party. And come with 2 years warranty. Interested? More information can be found at HyperX Website. And get yours at Amazon.