Introduction
Mechanical gaming keyboard with removable modular switches? Yup, that's part of Armaggeddon MKA-7C PsychEagle 2017 edition features. Besides, it is loaded with Outemu blue switches, individually lit keys with multicolour LED lights and 12 different backlight effects. Come with KevlarTech high quality concave keycaps with lifetime fade proof warranty. Sound great? Let's find out more…
Special Thanks
This review is possible thanks to below companies. Be sure to check them out…
Features
Individually lit keys with MultiColour LED lights and 12 different backlight EFX
Adjustable lighting EFX speed and brightness
High quality Blue Mechanical switches with up to 50 million cycle life span
Sleek form factor with metal top panel
Extra durable content switches
Control light brightness (Fn+Arrow Up/Down)
KevlarTech High quality concave keycaps with lifetime fade proof warranty
Outemu modular BLUE mechanical switches for complete user customization Hot-Swap Modular Mechanical Switches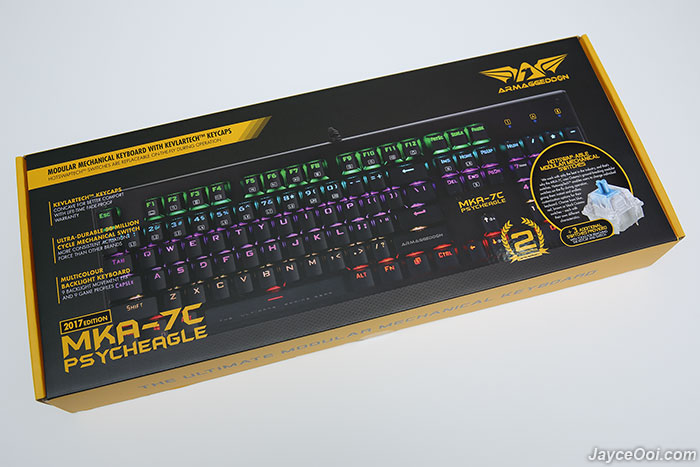 Package Content
MKA-7C PsychEagle comes with well protected package just like other Armaggeddon's products. Once taken out the keyboard, you can find the simple yet useful user manual, 3 Outemu modular blue mechanical switches, key cap puller and switch puller. That's it.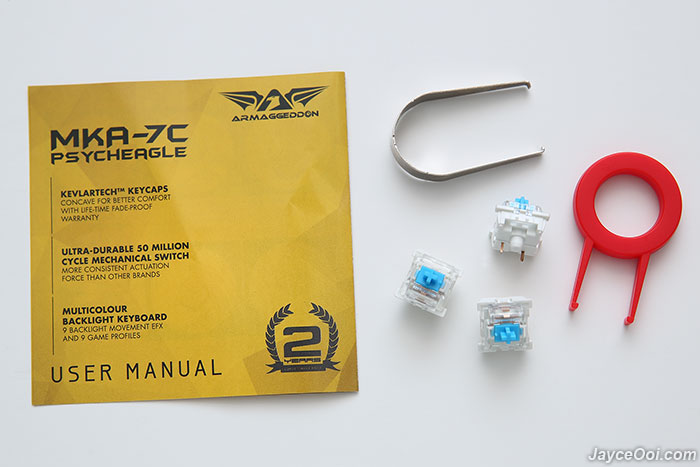 Design & Build Quality
Yes, MKA-7C PsychEagle has excellent build quality. All thanks to metal top panel and solid plastic bottom. Furthermore, it has sleek form factor that ease carry around as you can see. The cable is braided and has magnet ring while USB plug is gold plated. Come with velcro cable tie too.
At bottom, you can find 4 anti-skid pads including 2 rubber anti-skid pads on keyboard legs. No worry, it is still have good grip and stability even without using the legs' rubber.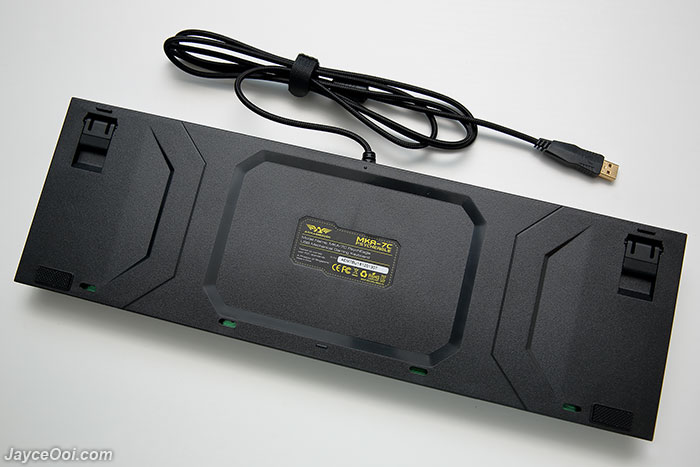 Yes, it is not a RGB mechanical keyboard. The LED lights are fixed for each of the line. But comes with lot of lighting effects for you to play with.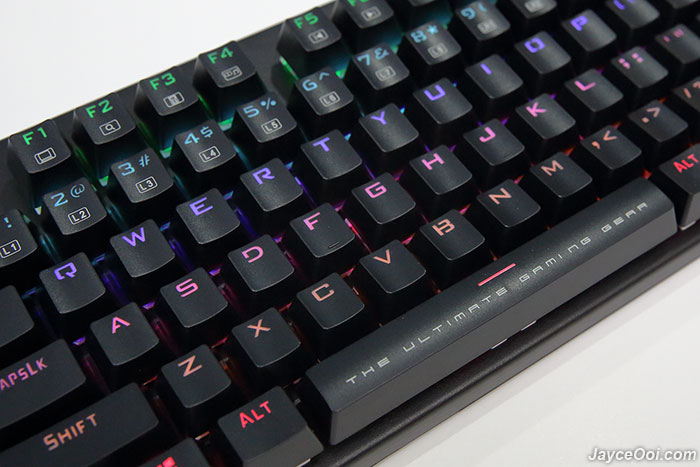 High profile keycaps are what you can get here. And come with life time fade proof warranty too.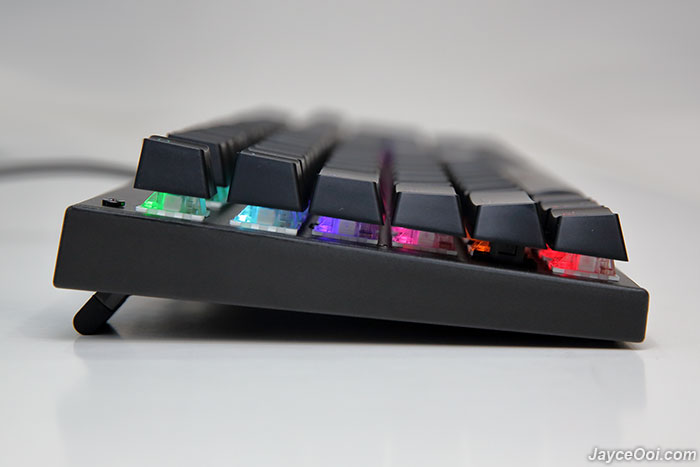 Specifications
Outemu modular BLUE mechanical switches for complete user customization Hot-Swap Modular Mechanical
Switches Blue mechanical switch
50 million cycle life span for both mechanical component and electronics in switch tested
at rate of 180 cycles per minute with and without electrical load of 10mA 5V DC
Total travel: 3.60-4.00mm
Work travel: 2.20+-0.6mm
Work force: 50 +- 10gf
Tactile/operating force: 60+-15gf
Tactile travel: 1.8mm
Trigger Force: Min 30gf, Max 65gf
Top panel: Sleek metal plate
Keycaps: 87 x kevlartech high quality keycaps with life time fade proof warranty
Cable: 1.8M high quality nylon braided cable with magnetic ring
USB port: Gold plated
LED Indicator: Caps-lock x1, Win-look x1
Size: 434x124x36mm
Weight: 780g+-10g
Performance Result
Yeah… It is really modular type of switches that are being used. Outemu blue mechanical switches as you can see from the photo. No need to send the whole keyboard for warranty if one switch is not functional. Great for long term investment too when 2 years warranty period is over. You can replace the switch by yourself manually. No addition fee incurs too.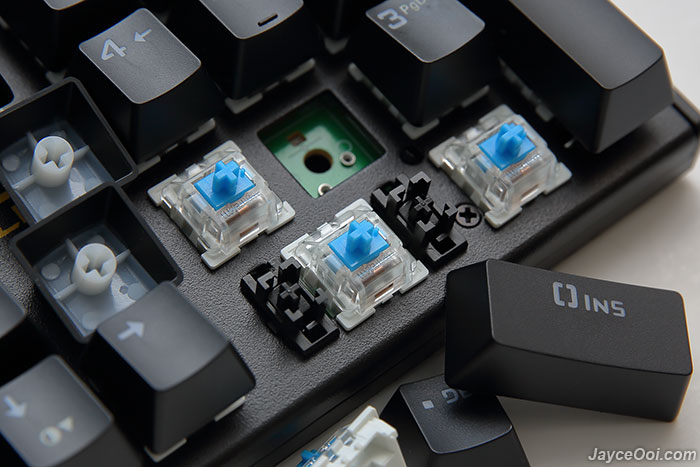 Let's talk about Outemu blue switch now. In short, it is almost the same as Xinda switch in term of loudness, tactile feedback and actuation force. They share the same price range as well in fact. Yes, it is the loudest when compare to Cherry MX and Kailh blue switches. Has the lowest actuation force too. Tactile feedback is good but the other two are better. No the best out there but it's the cheapest among all. Can't complaint much here…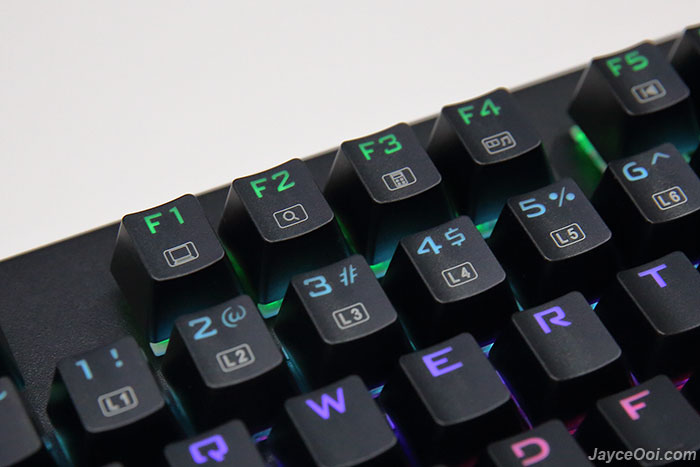 Armaggeddon MKA-7C PsychEagle supports NKRO (N-key rollover or 100% Anti-Ghosting) no doubt. Yes, you can press every key on your keyboard and they will all be registered correctly. You can also lock the Windows key to avoid accidental interruption during gaming too. And there are lot of Fn shortcut keys for you to play with. Yup, I can control volume and music playback easily here. Quick calculator launcher is useful to me too.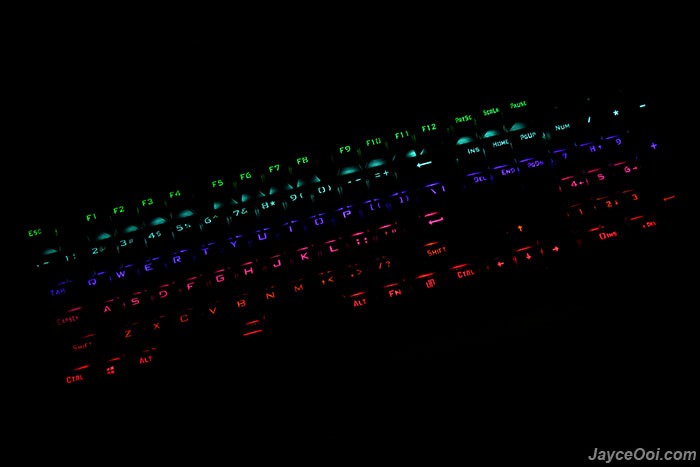 9 backlight movement effects are supported. Up to 3 brightness levels to select. And can turn it off too. Yes, you can turn on all the LED lights. Or turn it into breathing light mode. Or trigger on by touch mode as you please. Change it everyday to suit your mood.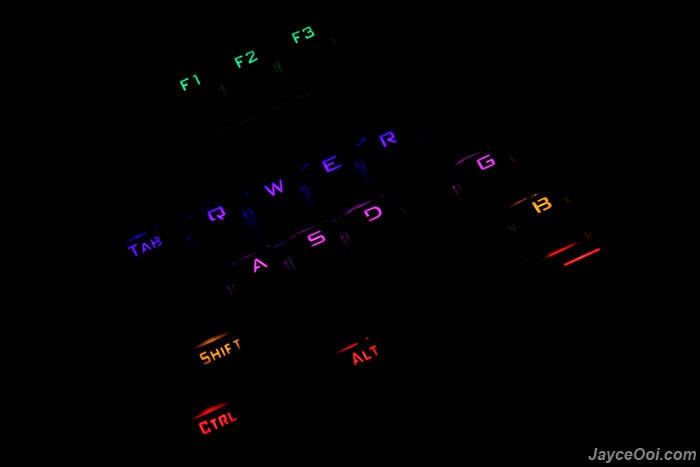 8 preset game profiles and 2 custom ones for you to choose. Enable LED lights on certain keys to match your games like FPS, CF, COD, RTS and others. Or create your own custom one…
Advantages
Anti-ghosting with n-key rollover
Illuminated character keys
Hot-swap modular switches
Windows key lock
12 multimedia function keys
Solid build quality
Cool backlight effects
Limitations
No software driver (macro) support
Slightly loud clicking sound
No RGB lighting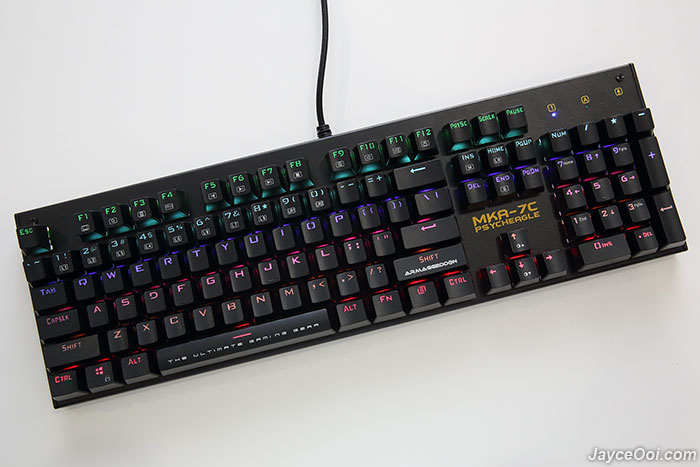 Conclusion
For sub RM200, Armaggeddon MKA-7C PsychEagle 2017 edition is the budget mechanical gaming keyboard that you don't want to miss. Great for starter that want to enjoy 100% anti-ghosting on gaming. Hot-swap modular switches design and comes with lot of interesting features. Buy yours at Shopee.