Introduction
Compact speaker that packs a punch! Yes, that's what Creative MUVO Play can do. And it really does. All thanks to dual custom-tuned, full-range micro drivers and dual passive bass radiators for astoundingly loud and powerful audio with rich bass. In addition, it is loaded with Bluetooth 5.0, IPX7 waterproof, stereo wireless link, speakerphone and Siri / Google smart assistant. Does it sound great? Let's find out now…
Special Thanks
This review is possible thanks to below companies. Be sure to check them out…
Creative for this Creative MUVO Play Portable and Waterproof Wireless Speaker
Zorloo for Zorloo Ztella USB DAC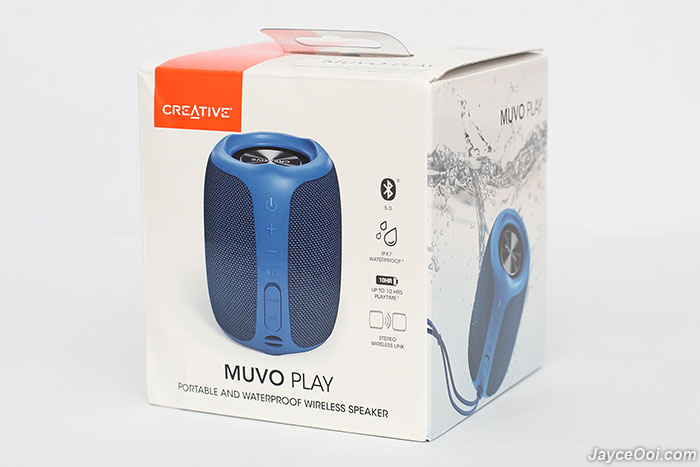 Package Content & Design
MUVO Play comes well-protected. Once taken out the speaker, there are detachable strap, USB-C charging cable, warranty, safety & regulatory info and quick start guide in multiple languages. That's all. No AUX audio cable. As usual, do go through the guide to get started.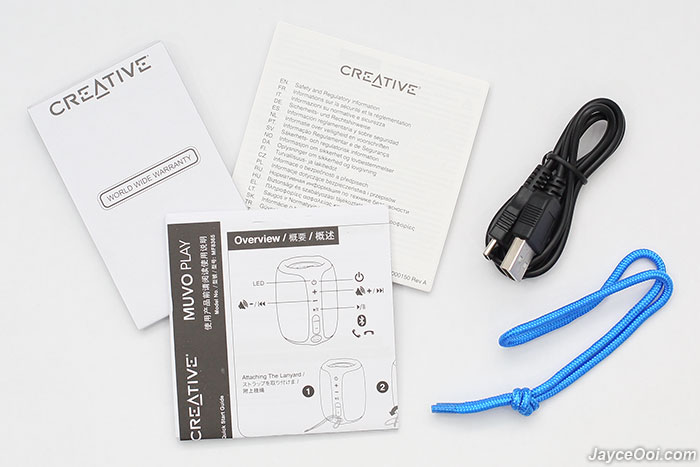 Excellent build quality with sturdy matte plastic housing. It has rubberized feel when touching. In addition, the fabric-covered speaker grill provides grip when holding it. Stylish on top of lightweight and compact design. By the way, it comes in 3 colours – black, blue and orange. Just pick the one that suits your taste.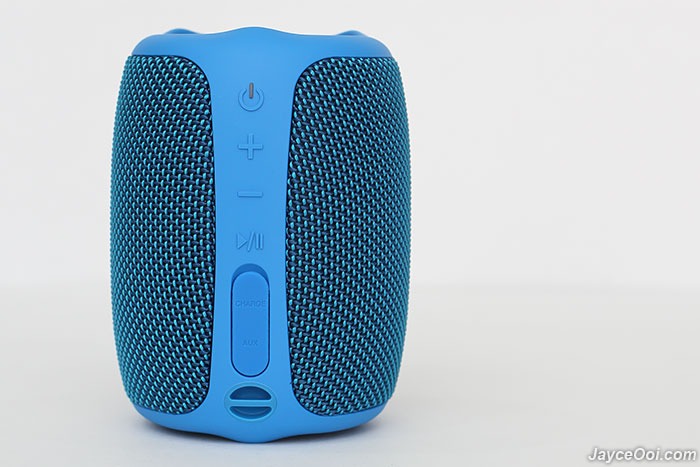 Yes, there are 2 passive bass radiators. One on top while another one at the bottom. And the dual custom-tuned, full-range micro drivers are hidden in fabric-covered speaker grill. 2 x 5W with total system peak power at 20W.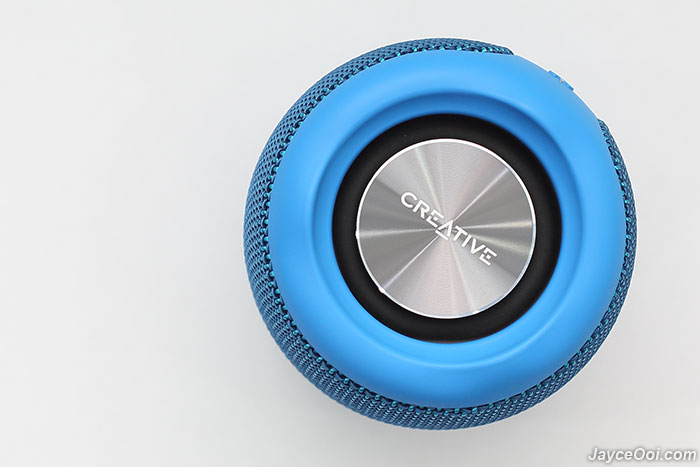 All the buttons are located in front. Same applies to LED light indicators (blue and red), AUX and USB-C ports with cover. Lastly, the lanyard slot at the bottom.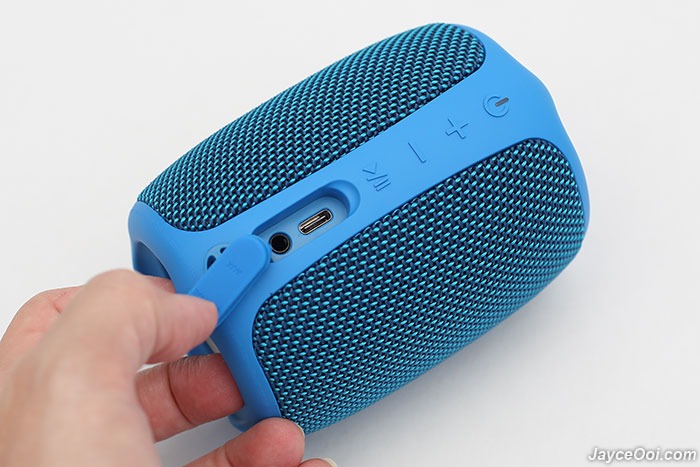 Performance Result
Bring it everywhere! Yes, Creative MUVO Play is IPX7-certified waterproof. Compact and lightweight to let you play all your favorite songs any place you want. Enjoy it up to 10 hours of non-stop music playback (based on specs). By the way, there is battery life indicator on both iOS and Android devices. Great to know when to charge it.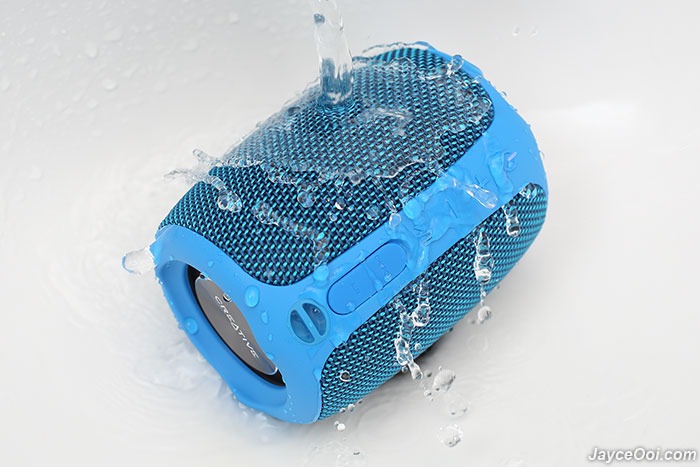 Outstanding Bluetooth wireless range! It can connect up to 8m+ with obstacles like wall. Free free to wondering around. In addition, video and audio are virtually in-sync. Great to watch movie, TV series and play games on mobile devices like smartphone and tablet no doubt. Lastly, there is AUX-in port for non-Bluetooth devices.
MUVO Play does not have any micro SD slot like other Bluetooth speakers. So no built-in MP3 player. As for speakerphone, it is great. Others can hear me loud and clear. As usual, closer to mic == better voice quality to others.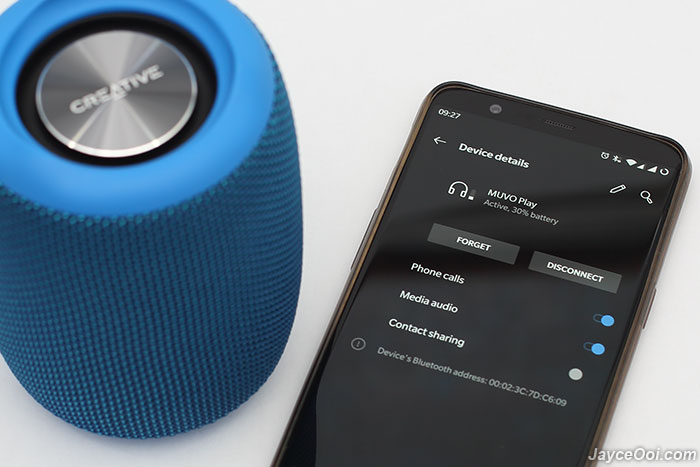 Don't forget that MUVO Play supports TWS. Just pair up 2 MUVO Play units together and enjoy wider soundstage in stereo.
Sound Quality
Excellent sound for the price! Period. I didn't expect MUVO Play sounds so clear and incredible with its compact size. Balanced toward little bit bright sound signature is what you get. 20W total power output is good enough to blast in a quiet large living room. 40W when you add another one through TWS.
Creative has done a great job on fine-tuned MUVO Play audio quality. In details, highs are clear and crisp. No harshness at all. Mids performs great. Both female and male's vocals sound nice and natural. There is a little bit warmest touch that I prefer. As for bass, it is powerful for its size. You can feel the bass bumping here and there. But don't expect subwoofer kind of bass level will do. In short, it is a pleasure to listen to MUVO Play.
Advantages
Bright, clear sound with amazing bass
Excellent build quality
Long battery life
TWS mode support
IPX7 waterproof
Ultra-Portable & lightweight
Limitations
Wish that there is built-in MP3 player
Conclusion
Highly recommended! Enjoy solid audio experience from Creative MUVO Play. Period. I am going to get another one for True Wireless Stereo. Get yours at Creative Website directly or Amazon soon.