Introduction
That's the glowing light from top of the TV Box. Nice, right? Not every TV box have this kind of feature. Yup, Egreat A5 4K Professional Blu-ray HDD Media Player is the star today. It supports full function Blu-ray navigation menu out of the box. In addition, you can enjoy wide-colour gamut HDR10, 10Bit deep colour from its HiSilicon Hi3798CV200 chipsets. Dolby Atmos and DTS:X raw passthrough are supported too. Loaded with high performance Wi-Fi 802.11 B/G/N, Bluetooth 4.0 and Gigabit LAN. SATA connection to store more movie, song and photo on external hard drive. Sound great? Read this review to know more…
Special Thanks
This review is possible thanks to below companies. Be sure to check them out…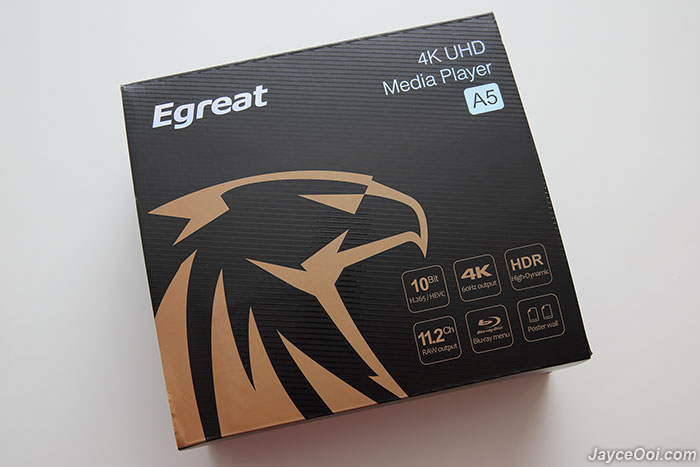 Package Content
Egreat A5 comes in a well-protected package as you can see. Once opened, you can find Egreat A5 and IR remote control. Then HDMI, composite audio video & SATA cable, power adaptor and user guide. By the way, that's the best user manual that I ever see lately. It is very detail and loaded with lot of coloured pictures. Great job, Egreat (soft copy is available to download from their website if you want to have a look). You should familiar with the box's features and functions after went through it. And you will get the correct power adaptor plug for your country too.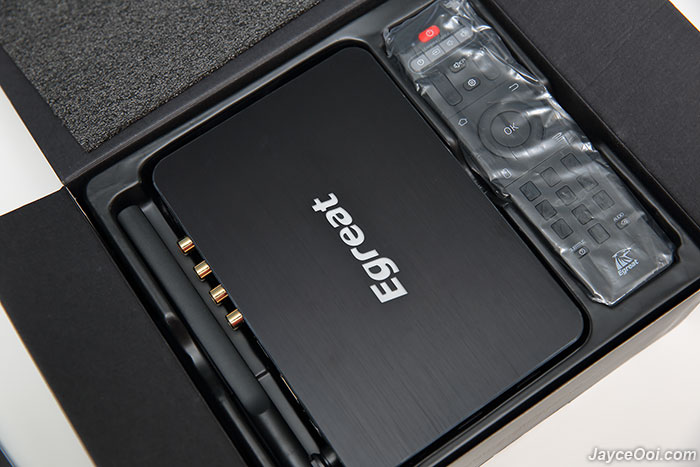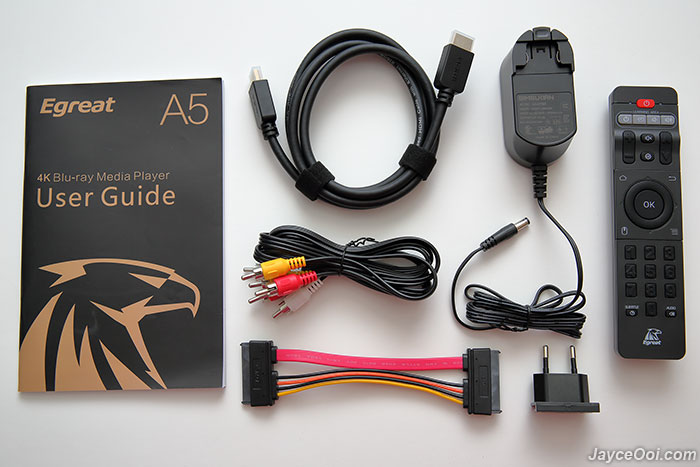 Build Quality & Design
Top notch build quality is what you can get from Egreat A5 that loaded with metal housing. Besides having solid brushed aluminium casing, it looks great and stylish too. LED white-Light dot matrix panel helps to beautify too in addition provide useful information. Infrared receiver, power light indicator and power button are just beside the LED display.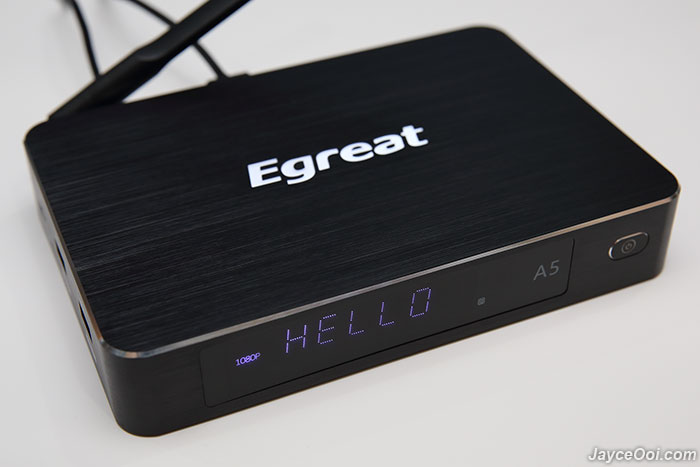 At back, you can find optical & coaxial SPDIF, composite, HDMI 2.0a, Gigabit Ethernet, reset switch, DC input and non-removable antenna.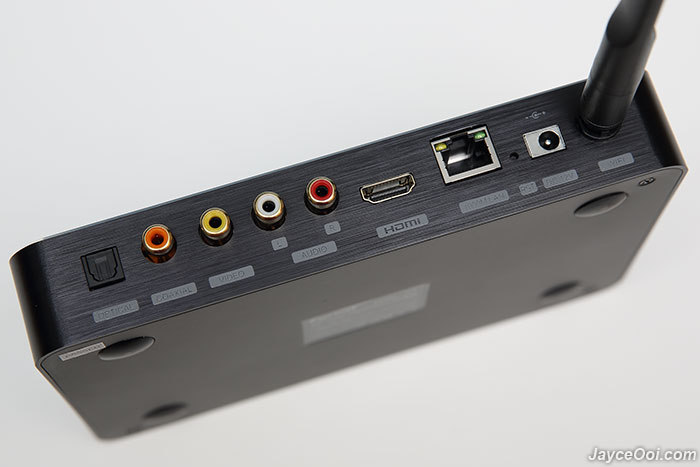 On the left, there are micro SD slot, USB 3.0 and USB 2.0 ports. Yes, I love TV Box that has USB 3.0 as you can much faster transfer rate compare to old USB 2.0.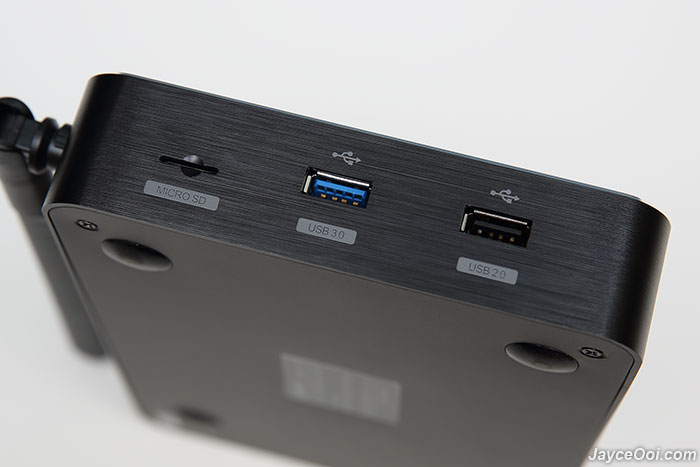 There are SATA interface and another USB 2.0 port on the right. You can connect normal hard drive or SSD through the SATA interface and getting power through there. However, this does not give you the best outlook as the HDD is exposed rather than conceal in the TV Box.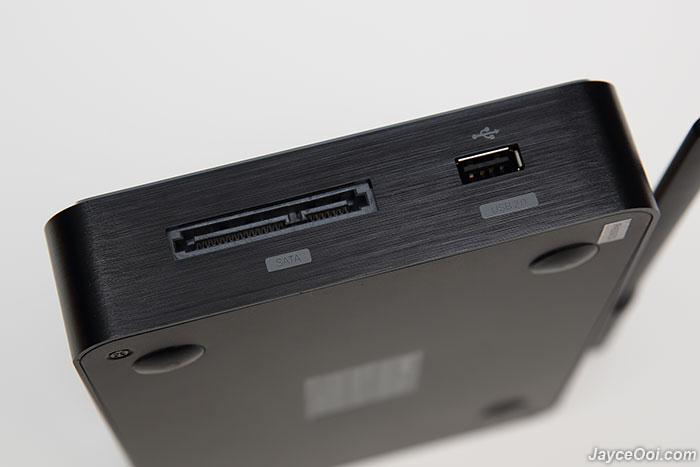 The bundled IR remote control is decent in build quality too. 4 IR programming buttons to mimic your TV remote. Everything is working great. However, I am not sure why there is no white marking on volume, next/prev and number buttons. Hardly see them clearly here. Anyway, this is a normal IR remote without air mouse ability. You probably will be using air mouse like Rii i25 in the end.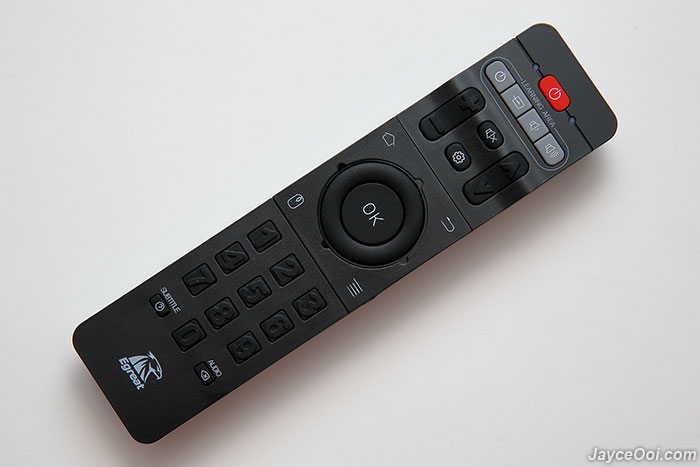 Software
Android 5.1 Lollipop is the operating system that Egreat A5 is running right now. Support OTA firmware update (so far I did not receive any update – using the latest one here – V1.1.0.8) and USB update locally too. Egreat support seems great as there are several firmware revisions already. And upcoming beta firmware V1.1.0.9 available to test in their own forum too. Below is their own EG-UI 2.0 interface. Clean and simple yet stylish. Even the settings are matched to the main GUI. Nice…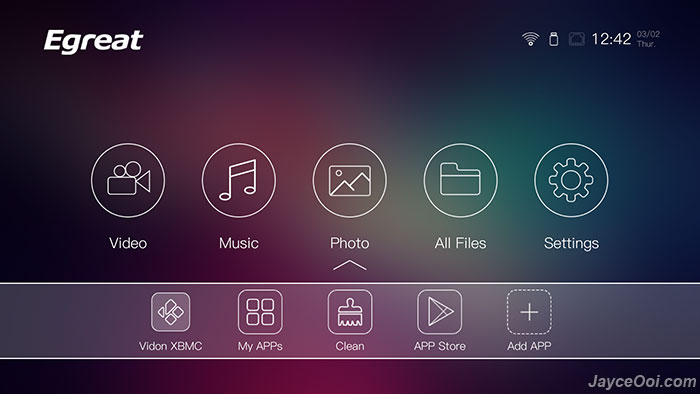 If you have go through the soft copy user manual, you probably know some of the features already. Yes, I like the ability to chance the front LED panel display. I am selecting it to show remaining movie playback time right now. Or can be turn off totally too. You get to configure to subtitle as well. Of course, all of these features are available on their very own video player only.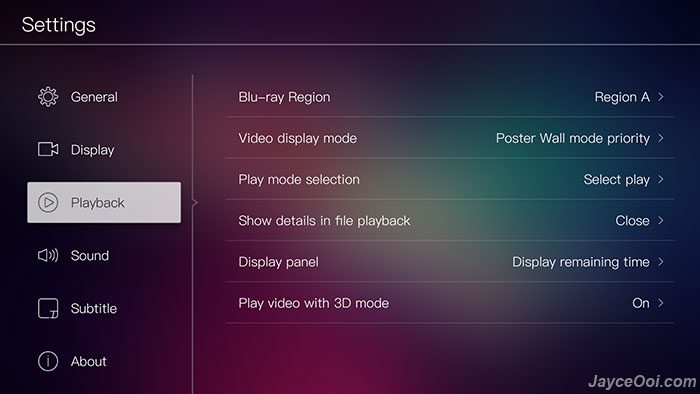 Posters Wall!!! Yes, this is part of the selling points of Egreat A5. All these posters (or cover arts) are gathered from Internet based on your local movie collections automatically. Movies are categorized. And you further narrow down your search with filter based on type, region and year. A very nice feature that I can select cartoon only for my 5 years old boy to watch.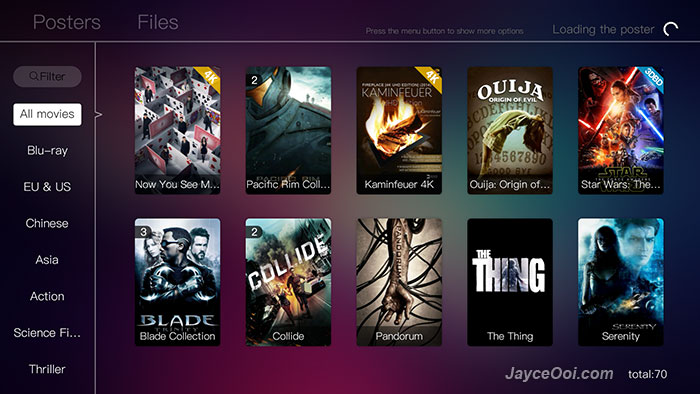 Detailed movie information will be displayed once click on any movie. Blu-ray navigation menu will be shown if movie supports it.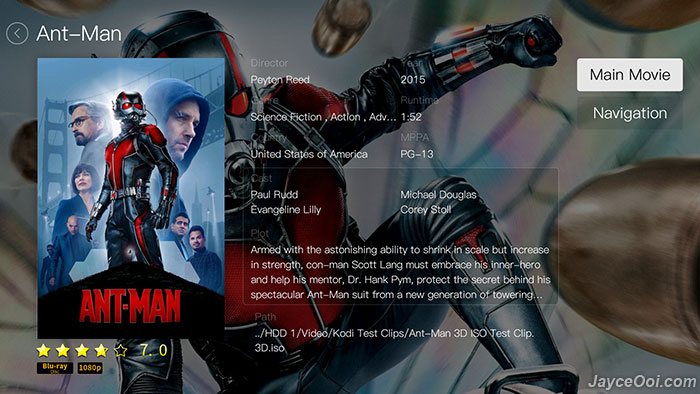 Egreat A5 comes clean. Almost no extra applications were pre-installed there. VidOn XBMC Pro (as Kodi), HappyCast, Miracast, Clean, App Store are there… No worry, Google Play Store is there for you too. By the way, there is Samba server pre-installed too. A plus for you to transfer files easily between your PC and TV box with large HDD.
Benchmark
HiSilicon Hi3798CV200 chipsets with ARM Cortex A53 64-bit CPU and multi-core Mali-T720 GPU are not stranger to me. How does it perform with 2GB of RAM and 8GB of storage loaded this time? Feel free to check out AnTuTu Benchmark, A1 SD Bench and Geekbench 4 results as below. As expected, 3DMark Ice Storm Extreme benchmark result is not available with same reason – can't install Ice Storm Extreme add-on. Look like Hi3798CV200 has compatibility issue with this app.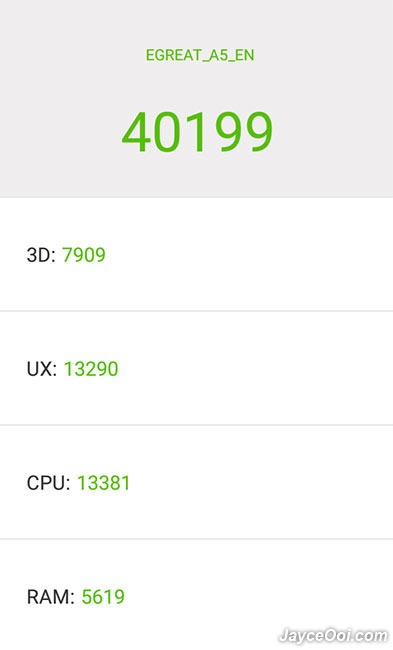 AnTuTu Benchmark result is better on Egreat A5 than my other TV Box with Hi3798CV200. UX score is higher on A5. Again, these scores are pretty much align with Amlogic S912 boxes too.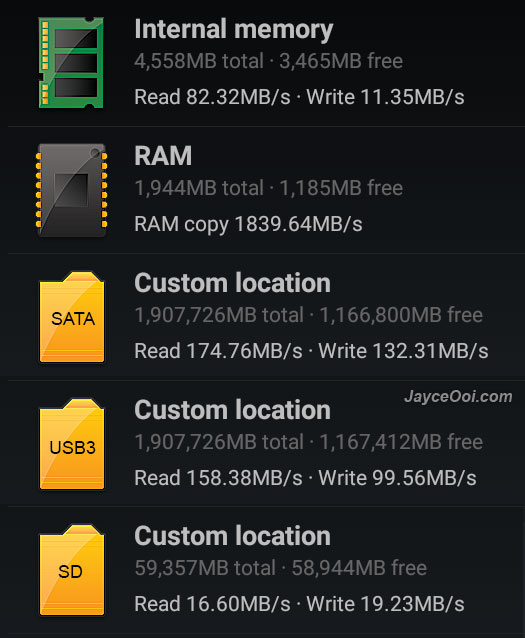 Storage performance is more about the same with my other TV boxes. SATA interface gives the best result. Follow by USB 3.0 port. Therefore, do use SATA connection when attach external storage on Egreat A5 to get the maximum performance here. Note – Kingston microSD was used in SD slot test and 2TB Toshiba HDD on USB 3.0 and SATA. Interesting fact – SSD is slower than HDD on these tests. No idea why…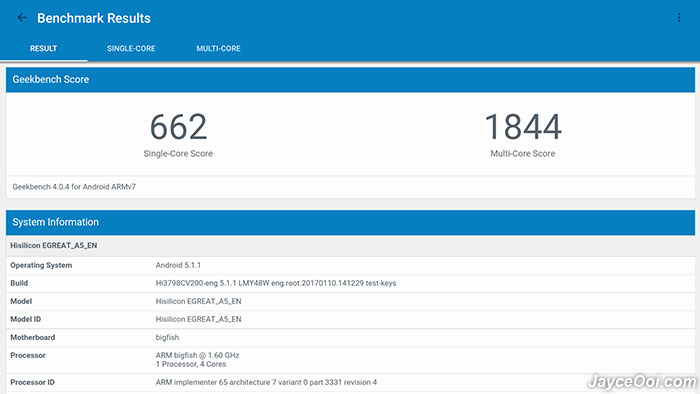 No surprise on Geekbench 4 test. HiSilicon Hi3798CV200 is performing at its best here.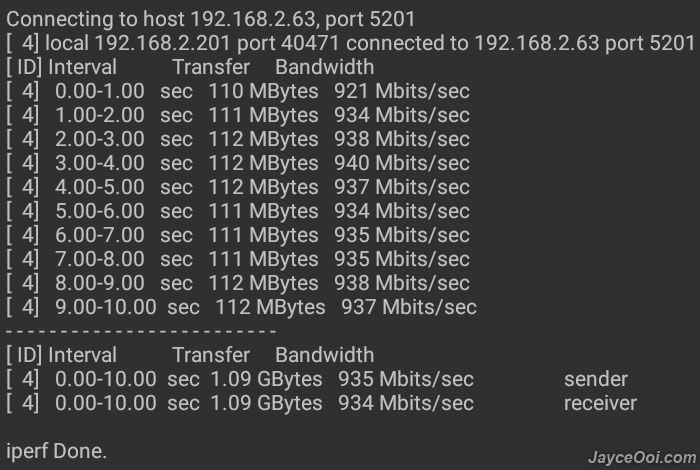 Egreat A5 passes connectivity tests with flying colours. I was about to complaint that no 5GHz Wi-Fi AC connection here. But 2.4GHz connection with 150 Mbps rate stopped me from do so. So far, this is my only TV Box that able to get 150 Mbps on 2.4GHz. Based on iPerf3 test, it is performing very well at 85 Mbits/sec. In addition, Wi-Fi coverage range is excellent. And able to stream 4K Ultra HD contents below that rate from your local NAS directly. Gigabit Ethernet is scoring great result again @ 935 Mbits/sec. Same apply to Bluetooth range, it passes 10m Bluetooth range in straight sight line with no obstacle test easily. And manage to get connected up to 7m with obstacles.
Performance Result
The first media player in the world that support all kind of Blu-ray navigation menu? Not sure about the first fact but Egreat A5 surely support native Blu-ray navigation menu very well. Below is the screenshot that I got from Egreat Forum (can't take own screenshot as I don't have HDMI-in device yet). For those who have lot of Blu-ray, DVD ISO will going to love this feature. Well, this is not the feature that really make Egreat A5 shines yet…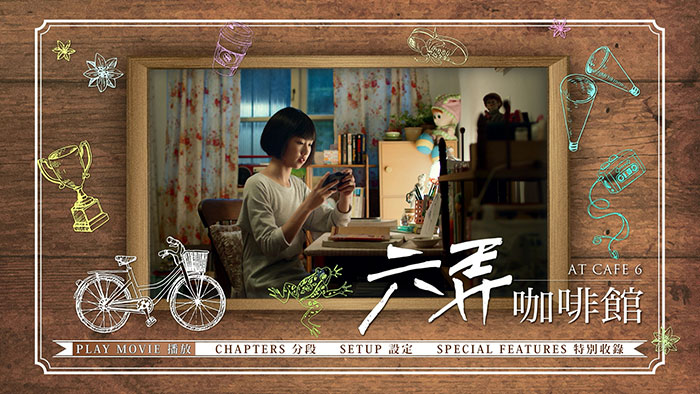 HiSilicon Hi3798CV200 chipsets with Imprex Engine 2.0 does. Thanks to that, Egreat A5 is one of most powerful media players out there. Best picture quality with HDR10 deep colour and BT.2020 wider colour gamut support. It is capable to playback crazy high bit rate videos like 4K Jellyfish with 400Mbps on internal storage. Rest assures that others 4K Ultra HD 10-bit 3840 x 2160 HEVC 60fps videos can be playback smoothly (h.264 or h.265 codec) too. Most of the popular audio codec like Dolby True HD, Atmos, DTS HD-MA and DTS:X are supported on both 5.1 and 7.1 channels (passthrough supported too). With Imprex Engine 2.0, you can tune lot of image settings like brightness, chroma, contrast and saturation. Colour spaces like RGB, YCbCr for both 8Bit and 10Bit too to suite your preferences.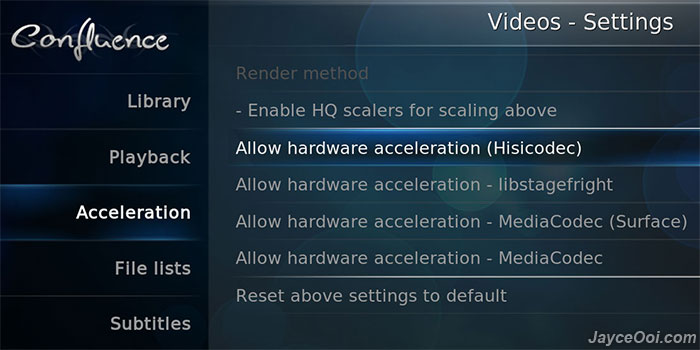 Yes, auto frame rate switching is supported on both Egreat video player and VidOn XBMC Pro. A must have feature for movie enthusiasts. Basically, VidOn XBMC Pro performs just like Egreat own video player as Hisicodec is supported there. Therefore, you get the full hardware acceleration on video here but no Imprex Engine 2.0 configuration. A great user experience I must admit compare to other box that need addition wrapper when Kodi is your main player. Yes, lot of 'interesting' Kodi add-ons to enjoy with VidOn XBMC Pro too. The great news – it is totally free on Egreat A5.
Things to take note… Egreat A5 needs 35 seconds to boot up. Shutdown is almost instant. It does not have root access pre-installed. And no Google Widevine Modular and Microsoft Playready DRMs too. So applications that requires DRM like Netflix will run in SD only. And as expected too, Moonlight (NVIDIA GameStream) is not playable as latency is too high. Hi3798CV200 to be blamed here.
Complaints? Yes! There is a reason why Egreat A5 does not come with many applications installed. Lack of internal disk storage is the main reason I believe. There is only 3.65GB out of 8GB usable (after factory data reset). Not enough as I am getting low disk space warning after installed Asphalt 8 Airborne and few small applications. You can't extend internal storage without root access. And Adoptable Storage works only on Android 6.0 and above. Therefore, you are stuck with 3.65GB disk space here.
Application compatibility issue… No idea why Asphalt 8 does not run smoothly some time as Mali-T720 GPU is more than capable to run it where games like Unkilled, Rayman Adventures, Xenowerk are running perfectly smooth. Asus Zen File Manager is facing force close issue here too. Can't open it at all. And system started to slow down / hang once I opened more than 3 games at the same time. Multi-tasking is not performing so well here. Not a deal breaker as I believe future firmware can solve these software issues…
Advantages
4K Ultra HD & H.265 codec support
Crazy high bit rate videos support
Auto frame rate switching support
Great wireless range & Ethernet speed
SATA interface & USB 3.0 port
VidOn XBMC Pro included
Blu-ray navigation menu support
Excellent build quality
Limitations
8GB internal storage is NOT enough!!!
No Wi-Fi 802.11 AC 5GHz support
Firmware still can be improved
Conclusion
Best movie experience is what I get from Egreat A5. Perfect video and sound quality from both Egreat video player and VidOn XBMC Pro. Enjoy Blu-ray navigation menu that other boxes can't offer. Recommended by me if you can accept all its weaknesses. A great media player indeed. As usual, more information can be found at Egreat Website. Get yours at GearBest or Amazon.