Fring is a free mobile application that lets users communicate with friends on popular networks like fring, Facebook, MSN Messenger, ICQ, Google Talk, Twitter, AIM and Yahoo over internet connection. Free calls (over IP) to other fringsters, or via MSN Messenger, Google Talk, or your SIP provider.
Fring Features
fring contact list
free calls
free video calls
free live chat
SIP calls
friends' profiles
call history
invite friends
fringAdd-on applications
send & receive files
WIFI auto-roaming
fring tones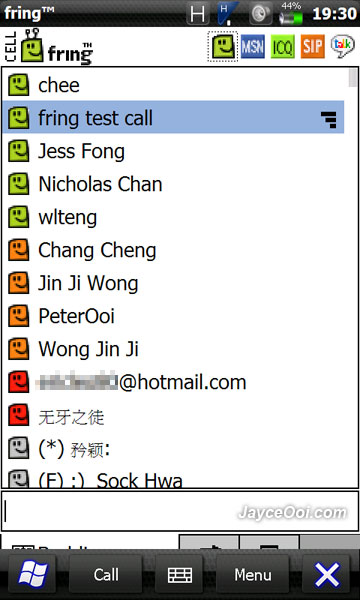 Fring is available for Nokia, Android, iPhone and Windows Mobile phones. I downloaded Windows Mobile version and look like the Fring layout does not compatible with Windows Mobile 6.5.x. Anyway, do check out this nice mobile application.
Download Fring for Windows Mobile here.