I love to try new stuffs. Just managed to install Team Win Recovery Project ~ TWRP 2.0 on my Amazon Kindle Fire. And managed to install CM7 ROM on Kindle Fire too. Play around with TWRP 2.0 Recovery. Backup Kindle Fire stock ROM. Wiping data… And I did one thing that I think it might cause issue. And it did. Selected reboot into recovery in CM7. As a result, my Kindle Fire keep boot into TWRP 2.0 Recovery even without pressing power button. In short, bootmode was set to recovery 5001 by default. So you need to change it back to normal 4000 bootmode.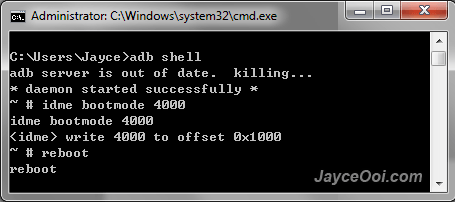 How to solve boot loop issue on Kindle Fire TWRP 2.0?
Note – adb.exe is located in Kindle Fire Utility\tools folder or
C:\Program Files (x86)\Android\android-sdk\platform-tools.
Plug in USB cable to Kindle Fire on TWRP Recovery mode.
Bring up Command Prompt.
Key in adb shell.
Key in idme bootmode 4000.
Finally, key in reboot.
That's it.
Your Kindle Fire should boot into CM7 OS after reboot. Cheer…