Important ~ First of all, turn off your Kindle Fire Wi-Fi before continue reading this. Secondly, use Root Explorer (if your Kindle Fire is already rooted) to check /cache folder. Make sure no bin file there. Delete it if found. Thanks Deric for the tips.
Amazon Kindle Fire has automatic software update feature. So you will get the latest software update on Kindle Fire automatically when a new software version comes out. This is good for normal users who don't care about rooting and installing custom ROM on Kindle Fire. They can enjoy all the latest features and bugs fix on new software update. Take my Kindle Fire as example, my initial Kindle Fire software version is v6 when I boot up it for the very first time. And it got updated to v6.2 through over-the-air (OTA) method few hours later after I registered my Amazon account on it. Why disable Kindle Fire auto software update? Well, the latest Kindle Fire software update v6.2.1 breaks SuperOneClick rooting method. So you can't root Kindle Fire on software v6.2.1 until developers come out a solution to root it again…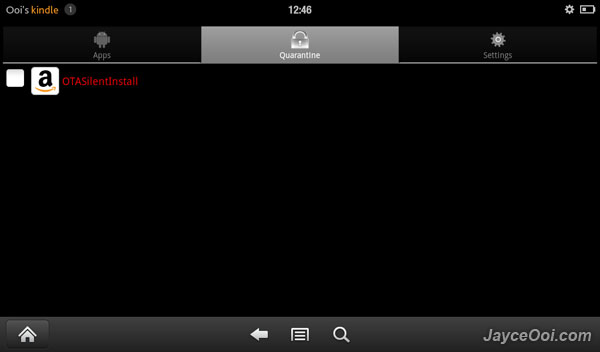 How to disable auto software update OTA on Kindle Fire?
First of all, your Kindle Fire software must be v6.2 or below. Why? You need root access in order to disable Kindle Fire auto software update. Follow this guide to root Kindle Fire ~ How to root Kindle Fire with SuperOneClick?
Step 1 – Disable OTASilentInstall
OTASilentInstall is the man behind that do the auto software update. So you need to disable OTASilentInstall by using App Quarantine. Launch App Quarantine. Go to Settings tab. Uncheck Hide system services. Go back to Apps tab. Check OTASilentInstall. Press Menu. Then Lock it. You should see OTASilentInstall was quarantined in Quarantine tab like screenshot above.
Step 2 – Change hosts file setting
Kindle Fire get software update from s3.amazonaws.com server (should be because that is the server that stores v6.2 software update). So no harm to double protect Kindle Fire from auto update. Use Root Explorer or ES File Explorer to edit hosts file (located at /system/etc). Insert 127.0.0.1 s3.amazonaws.com in the hosts file. Save and reboot Kindle Fire. This will route s3.amazonaws.com to local IP and should not get update from s3.amazonaws.com anymore. You can test it by access s3.amazonaws.com with browser. You will get Web page not available instead of loading Amazon Simple Storage Service (Amazon S3) website.
Step 3 – Change OTASilentInstall file type
Well, you should not have to do this once disabled OTASilentInstall. Again, no harm to do so. Use Root Explorer or ES File Explorer to change OTASilentInstall file type (located at /system/app). Change OTASilentInstall.apk to OTASilentInstall.bak. That's it. Or you can delete OTASilentInstall.apk if you think you really don't need it anymore.
I have done all 3 steps. With Wi-Fi turn on, several reboots… My Kindle Fire is still on software v6.2.
Update ~ After 2 days of 6.2.1 OTA update, my Kindle Fire is still 6.2. I have Amazon account signed in and Wi-Fi turned on…