I promoted Xiaomi smartphone as very good and stable because of long years MIUI ROM development. However, I was wrong about this when I discovered factory data reset bug on Redmi 1S. And then another bug occurs when my mom use it ~ fail to send SMS issue. This SMS bug does not occur every time. It will fail to send SMS when contact number area code is missing. Example, from +60-12-1234567 to 12-1234567 only. You won't face any issue when it has the full number with area code. Does Xiaomi Mi 3 or Redmi Note also have this SMS bug?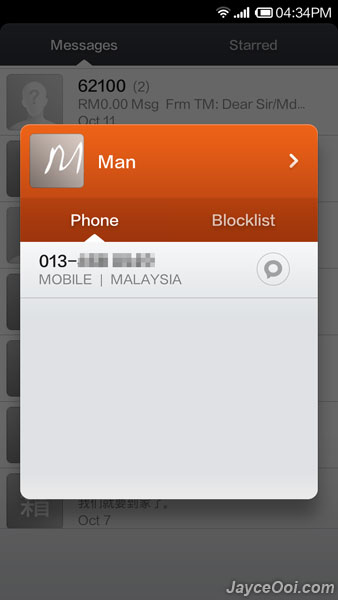 Well, there is no permanent way to solve it until Xiaomi release OTA update to fix it. Too bad the latest v45 ROM did not solve it even with 'Fix – Sometimes failed to send SMS (07-01)' change log. But there is a temporary way to avoid fails to send SMS issue. Yes, it is troublesome but better than cannot send SMS at all.
How to solve fail to send SMS bug on Redmi 1S?
Bring up Messaging.
Instead of clicking the message to reply.
Click on the name icon to bring up contact info.
Then click on the messaging icon.
It will load full phone number with area code.
That's it.
Hopefully, Xiaomi can fix this simple minor bug as soon as possible.