Introduction
Excellent sequential read and write speed from M9P Plus series PCIe NVMe Gen 3×4 SSD that I reviewed previously. Up to 3,400 MB/s and 2,200 MB/s. And to 340,000/320,000 IOPS random read/write speeds as well. All thanks to speedy Marvell 88SS1092 and 96-layer KIOXIA BiCS4 3D TLC NAND Flash. Meet Plextor M9PY Plus with colourful RGB lights and extraordinary heatsink in PCIe HHHL add-in card form factor. Outstanding performance? Let's find out together…
Special Thanks
This review is possible thanks to below companies. Be sure to check them out too…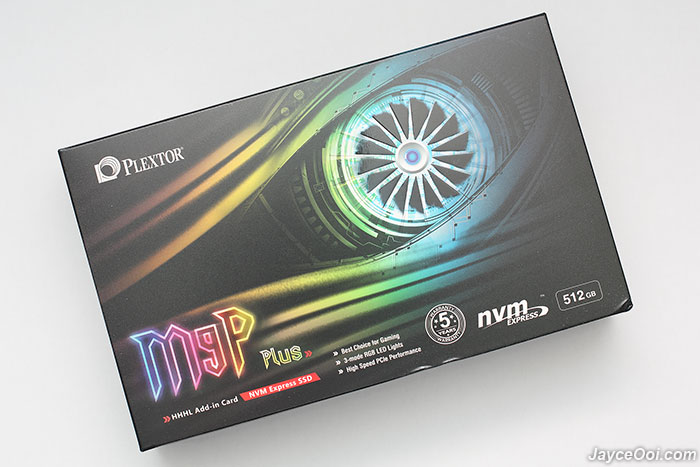 Package Content & Design
Plextor M9PY Plus comes in colourful packaging. Well-projected too. As usual, it haves 3 different capacities – 256GB, 512GB and 1TB. It also offers guaranteed MTBF (Mean Time Between Failures) of no less than 1.5 million hours and a 5-year service warranty. The other model M9PGN Plus that I reviewed previously is without any heatsink. M9PG Plus is in M.2 2280 form factor but with heat spreader.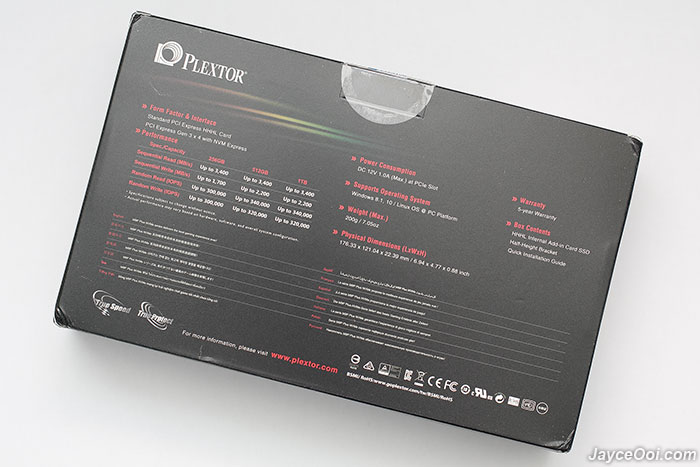 Besides the PCIe add-in card, there are quick installation guide (in multiple languages), extra screw and half-height bracket for server computer / smaller PC casing.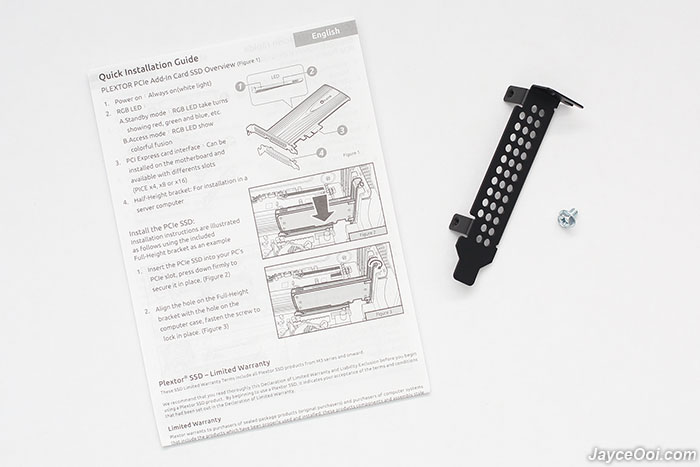 We don't have the chance to view the SSD card itself this round. Yes, there is a large heatsink with sandblasted aluminum surface that covered M.2 2280 SSD card (which I believe it is same as M9PGN Plus).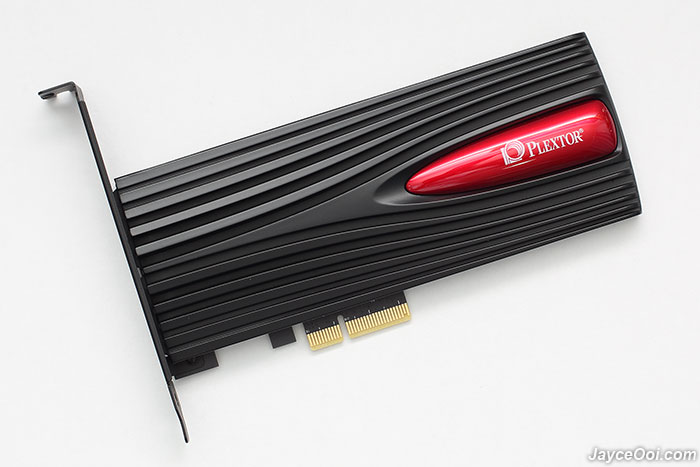 Excellent build quality for the add-on card. You will need a PCI Express Slot (x4, x8 or x16) in order to use it.
In return, you have colourful LED light effect in red, green and blue. The Plextor logo is always white in colour when power on. The LED bar shows single colour in standby mode. And rainbow colour in access mode. By the way, you can't configure the LED lights through software / hardware.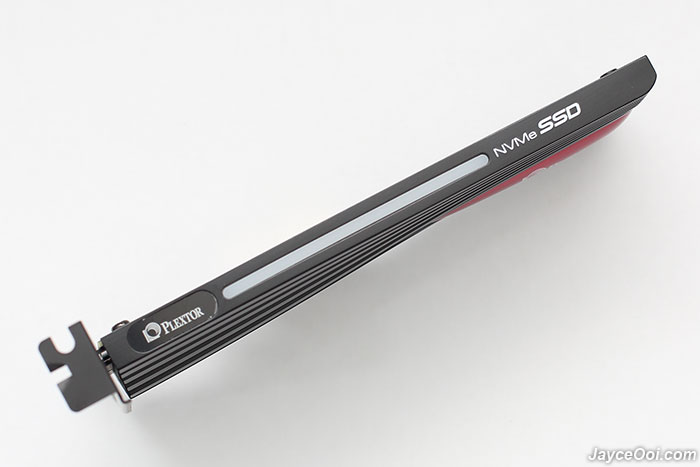 Performance Result
Is Plextor M9PY Plus perfect for PC gaming and video editing? Yes! It has the same excellent performance just like M9PGN Plus. The high-performance BiCS4 96-layer 3D NAND flash does help to improve performance no doubt. In addition, it also offers increased data density, better endurance and integration of the new generation pre-load technology. Comes with exclusive PlexNitro, smart cache technology to deliver awesome results as below.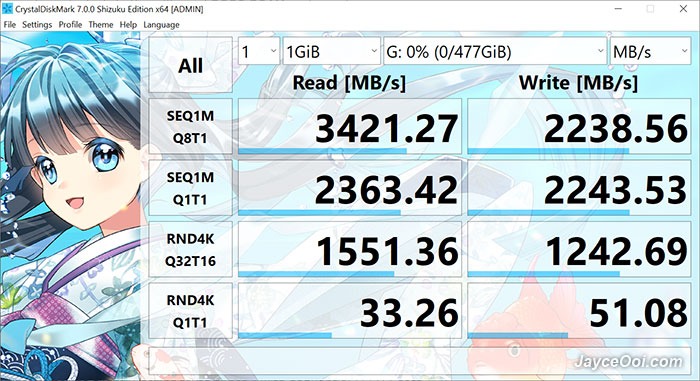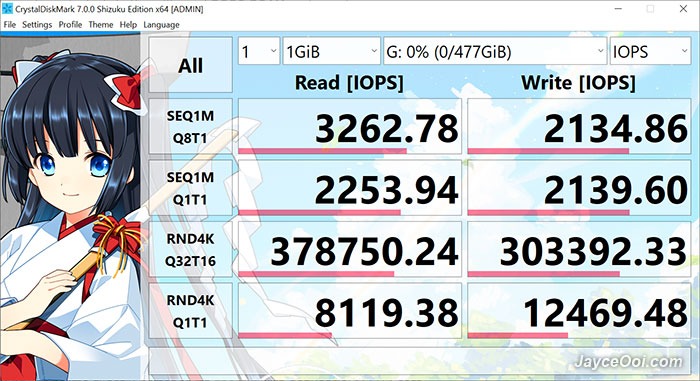 3421 MB/s sequential reading and 2238 MB/s on writing in CrystalDiskMark sequential Q8T1 test. M9PY Plus performs just as fast as specifications no doubt. For IOPS, random read speed is faster than specs a lot while write speed is slower a bit. As usual, the results will vary according to hardware, software and overall system configuration.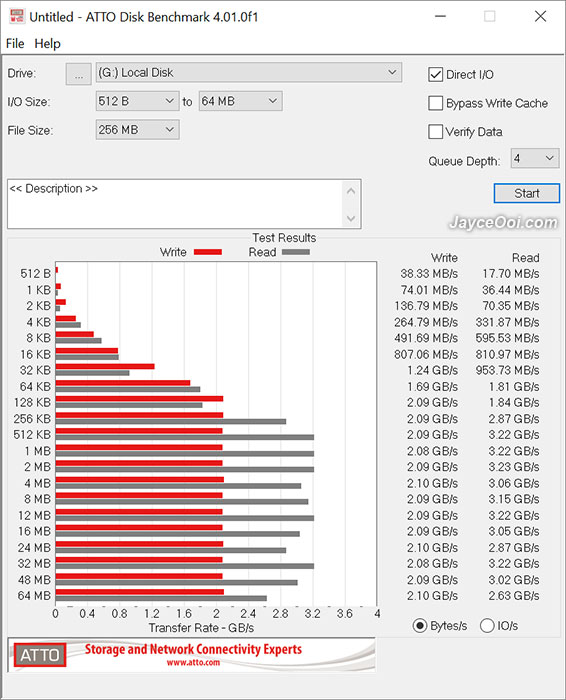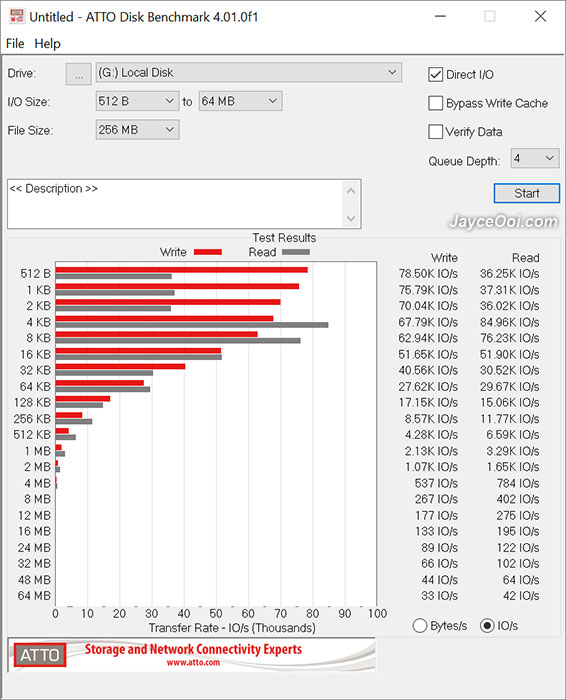 As usual, ATTO Disk Benchmark 4.01 gives slightly slower results when compared to CrystalDiskMark 7.0.0. No surprise here.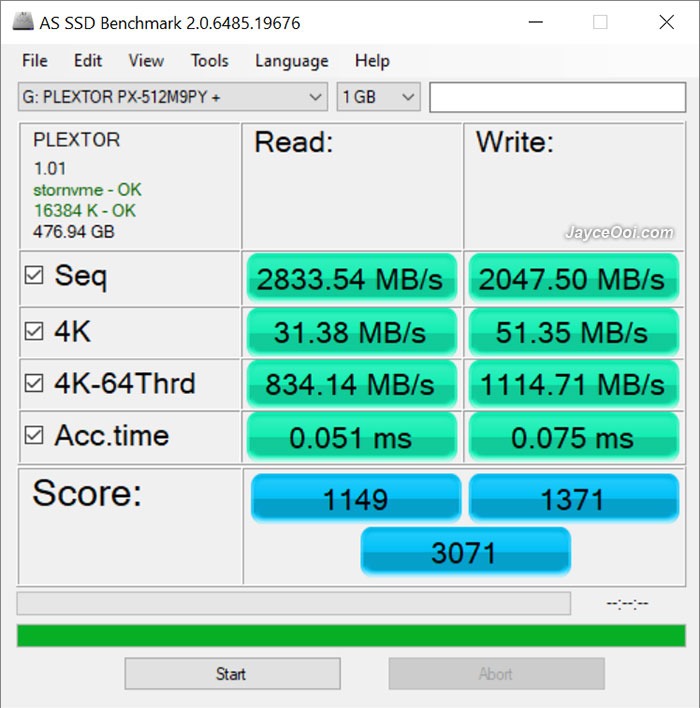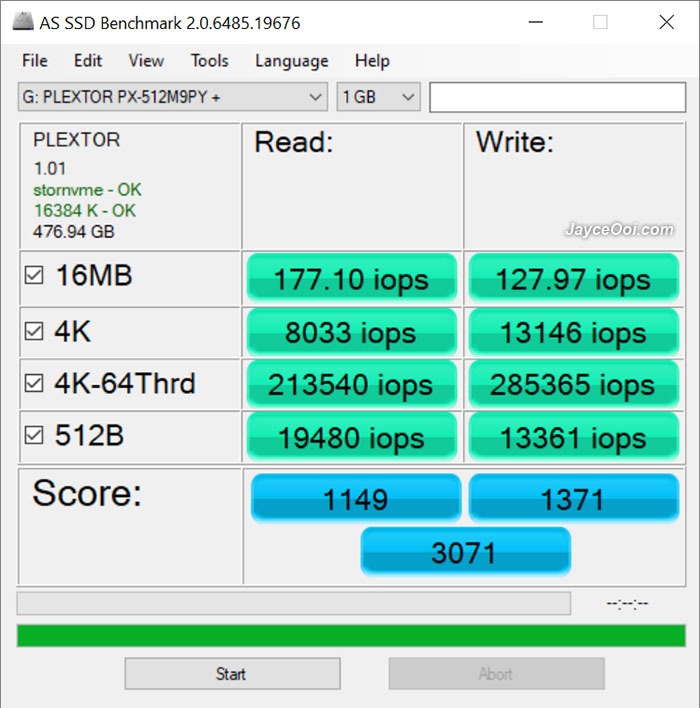 AS SSD Benchmark performance is about the same as ATTO. You can refer access time scores here now on top of the usual sequential performance and IOPS.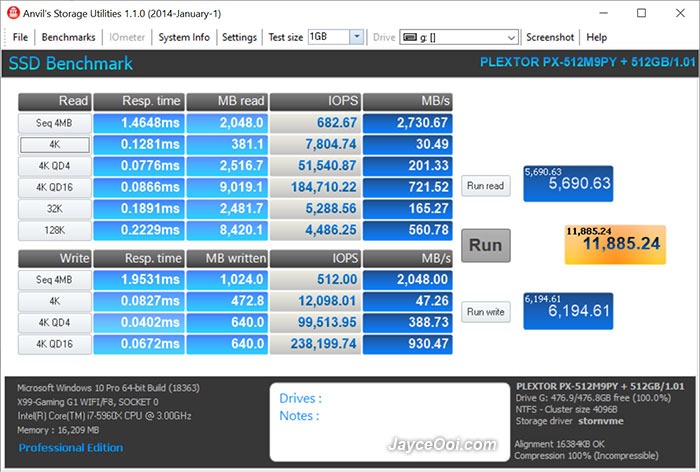 Excellent Anvil's Storage Utilities result as it is almost like AS SSD Benchmark.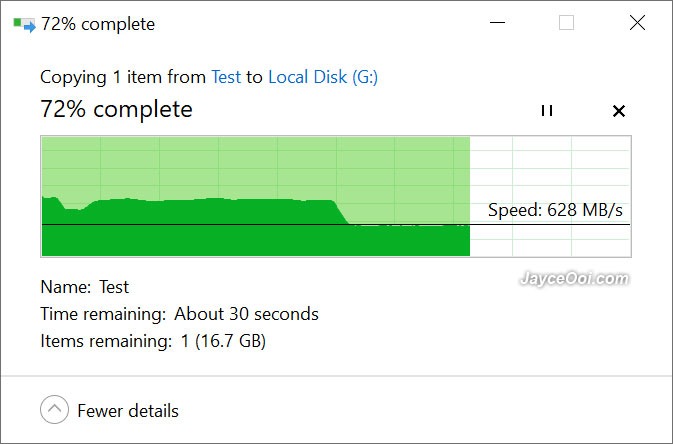 600 MB/s constant writing speed after cache buffer ran out. Based on the tests, M9PY Plus performs at maximum writing speed on below 30 GB file. That's perfectly fine for daily use unless you copy a lot of big size files. Note – 65GB file is being used here.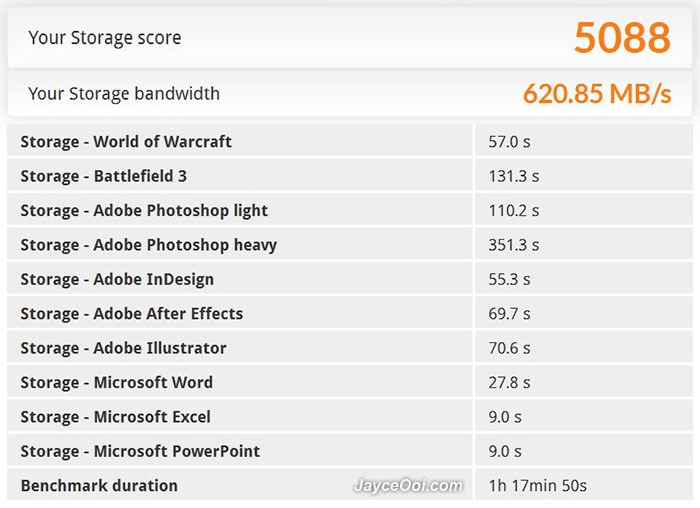 56X faster than 7200RPM hard drive in PCMark 8 storage bandwidth test. M9PY Plus surely perform well in all departments. By the way, my 3TB HDD scores 11.20MB/s only on bandwidth test and needs 3 hours+ to finish all the tests. Therefore, rest assures that your games, application and Windows loading time will shorter than before. In short, lightning fast!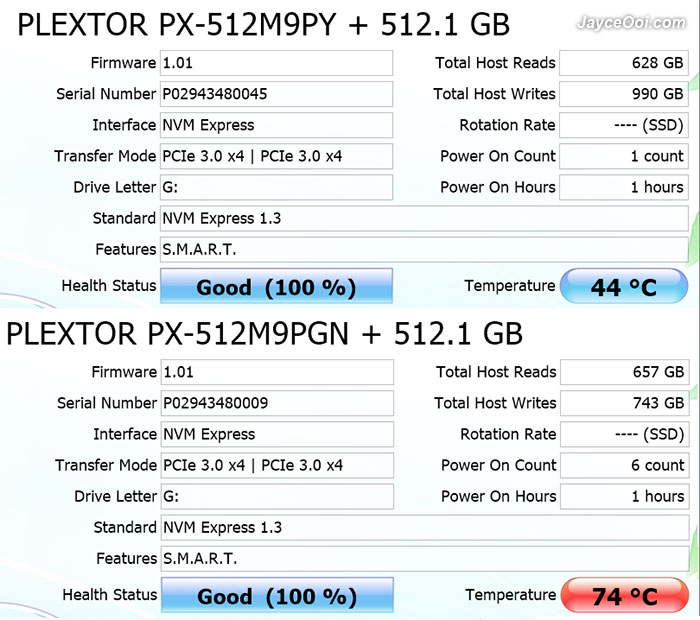 What makes M9PY Plus special than the usual M9PGN Plus? Yes, 30°C cooler than bare M.2 2280 card. A lot of files were written into the SSDs for more than 30 minutes. M9PY Plus remains cool and won't face any thermal throttling issue at all. Best performance always!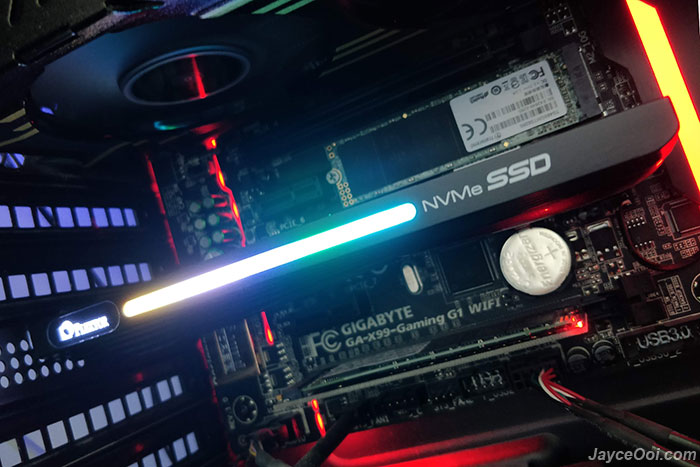 Lastly, the lovely LED light effects that spice up your desktop PC. Which gamers don't love RGB lights?
Advantages
Up to 3421 MB/s read & 2238 MB/s write
Ultra-high IOPS
Excellent build quality
Ultra cool operation
Lovely RGB lights
5 years warranty
Value in price
Limitations
Slower writing speed after cache buffer ran out
Conclusion
Outstanding speed, 30°C cooler and lovely RGB lights! Plextor M9PY Plus will bring you the best gaming experience that you need. Same apply to heavy processing video editing task as well. Wait no more and get yours at Amazon or Lazada.