Yeah… I just upgraded my TM Net Streamyx internet package from Streamyx 512Kbps to Streamyx 1.0Mbps. I submitted the upgrade application just before Malaysia Budget 2010 that will give RM500 tax relief on broadband subscription fee. Anyway, I feel that my Internet connection speed was slow and needed to be upgraded to catch up. Therefore, I did it.
So how to test internet connection speed? There is a free tool from TM Net itself ~ TM Speedometer. With it, you can test your Internet connection speed with local server at Brickfields (Kuala Lumpur), Kelana Jaya (Petaling Jaya) and Cyberjaya. However, the test only cover connection within Malaysia only (Most of the Malaysia web servers are located there)
Wow… I am impressed. 1700++Kbps download speed from Streamyx 1.0Mbps package. By the way, this is the highest connection speed that I choose at my place. Streamyx 2.0Mbps and Streamyx 4.0Mbps are not supported at Kedah, Malaysia. (Compare to other countries, Malaysia Internet connection speed is way too slow)
Okay, we surf websites from around the world. So TM Speedometer will not provide accurate result. Let's try Speedtest.net ~ another broadband speed analysis tool. Speedtest.net lets you select servers from around the world to test your Internet connection speed. How is the result then?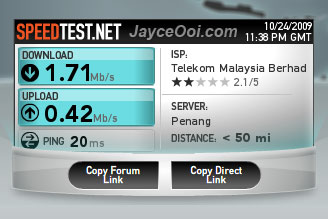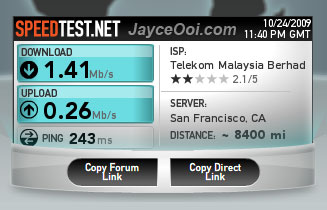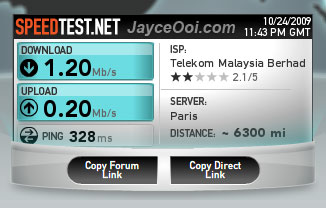 Connection from China == FAILED.
Hmm… TM Net Streamyx always has connection issue with China. It is very slow when loading China websites. And a proxy server is needed most of the time. Anyway, I am still happy with my new Streamyx package for the moment ~ still able to get > 1Mbps.
How fast is your Internet connection speed?