Samsung Galaxy S II stock video player is a very powerful video player as it is hardware accelerated. However, it does not play all the video format. Samsung Galaxy S2 supports MPEG4, H.264, H.263, WMV, DivX, Xvid and VC-1 video format at 1080p Full HD. You don't need 3rd party video player if all your videos are in those formats. But I do have other video formats that I want to play like RMVB, MOV, FLV, MKV… So I tested several free and paid video player from Android Market ~ MoboPlayer, QQPlayer, arcMedia, SeamanPlayer, Kascend Video, VPlayer, BSPlayer, RockPlayer, MX Video Player, Daroon Player, DICE Player and Mobo Video Player. Guess which one is the best video player for Samsung Galaxy S2 which uses ARMv7 + Neon architecture.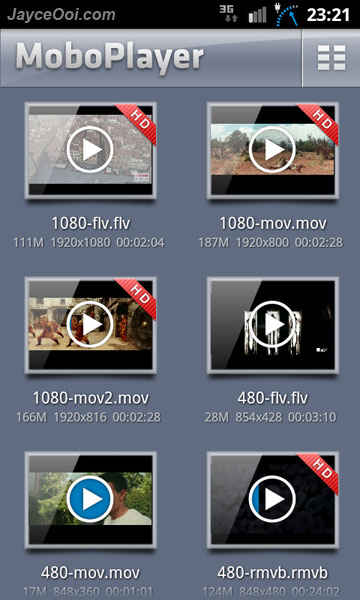 My primary goal ~ a decent video player to play RMVB. MoboPlayer is the best free video player without advertisement on Android platform. VPlayer and RockPlayer are good in playing RMVB video too but VPlayer is trial version only while RockPlayer is ad supported. MoboPlayer is able to play 480p RMVB video smoothly in software mode. However, 720p RMVB video playback with little frame skip. Overall, it is still the best free Android video player for me.
Download MoboPlayer at Android Market here.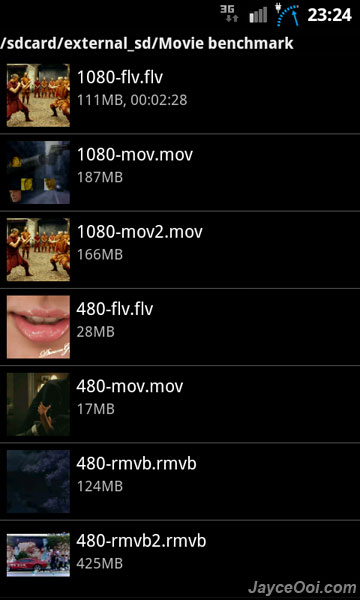 If you are willing to pay for a top video player for Samsung Galaxy S2, DicePlayer is the one that you should get. DicePlayer plays 480p RMVB video smoothly but a bit slower in 720p RMVB video compare to MoboPlayer. What make DicePlayer shines? It supports hardware acceleration playback on MOV and FLV video format. None of the video player that I tested supports that. It can play MOV and FLV video format at 1080p Full HD smoothly. Furthermore, it support embedded subtitle in MKV video. Give DicePlayer ~ the best paid Android video player a try first before purchase it.
Download DicePlayer Trial at Android Market here.