Introduction
Yeah… Unleash next-generation performance with the latest NVMe 1.3 standard on PCI Express Gen3 x4 interface. Enjoy 4X faster performance than the usual SATA III 6GB/s interface. All your digital audio / video production, gaming and enterprise applications will be performed faster than ever. Yes, that's what Transcend MTS110S PCIe SSD can do. Performance up to 1,800 MB/s read and 1,500 MB/s write. Sound great? Read on…
Special Thanks
This review is possible thanks to below companies. Be sure to check them out too…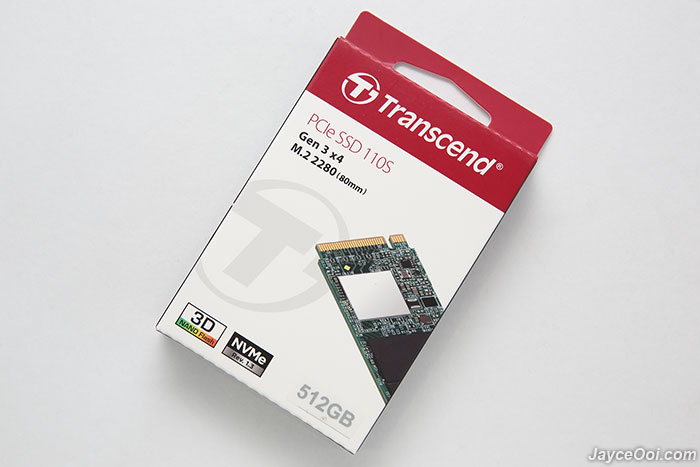 Package Content & Design
Transcend 110S PCIe SSD comes well protected. Besides PCIe SSD, there are product brochure and warranty card in the package too. Mine is 512GB version TS512GMTE110S. There are 128GB TS128GMTE110S and 256GB TS256GMTE110S models as well. As usual, just pick the size that you prefer.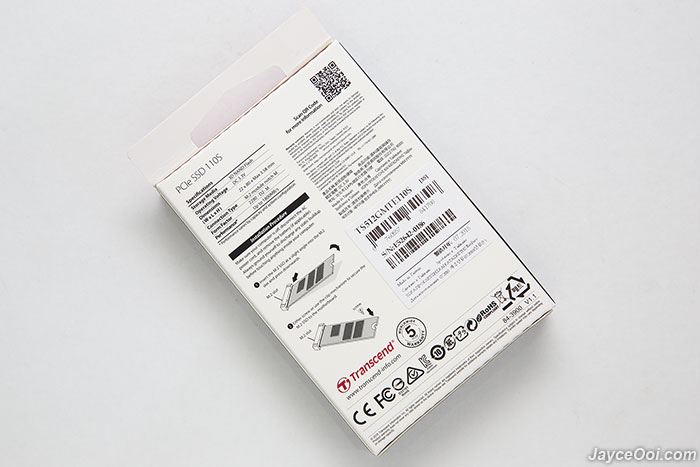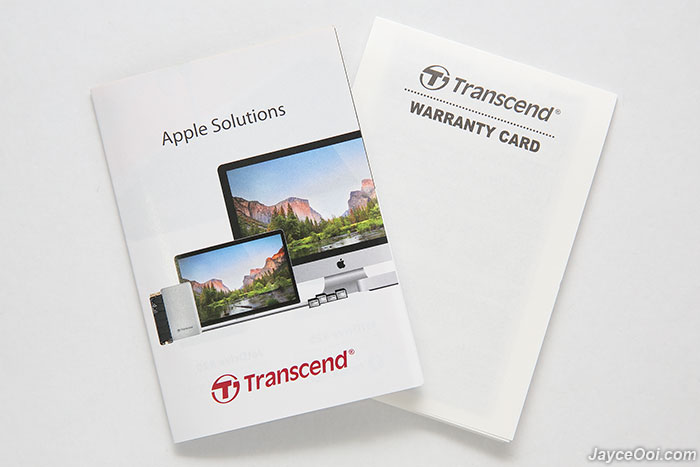 Build quality is great. And back with 5 years warranty. Its ultra compact dimensions are perfect for use in today's modern Ultrabooks and thin, light notebooks. And does not add much weight to your laptop with just 8g. Of course, it is usable on desktop PC as well.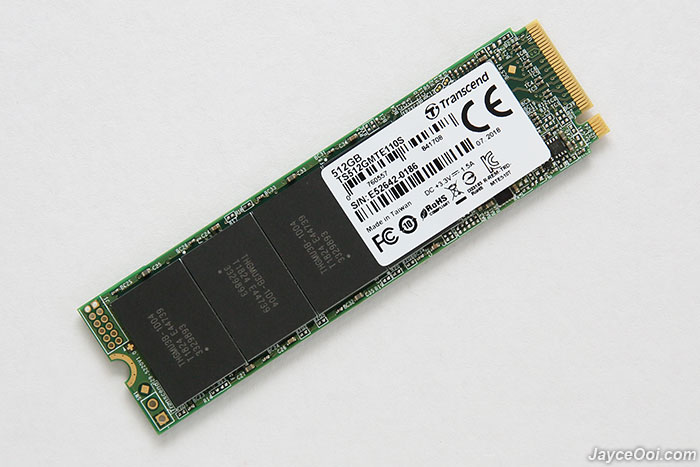 Software
Transcend 110S PCIe SSD is new. And seem like Transcend SSD Scope Software does not able to fully identify it yet. Or my system has compatibility issue with the software. Anyhow, it is used for maintaining a healthy and efficient SSD. It supports View Drive Information, View S.M.A.R.T. Status, Diagnostic Scan, Secure Erase, Firmware Update, TRIM Enable, Health Indicator and System Clone. As usual, Transcend 110S will perform just fine without it.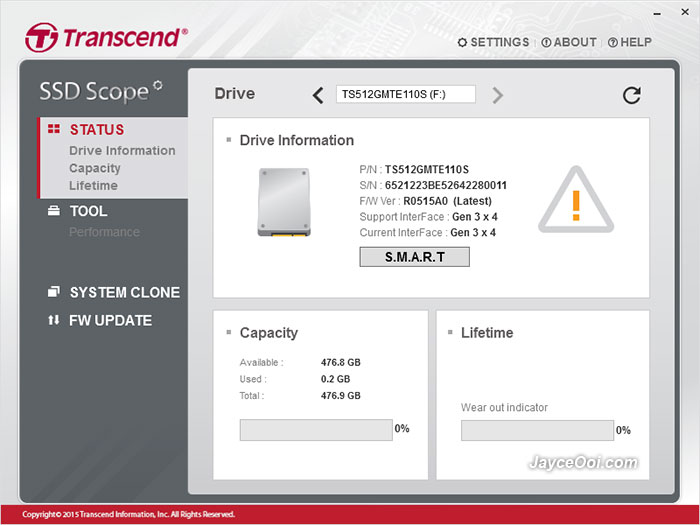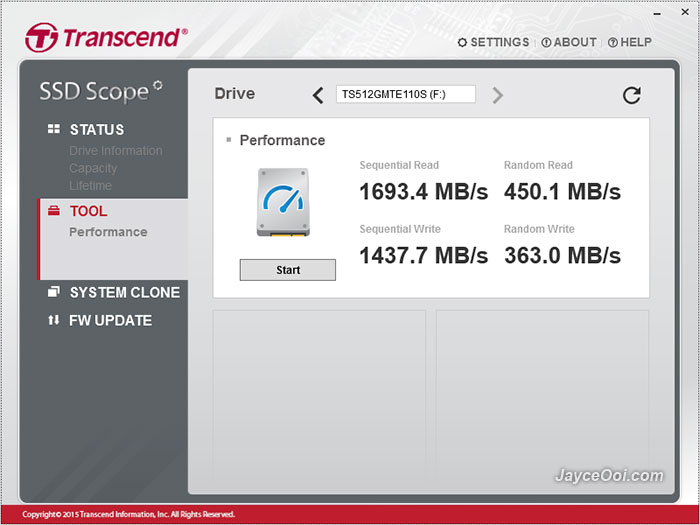 Performance Result
Plug and play is supported. Yes, no additional software installation is required. Windows will handle all the stuffs for you as long as your motherboard supports NVMe 1.3. And do take note that your motherboard needs to have PCIe x4 connections for the M.2 slot, else you won't able to get most of the performance out of Transcend 110S PCIe SSD. A NVMe PCIe adaptor is needed then. Don't forget that it is engineered with LDPC (Low-Density Parity Check) coding, a powerful ECC algorithm, to keep data secure. And manufactured with high-quality TLC NAND flash chips to ensure superior endurance and stability for high-end applications. Alright, let's refer to below synthetic benchmark results to know more about its performance.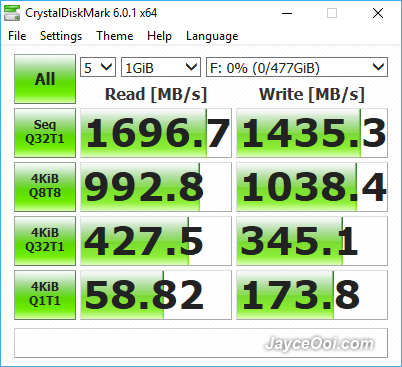 Transcend 110S performs almost to its specs with sequential Q32T1 test with 1696 MB/s read and 1345 MB/s write on CrystalDiskMark. Must be my aged Intel X99 chipset that holding it back to perform fully.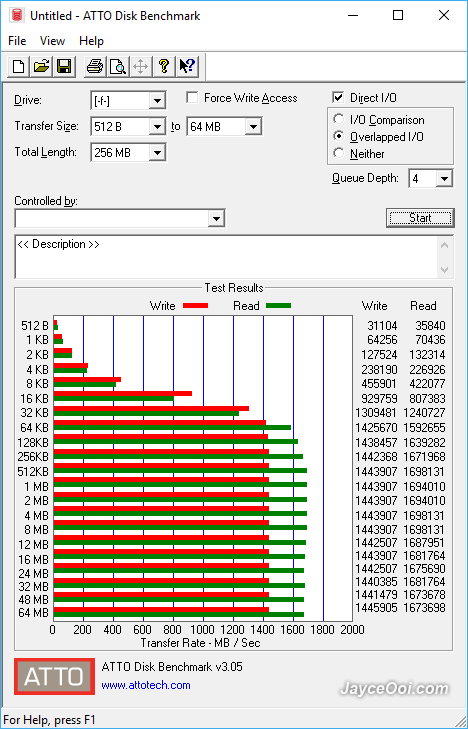 ATTO Disk Benchmark is getting about the same result for both read and write tests like CrystalDiskMark as usual.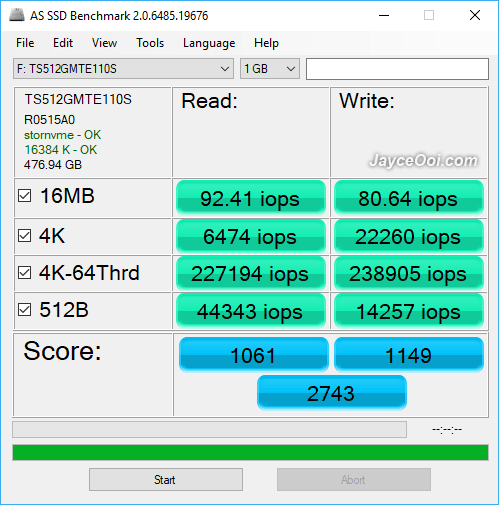 As usual, AS SSD Benchmark has slower reading speed compare to previous benchmarks as expected. Standard with all my other SSD reviews. You can refer IOPS and access time scores here.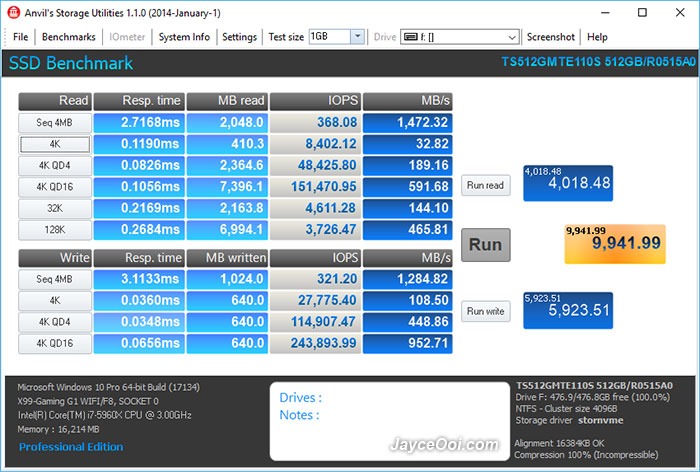 Anvil's Storage Utilities has everything that you need to know from response time to IOPS. And it also provides the system information that been used for this benchmark. And Transcend 110S has the highest score among all the SDDs that I tried so far.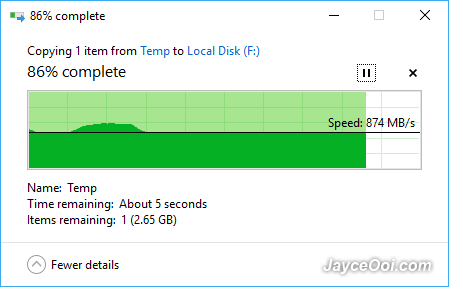 Transcend MTS110S is loaded with fast controller and more than enough SSD caching write buffer. Therefore, you can enjoy constant and ultra fast writing speed throughout the whole file transferring process. Note – 20GB file is being used here.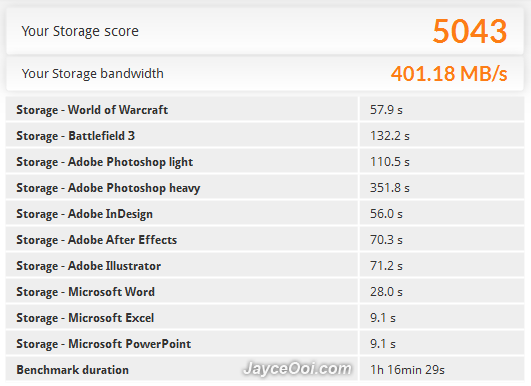 Yes, 40X faster than 7200RPM hard drive in PCMark 8 storage bandwidth test. My 3TB HDD scores 11.20MB/s only while this PCIe SSD is getting 401 MB/s here. In addition, HDD takes around 3 hours+ to finish PCMark 8 test. And MTS110S takes around 1 hour only. Rest assures that Windows boot up, applications and games loading are much faster then.
Advantages
Up to 1696 MB/s read and 1345 MB/s write
Shock & vibration-resistant
Excellent build quality
5 years warranty
Value in price
Limitations
Conclusion
Transcend 110S PCIe SSD is suitable for both extreme gaming and extensive digital audio / video production work. Value in price yet packed with high performance. Perfect for both laptop and desktop. Interested? Do visit Transcend Website for details. And get yours at Amazon or Lazada.