Introduction
Karaoke system, Bluetooth, FM radio, built-in MP3 player (USB & SD), 7 modes LED lights, 60W total power (RMS)… Yeah, that's all part of the latest Vinnfier Champ 505 BTRM 2.1 Speaker System's features. A budget speaker system that suitable for TV, PC, mobile devices. Yes, it does come along with a remote control. Does it sound great for the price? Read on to find out…
Special Thanks
This review is possible thanks to below companies. Be sure to check them out…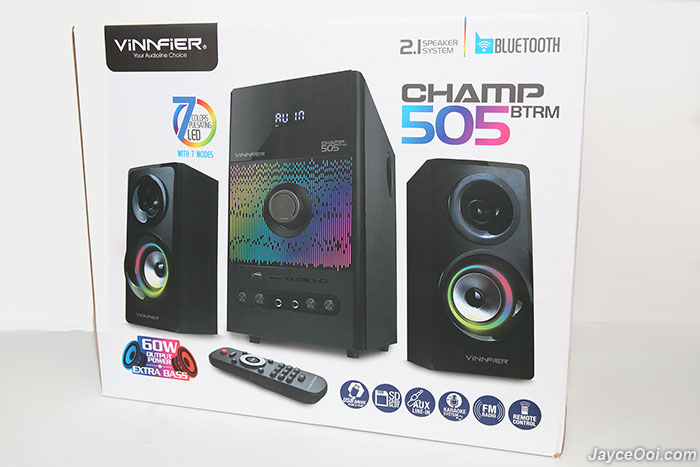 Package Content & Design
There are remote control, 3.5mm to RCA audio cable and user manual in the package. That's all. Do go through the user guide to get started on how to use Bluetooth, FM radio, MP3 player and so on.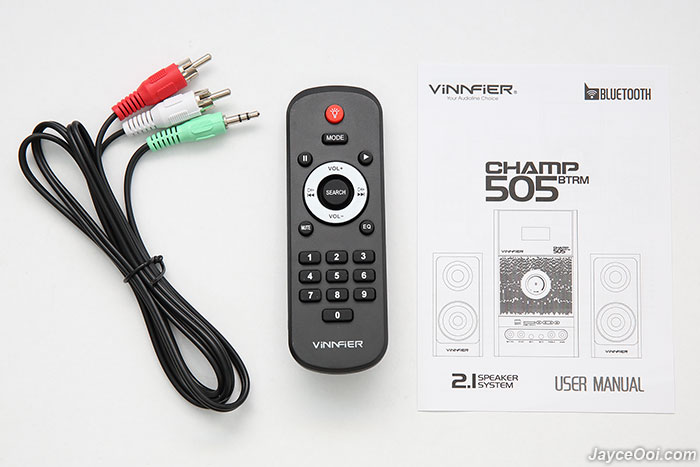 Build quality is decent thanks to tough wooden cabinet. Most of the housing for both satellite speakers and subwoofer are using MDF wood except the front plastic panel. As usual, do refer to below photos for its design in details…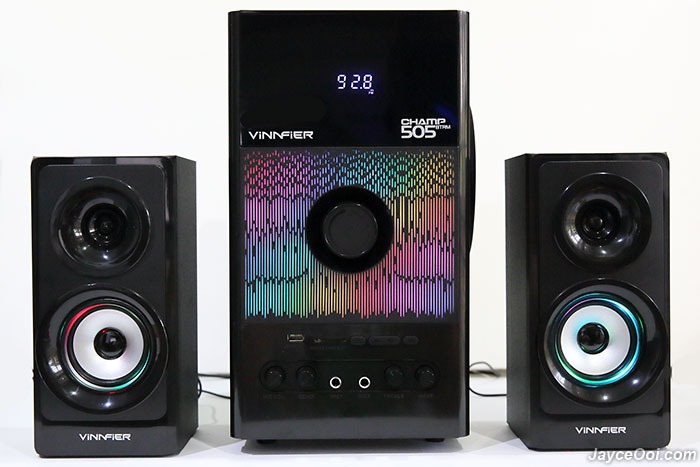 All inputs and controls are located at front including the colourful LED lights. Yes, 2 microphone slots for karaoke. There are echo and volume control too. And the treble and bass volume control that must have for me.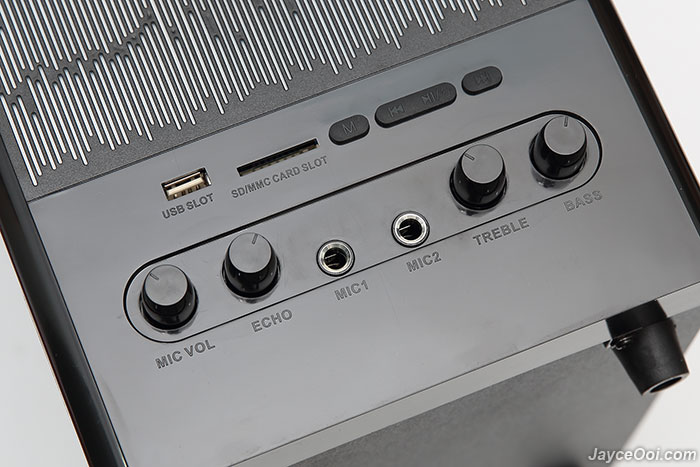 40W subwoofer with 6.5″ driver that produce deep powerful bass?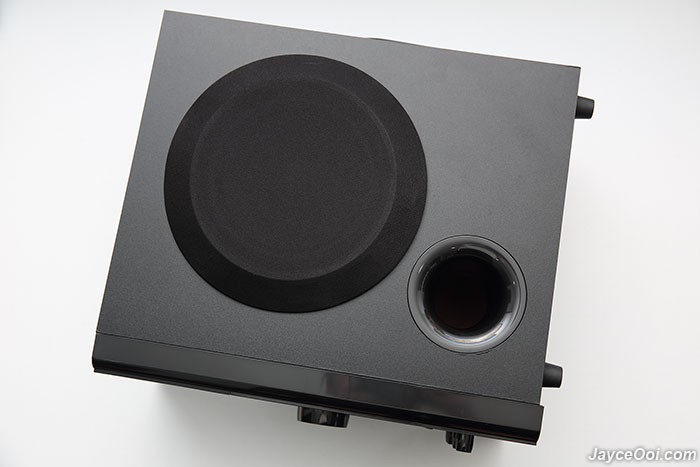 At the back, there are AUX input and USB output. Power on / off switch and an external FM radio antenna for you to get the best signal. Lastly, 4 tall anti-skid pads at the bottom.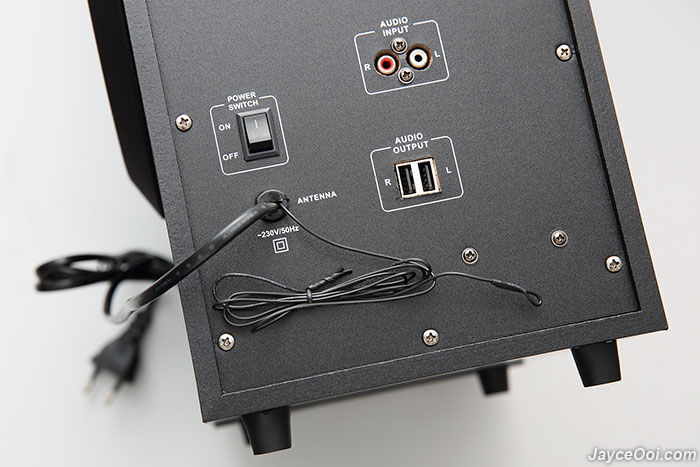 As for satellite speakers, there are loaded with 10W RMS power. 3″ driver speaker driver at the bottom. No tweeters for your information. The top one is just plastic.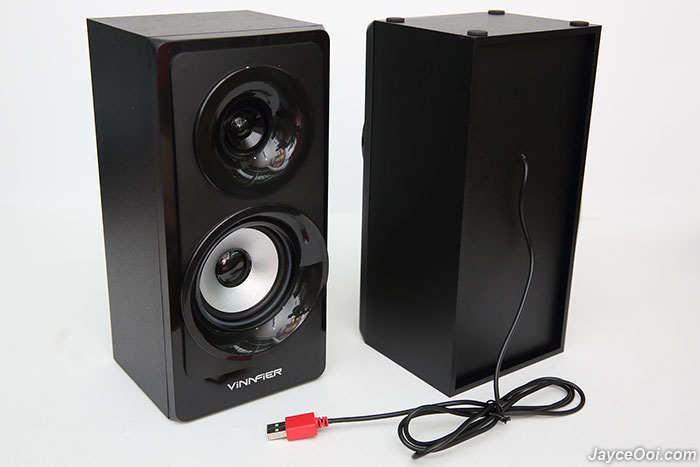 Performance Result
Powerful deep bass!!! Yes, Vinnfier Champ 505 BTRM can rock your world. It just like upgraded Vinnfier Xenon 6 BTR with deeper bass, comes with karaoke and remote control. Of course, that's not all. It has clear LED display for audio source, volume and so on. Satellite speakers have RGB lighting effect this round. With 60W total power, it surely brings lot of excitements no matter in movie, games or music listening. Besides PC, it can be used at living room thanks to remote control. Enjoy karaoke on bigger TV screen. That's great!
Champ 505 has V shape sound signature by default. Yes, thanks to treble and bass volume controls. You can change the sound signature to suit your preferences. The treble is a bit too sharp so I turned down most of it. I set treble at 10% and 50% on bass. It still has sparkling and bright highs. And lot of deep bass here and there. Gaming and movie will never be the same with that extra bass around. Trust me…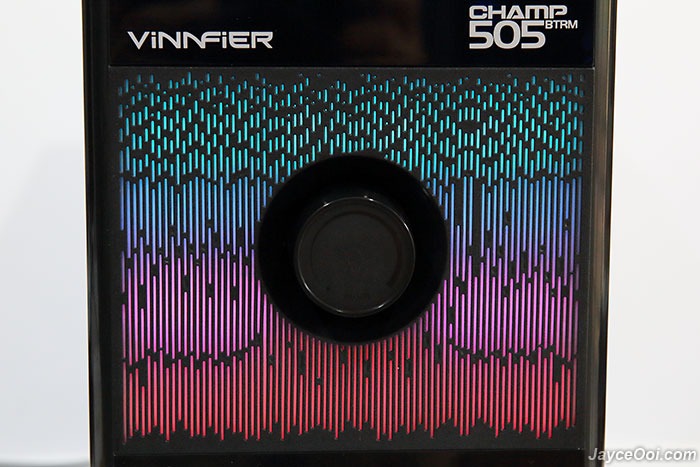 Back to technical stuff, Bluetooth wireless range is average only – up to 5-6m with obstacles like wall. But thankfully, it has almost no lag between video and audio. That's great for TV drama, movie and games when connected with smartphone and tablet. And radio signal reception is great too. All thanks to the adjustable external antenna. Again, it is depended on your area FM coverage too. Built-in MP3 player works as expected. It will start playing MP3 after SD card / USB flash drive is plugged in. Same issue with Xenon 6 as it can't remember the last used audio source and LED mode.
Advantages
Clear & nice sound quality
Powerful deep bass
Party in the house all day long
Bluetooth, FM radio & MP3 player (SD & USB)
Mic slots for karaoke
Colourful RGB LED effects
Limitations
Average Bluetooth range
Settings are gone when power off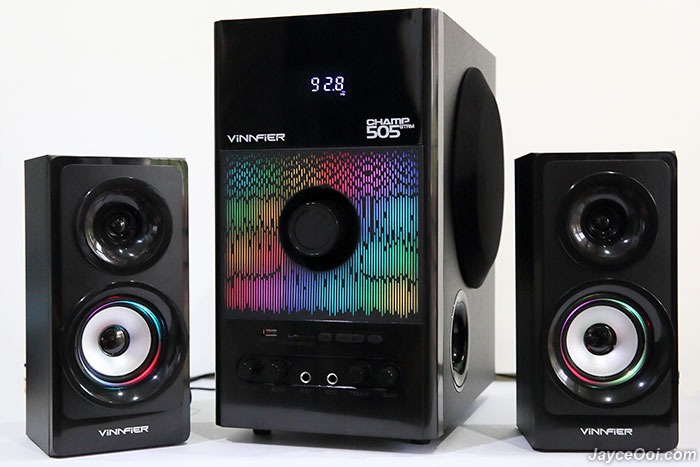 Conclusion
Wait no more and grab your Vinnfier Champ 505 BTRM now! Period. I will stop right here and enjoy my movie, games and music with Champ 505 again and again. Get yours at Lazada.