Introduction
Hey guys, meet this 2020 edition of Vinnfier HyperBar 100 BTR. A portable soundbar that loaded with Bluetooth 5.0, FM radio, and built-in MP3 player (USB & MicroSD). Comes with 36W total power output. And powered by 1500mAh battery that let you enjoy non-stop music for 6 hours. Sound great? Let's find out…
Special Thanks
This review is possible thanks to below companies. Be sure to check them out…
Vinnfier for this Vinnfier HyperBar 100 BTR 2020 Edition Wireless Soundbar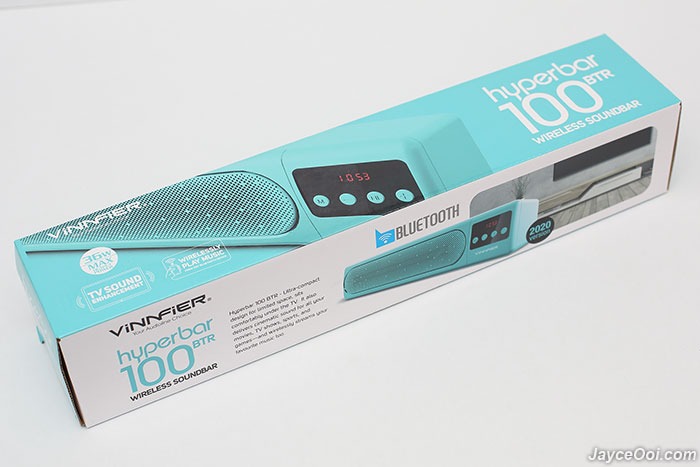 Package Content & Design
HyperBar 100 BTR comes well protected just like other Vinnfier products. Once taken the soundbar out, you can find stereo 3.5mm audio cable, micro USB charging cable and user manual.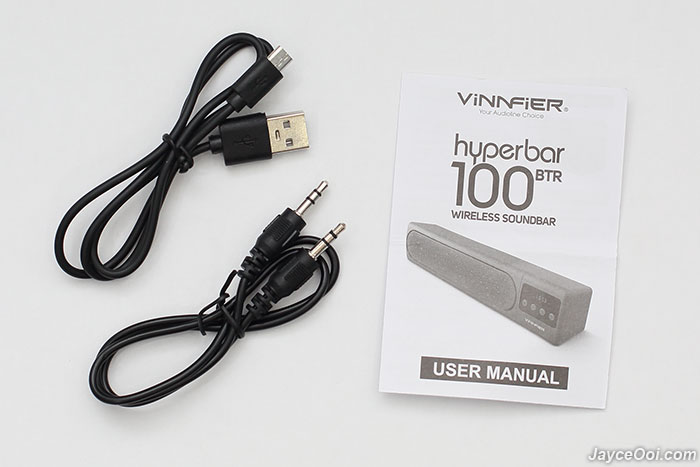 Build quality is decent with plastic housing. Smooth surface is what you get this round. Lighter in weight and shorter too. Comes in several colours – pink, blue, black and turquoise as mine. Just pick the one that suits you will do.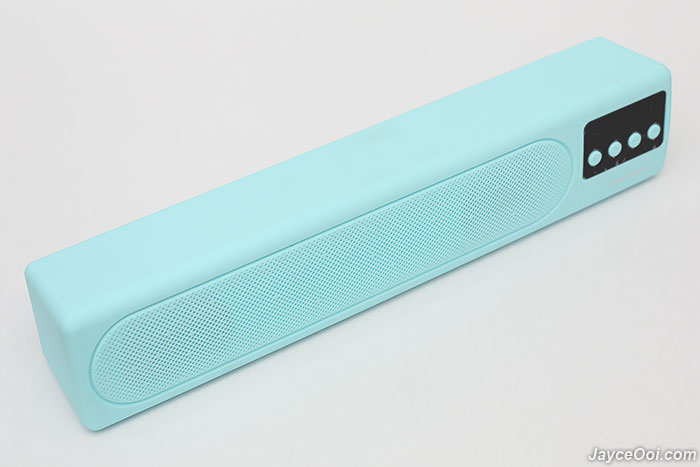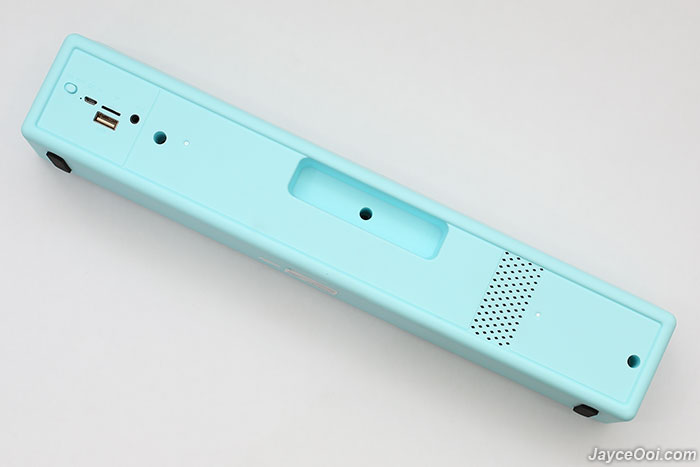 The 2 x 2″ speaker drivers are located in front. Same apply to the LED display and navigation buttons.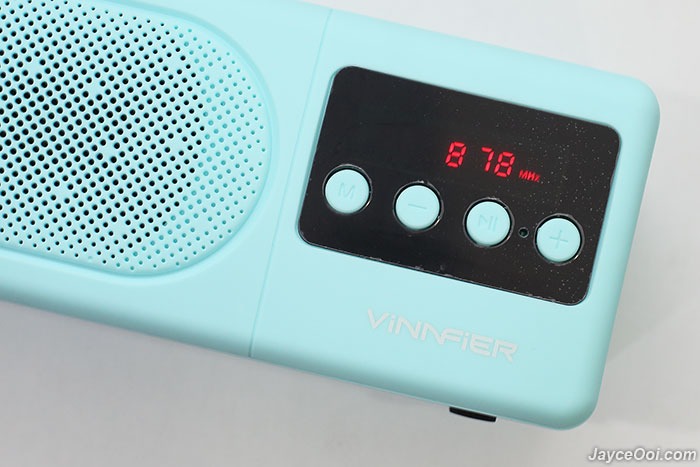 On/off switch, micro USB port, MicroSD slot, USB port and AUX input are located at the back. And 2 anti-skid pads at the bottom.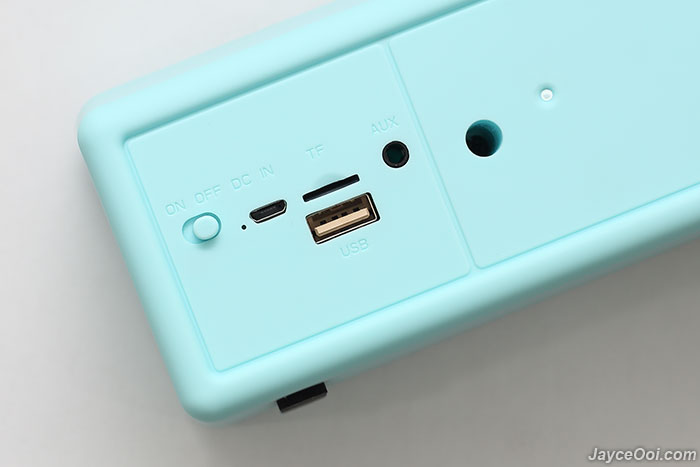 Performance Result
Bluetooth range is great! Can reach up to 8m with obstacles like wall. Furthermore, it has almost no lag between video and audio. That's great for games, movie on your smartphone and tablet. And there is battery life indicator on both Android and iOS devices. Great to know when to charge the soundbar. Lastly, AUX cable is there for non-Bluetooth devices like TV or PC.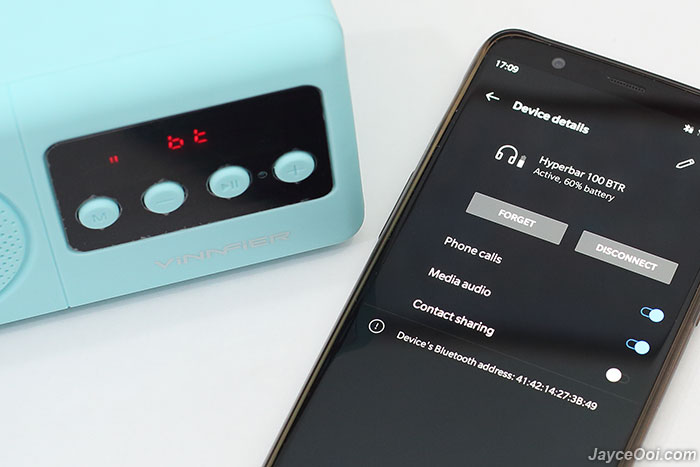 FM radio is working great even without external antenna. Of course, this is depending on your signal reception as well. For local playback, just plug in your USB flash drive or micro SD card. It will start to play your favourite MP3 then.
Speakerphone is supported. However, phone call experience is not the best. My voice is kinda far away from others. It gets the job done though.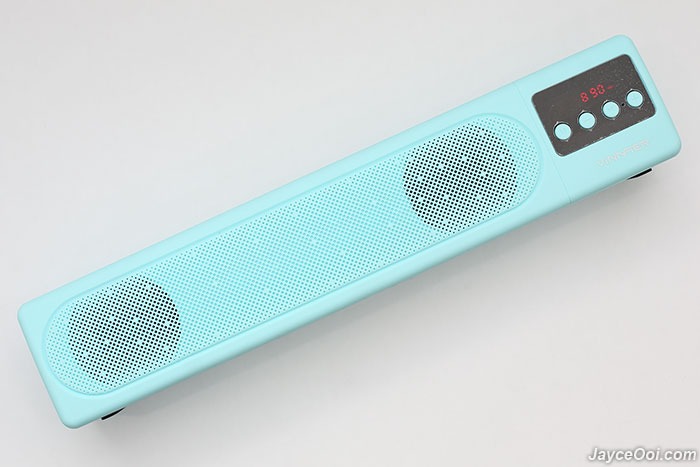 16W total power output (RMS) is enough to blast in a quiet living room. Bright sound signature is what you will get. More treble than bass in short. Bass is hardly there but this is expected for small soundbar. So don't expect subwoofer kind of bass level. Do check out HyperBar 500 or HyperBar 800 with dedicated subwoofer if you want to have the best entertainment experience. But those are not portable. Overall, HyperBar 100 provides clear and nice sound for the price.
Advantages
Clear & loud sound for its size
Decent build quality
Wide Bluetooth range
FM radio & MP3 support
LED display for audio mode
Limitations
Need more bass
Average phone call
Conclusion
Budget wireless Bluetooth soundbar with a lot of useful features. Sound nice for the price. Interested? Buy yours at Lazada or Shopee.