Introduction
Hey guys, check out the thinnest, strongest and lightest Bluetooth keyboard in the world from Woorin. Unlike traditional mechanical keyboard, Wekey is a super slim touch keyboard. It is only 5mm in thickness and 150g in weight which perfect to use on the go. Yup, it is lighter and thinner than all tablets out there. Besides, it is loaded with 600mA rechargeable lithium-polymer battery that can last up to 3 months. And suitable for all major platforms like Windows, iOS, Android and Mac OS X. In addition, it has built-in touchpad and wheel as well. Interested? Read on to find out more…
Features
Easy portable & fascinating design
Multi-pairing up to 3 devices
Convenient mouse and wheel function
Durable rechargeable battery (270hr after fully charged)
Water resistance (key top side only)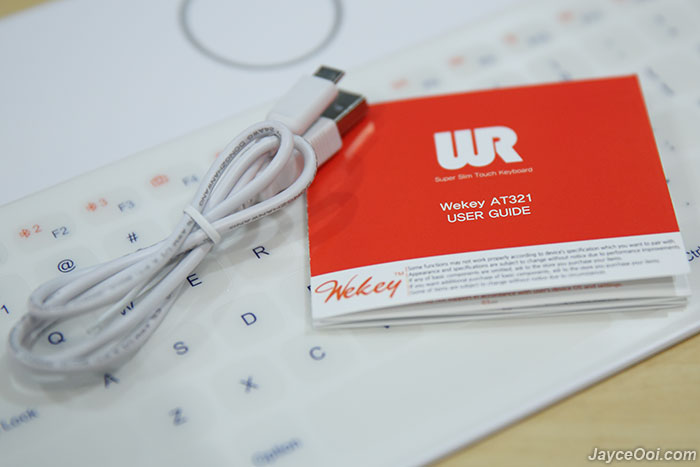 Package Content & Design
In the package, there are Wekey Bluetooth keyboard, micro USB charging cable and user guide. Wekey is a really slim keyboard where the touch keys' thickness is 2.5mm only. And 5mm on touchpad part which consist of battery as well. Most of the stuffs like speaker, 2 LED lights, Bluetooth pairing button, USB charging connector and power switch are located at top right corner. The touchpad and bright LED backlit circle wheel are located at top center. At the back, there are one long anti-skid pad on top and 2 tiny one at bottom each corner. By the way, there are 2 models of Wekey which are AT-320 (Korean/English) and AT-321 (English). Mine is AT-321. And 2 colours to choose – black and white. Do take note that Wekey is smaller than normal full size keyboard and it is using touchable keys. Therefore, there will be learning curve when using it.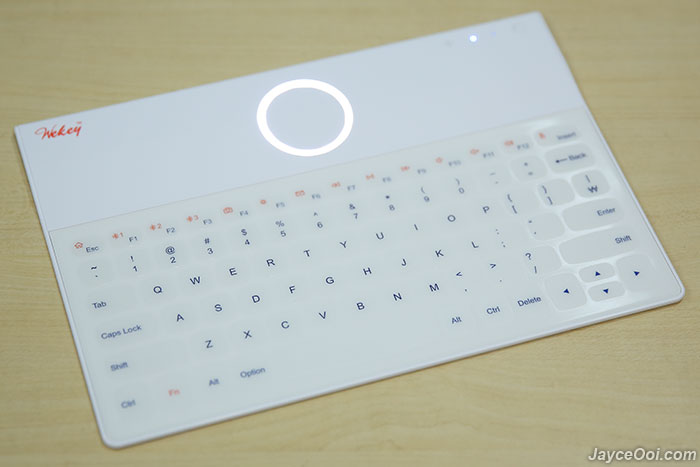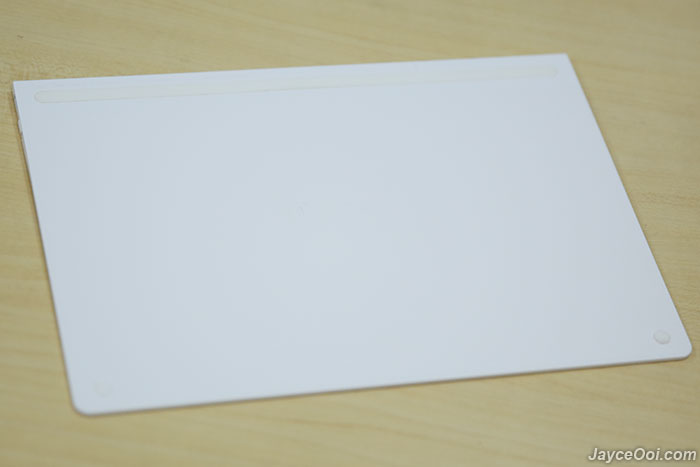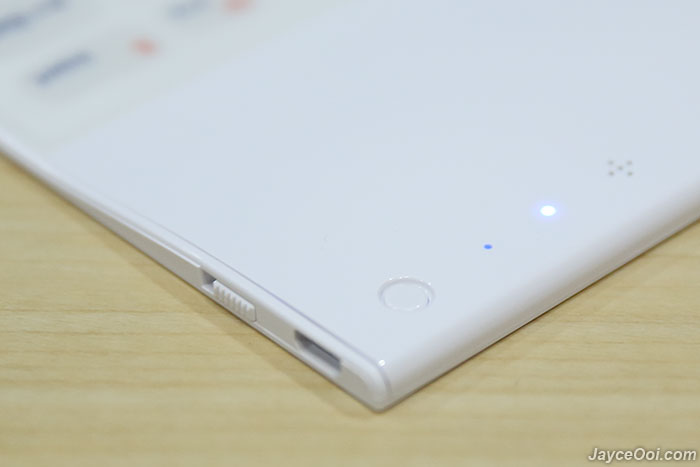 Specifications
Bluetooth specification: Bluetooth 3.0
Battery: Li-Polymer Battery (600mA)
Charging method: It supports charging via micro USB connector
Charge time: It needs about 2 hours to be fully recharged.
Operation time: 3h/day up to 3 months
Dimension: 247 x 170 x 2.5 / 5mm
Weight: 150±5g
Performance Result
Wow… Woorin Wekey has superior Bluetooth range. It passes 10m in straight sight line with no obstacle easily. Guess what? You can also still typing even when passes 10m with walls and obstacles. Yes, I have no problem to type at kitchen back of the house while my Samsung Galaxy S4 at front living room. Rest assures that you can use it on big sofa while connected to your smart TV or set-top box. Pairing is very simple as well. Just press the Bluetooth pairing button. Then connect to 'Wekey AT321…' on your device. Finally, input the PIN code and press enter at Wekey keyboard will do. Multi-Pairing function is one of the nice features that I love. Yes, I am able to connect Wekey to my Windows 10 tablet, Android Galaxy S4 smartphone and iOS iPad 3. And use Fn + F1 / F2 / F3 to switch between them easily. There is no need to manual pairing and key in PIN code again. This is very convenient because I can use it to reply SMS on smartphone then switch back for office work on tablet then.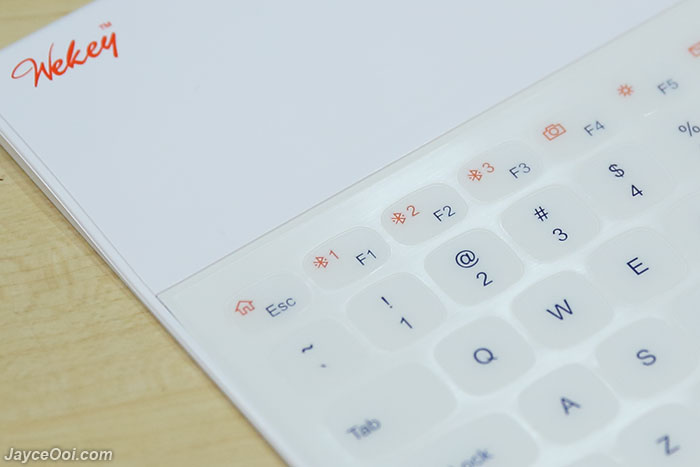 How is the battery life? It manages to survive after 2 weeks of casual usage. I have no doubt that Wekey battery life is great. And it takes less than 2 hours to fully charge.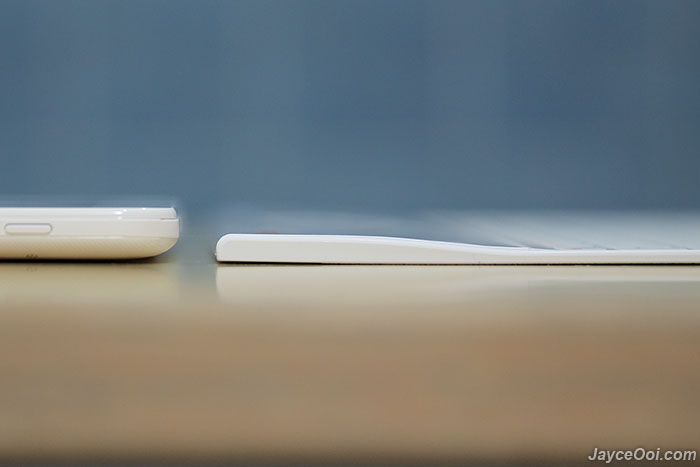 Thinnest and lightest are the main selling points of Wekey. Furthermore, it is flexible yet strong in addition water resistance too. It is really an ultra-portable Bluetooth keyboard that eases to carry around. You can put it in backpack or tablet pouch easily. And use it at library, office or anywhere that you want. Sound great, right? Okay, here is the catch. It lacks tactile feedback which bulky mechanical keyboard has. Due to that, you may not type as fast as mechanical keyboard. No vibration likes smartphone as well. Thankfully, Woorin added sound effect whenever key is touched. You can adjust the sound volume (off, middle & max). This requires time to learn and adapt like you type on tablet's touchscreen.
Yes, Wekey is water resistance. No worry if your coffee spilt on to it accidently. Just use a cloth to clean it afterward will do. And all the function keys are very useful no matter in Windows or Android. Yup, the home key will bring you back to home screen in Android. Launch default browser in Windows 10. Email function key will bring up default email application as well. Media and volume control keys sure are helpful here too. Finally, you can use camera function key to bring up camera application and take photo remotely too (Android only). Last but not least, its touchpad another plus in both Windows and Android too. There is no need to bring addition mouse in order to have pointer in those platforms. And the wheel ease page scrolling too. Clockwise to scroll down and anti-clockwise for up at Windows (the other way on Android).
Advantages
Extremely thin & light
Multi-pairing up to 3 devices
Built-in touchpad & wheel
Long battery life
Superior Bluetooth range
Water resistance
Limitations
Lacks tactile feedback (require time to adapt)
LED light too bright (at dark environment)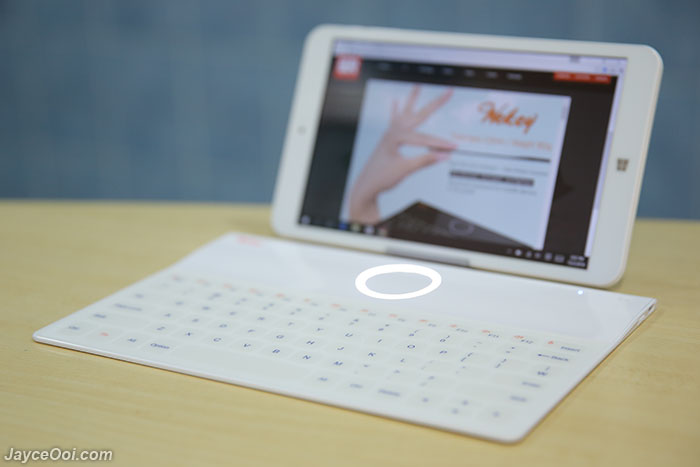 Conclusion
Woorin Wekey Bluetooth Keyboard is extremely light and thin to carry around. Besides, it has touchpad and wheel as mouse replacement. Water resistance and loaded with lot nice features. Do take note that it is using touch keys instead of mechanical ones. Time to adapt is required. More information can be found at Woorin Website. Get yours here.
P/S – I am using Wekey to type this review with tablet. Yes, typing speed is slower than normal full size keyboard which I familiar. But I am enjoying Starbuck coffee comfortably at the same time. That's something…