How is your hard disk drive performance? Is its reading and writing speed fast enough for your video editing applications or fast pace gaming? CrystalDiskMark is a free disk benchmark software. It can benchmark reading and writing speed of hard disk drive (HDD), solid-state drive (SSD), and flash memory like Secure Digital (SD, SDHC, SDXC) and Compact Flash (CF) cards.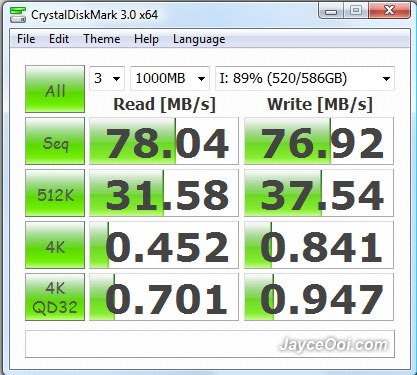 CrystalDiskMark Features
Measure sequential reads/writes speed
Measure random 512KB, 4KB, 4KB (Queue Depth=32) reads/writes speed
Select test data (Random, 0Fill, 1Fill)
Theme support
Multi-Language support
Above benchmark data is coming from Samsung HD103SJ 1TB hard drive. It is able to read at 78 MB/s and write at 77 MB/s sequentially. And read at 31 MB/s and write at 37 MB/s randomly with 512KB. Frequent hard drive defragmentation will help to improve reading and writing speed. Or upgrade to solid-state drive which have better random reading and writing speed.
CrystalDiskMark is a nice benchmark tool for Secure Digital and Compact Flash Cards too. You can use it to determine the minimum writing speed for SLR camera and video camcorder's flash memory cards.
Download CrystalDiskMark v3.0 here.