Introduction
EASEUS Partition Master is hard disk partition management software from EASEUS ~ CHENGDU YIWO Tech Development Co., Ltd. It is used to resize, move, copy, create, delete, format, convert, explore, hide and unhide partitions for Windows Server 2000/2003/2008 and Windows 2000/XP/Vista. It has 4 editions which are Home Edition (free for home user), Professional Edition, Server Edition and Unlimited Edition (32bit and 64bit).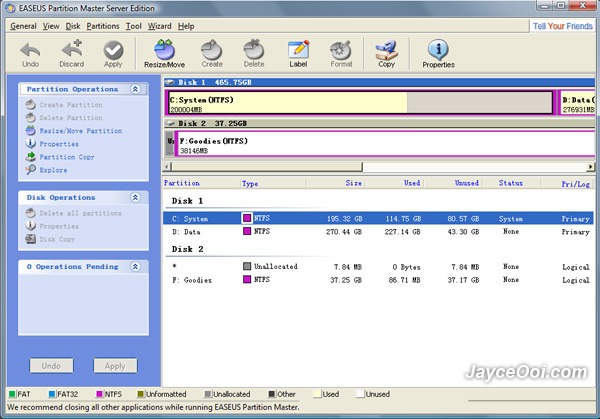 Features
Resize and move partitions without losing data.
Hard Disk Copy or Partition Copy Wizards – Easily upgrade/migrate hard drive or copy partition to protect data.
Copy with resize – Resize (shrink or enlarge) partitions and disks during copy process in order to fit target space.
Support hardware RAID.
Create, delete and format partitions with simple step.
Convert FAT to NTFS.
Explore FAT/NTFS partition.
Label partitions – assigned to a partition for easier recognition.
View Disk/Partition property of each partition.
Hide and unhide partitions – protect important data from unauthorized or casual access.
Set an active partition – specify one partition to be the boot partition.
Creates a bootable CD/DVD to manage partitions easier and faster. (Only Professional, Server and Unlimited Edition).
Supports Windows Server 2000/2003/2008 32 bit & 64 bit Operating Systems. (Only Server and Unlimited Edition).
Powerful safety features protect you against system failures while partitioning.
Step-by-step wizard walks you through partitioning process.
Preview any partitioning tasks before completing it.
Change cluster size automatically and manually.
Undo feature any partition step.
Support hard disks from 2 GB to 1.5 TB.
User-friendly interface.
Convert FAT to NTFS.
Explore FAT/NTFS partition.
Test Setup
CPU
Intel Core2 Extreme quad-core processor QX9650
Motherboard
GIGABYTE EP45-DS3
RAM
2 x 2GB Corsair Twin2X4096-6400C4DHX DDR2
Hard Drive
500GB Seagate Barracuda 7200.11 SATA 3Gb/s
40GB Fujitsu MHT2040AH 5400 PATA
Operating System
Windows XP 32-bit SP2
Windows Server 2003 32-bit SP2
Windows Vista Ultimate 64-bit SP1
Results
I am using Windows Vista Ultimate 64-bit as my primary platform. However, Windows Disk Management cannot do a simple task ~ resize partition. My system has 2 partitions which are drive C (270GB) and drive D (196GB). I tried to make drive D disk space bigger by using shrink and extend volume function in Windows Disk Management. However, Windows Disk Management cannot shrink drive C even I have 100GB free disk space.
EASEUS Partition Master 3.5 Server Edition comes to save the day. EASEUS Partition Master managed to do the simple task for me. It took 1 hour and 40 minutes to resize drive C from 270GB to 196GB. It moved the data first then resizes the partition. And it took same time to extend drive D from 196GB to 270GB. A reboot was required to run these operations.
I like EASEUS Partition Master's Hard Disk Copy and Partition Copy features. It is useful to upgrade existing hard drive data to another. For those have lot of disk space, you can make backup of your partition by using Partition Copy function. No need to worry system crash anymore as you can restore back your data anytime you want. It supports sector-by-sector copy and also faster file-by-file copy. I tested Partition Copy function with 2GB partition with 200MB video file on it. It took only few seconds to backup this partition to another because it just copies the 200MB video file by using file-by-file copy.
I am not a computer expert. Can I use this tool? Sure. EASEUS Partition Master is easy and simple to use (basic partition knowledge required). There are local help documentation and online help/FAQ to get you started to use this tool. Just go through the guide and follow the instructions to have your tasks done. Wizard is also available to simplify the task. It gives you the power to control partition easily.
Things that I don't like… The bootable CD does not support Windows Vista. It prompts not to use it on Windows 2008 and Vista. I stopped immediately as I don't want to mess up my data. I tried to use it on my IBM T42 laptop. It failed to load the program and reboot after enter screen size selection page. Therefore, using bootable CD during emergency is not possible.
Conclusion
EASEUS Partition Master 3.5 Server Edition is a partition tool that will ease your life. It does what it supposes to do ~ manage partition perfectly. However, the bootable CD does not perform well. Overall, it is still a nice tool to have. Check out EASEUS website for more information.