Chainfire3D allows you to play Tegra, Snapdragon & PowerVR games on Samsung Galaxy S II with ARM Mali-400 MP GPU. However, by installing Chainfire3D itself does not allow you to play these games yet. Additional plugins are required to install before Chainfire3D can perform the task. Besides, you need to root Samsung Galaxy S2 first in order to use Chainfire3D. Not a simple task for beginner, so I created a step by step guide to install Chainfire3D on Samsung Galaxy S2.
Prerequisites
First of all, please get your Samsung Galaxy S2 rooted. Please follow this guide to do so – How to root Samsung Galaxy S2 with CF-Root? (Video). And make a full system backup before install Chainfire3D for just in case – How to backup Samsung Galaxy S2 with ClockworkMod Recovery? (Video). Nothing should go wrong, but no harm to make backup, right?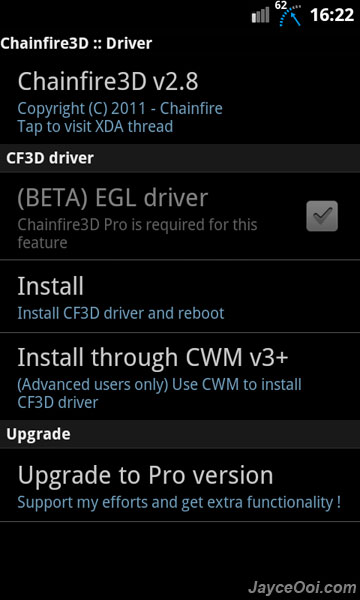 Step by Step Installation Guide
Install Chainfire3D from Android Market here.
Put these plugin zip files at sdcard.
Launch Chainfire3D.
Allow Superuser Request access when prompted.
Select CF3D driver ~ Install / upgrade / install CF3D driver.
Then select Install ~ Install CF3D driver and reboot.
After SGS2 rebooted, select Install plugins / shaders ~ Install plugins and shaders from SD card.
It will scan sdcard and external_sd for libGLEMU_NVIDIA.zip, libGLEMU_QUALCOMM.zip and libGLEMU_POWERVR.zip plugins.
Select each of them to install.
That's all.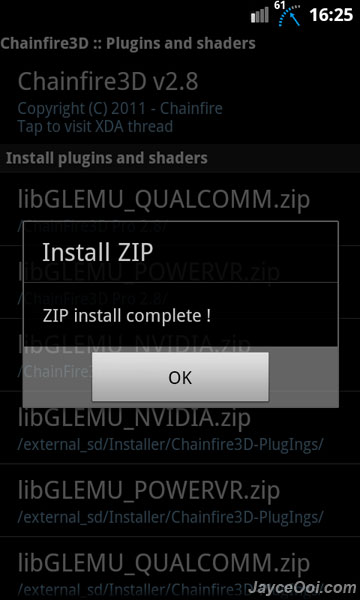 There are 3 popular plugins for Chainfire3D ~ NVIDIA, POWERVR and QUALCOMM. Select one of them for the Tegra, Snapdragon & PowerVR games that you want to play. For example, you need to select NVIDIA in order to play NVIDIA Tegra games like Galaxy on Fire 2 THD, Fruit Ninja THD, Guerrilla Bob THD, Arma II: Firing Range THD…
How to use Chainfire3D?
Launch Chainfire3D.
Select Default OpenGL settings ~ Configure default OpenGL settings.
Go to Use plugin ~ Load a plugin.
Select NVIDIA for Tegra games, or POWERVR, QUALCOMM.
Exit Chainfire3D.
Launch the games that you want.
That's all.
Enjoys Tegra, Snapdragon & PowerVR games on Samsung Galaxy S2.