Over-the-air OTA software update is the current trend of upgrade firmware for Android devices including Samsung Galaxy Note II. It is simpler, easier and faster to do so. Usually, Samsung Galaxy Note 2 firmware OTA software update is around 50 MB in size. And all the firmware update process is done on phone itself (no Windows PC or Mac is needed). Most of the time, system will notify you that there is a new OTA software update available. If no, just check for the software update by yourself manually…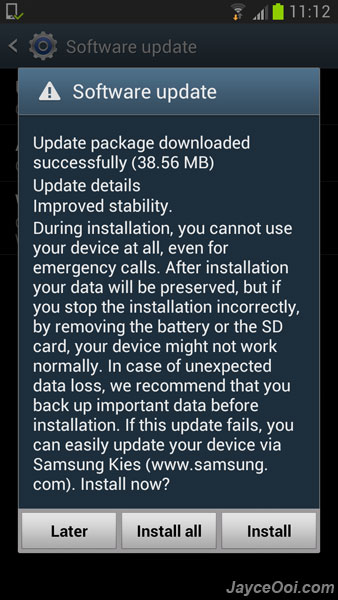 How to upgrade Samsung Galaxy Note 2 firmware with OTA software update?
Go to Settings.
Select About device.
Click on Software update.
Select Update ~ Check for updates.
System will download update package (if available).
Finally, select Install or Install all.
Samsung Galaxy Note 2 will be rebooted into recovery mode and process the update package. The whole process should be done in minutes. That's it. Enjoy the latest and greatest features, improvements and bugs fixed from Samsung Galaxy Note 2 OTA software update.