Introduction
Hey guys, meet the latest ANC Earbuds by Tronsmart. Apollo Air is loaded with 35dB full frequency hybrid active noise cancelling. Powered by industry-leading Qualcomm QCC3046 chip with high-quality aptX audio decoding. And using customized graphene driver for better sound quality. Don't forget its six mics with cVc 8.0 technology for crystal-clear calls too. Sound great? Read on to find out…
Special Thanks
This review is possible thanks to below companies. Be sure to check them out…
Tronsmart for this Tronsmart Apollo Air TrueWireless Stereo Plus Hybrid ANC Earbuds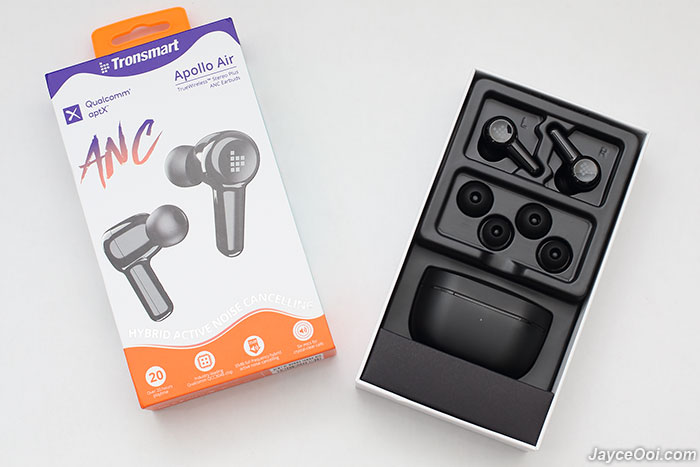 Package Content & Design
Everything comes well-protected just like other Tronsmart products. Once opened, you can find Apollo Air itself, 2 additional pair of ear tips and the charging case.
Followed by USB-C charging cable, warranty card and user manual (in multiple languages). As usual, do go through the guide to know more about Apollo Air.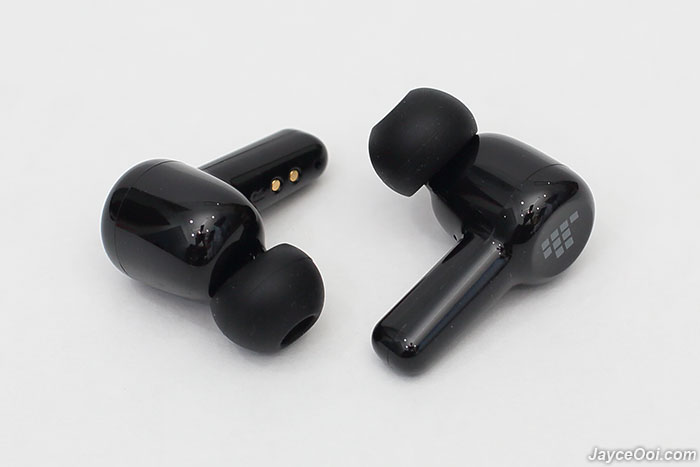 Build quality is great with sturdy plastic housing. Glossy surface as you can see. Super light in weight with just 40g only. It comes in 2 colours – black and white. Yes, it is loaded with 6 microphones. 2 feedback mics are located on the top, another 2 feedforward mics at the middle and the last 2 talk mics at the bottom. The Tronsmart Logo is the touch-able multi-function button. It is very sensitive.
Fit, Comfort & Isolation
Fit is okay not perfect. Maybe due to the oval bore tip design. I am using M size ear tips usually but I need S ones for Apollo Air. Comfort wise is okay as well. No complaint here. Just make sure to pick the correct ear tips size that matches you will do.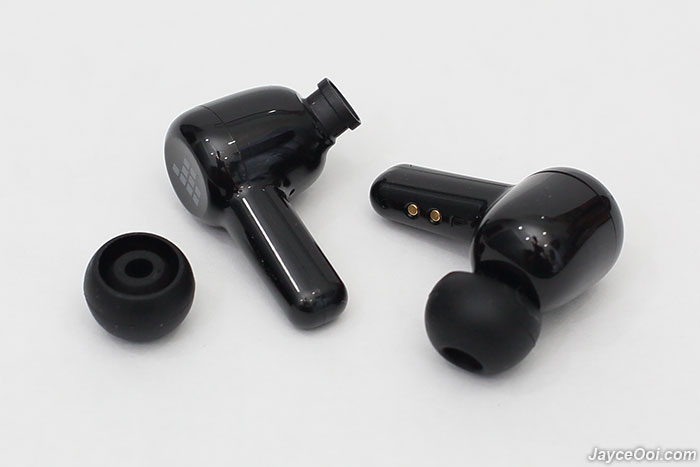 Yes, IP45 dust and waterproof are supported. Just focus on your exercise and no worry about sweat, splashes and even rain. As for passive isolation, it is decent. It can block some of the environment noises while music is being playback.
Performance Result
Excellent Hybrid Active Noise Cancelling performance for the price. Yes, Apollo Air does a great job on cancelling the environment noises. Better in ambient noises like engine from airplane, train and so on. They disappear totally when you play music with ANC turned on. Besides ANC, there are another 2 modes – ambient mode on and off. Ambient sound mode increases environment sound so that you can aware of your surrounding while commuting. Off is the normal mode without ANC.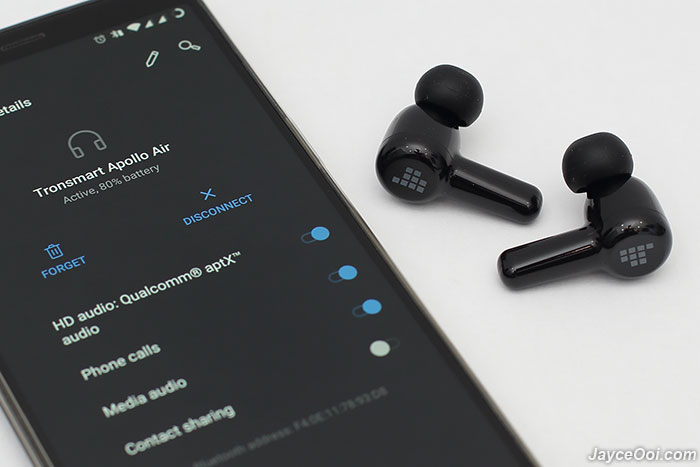 As for Bluetooth range, it is excellent as well for TWS. It can go up to 8m with obstacles like walls. Connection is very stable too. In addition, aptX and AAC audio codecs are supported and they have lower latency than the usual SBC codec. Thanks to TrueWireless Stereo Plus too. Yup, audio and video are virtually in sync that great for movie, games and MV. Lastly, you can use Apollo Air as stereo or mono as you wish.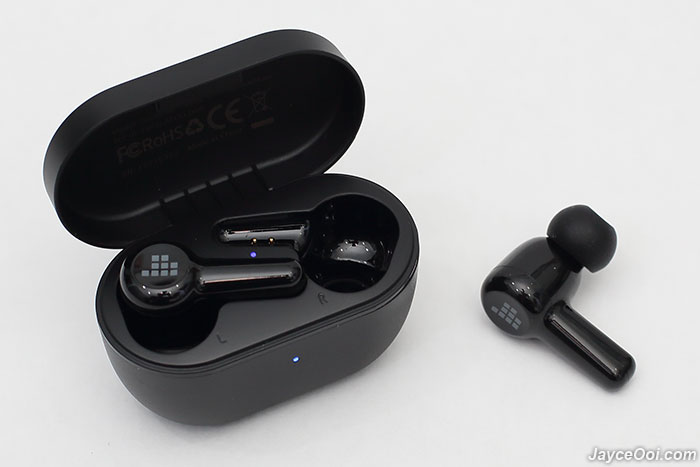 Based on specs, you can enjoy up to 5 hours of music playback. Over 20 hours of listening with the charging case. More than enough for your daily sport activities. And there is battery indicator status on iOS and Android devices.
Yes, excellent phone call experience is what you get. Thanks to 6 microphones with cVc 8.0 technology for crystal-clear calls. Others can hear me loud and clear.
Sound Quality
V-shape sound signature is what you get from Tronsmart Apollo Air. Yes, enjoy much more excitement due to that. And thanks to customized graphene driver for better sound quality too. As usual, this is the result that you get from perfect fit. Bass is gone if fit is not perfect. Highs are super bright and clear. A little bit too sharp for my taste. Certain songs will have harshness a bit. As for mids, vocals sound natural in both male and female. Placement correctly which not too close nor too far. Bass is punchy and powerful. Not bloated like those budget ones. The soundstage is decent. Not the best out there nor the worst. Instruments placement separation is clear even in the complex scene thanks to the sound clarity.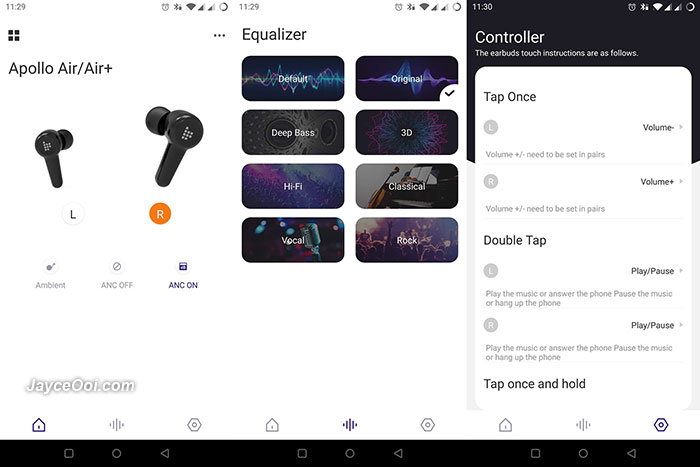 That's for the default setting. You can adjust its sound signature with equalizer in the Tronsmart app. There are Original, Deep Bass, 3D, Hi-Fi, Classical, Vocal and Rock. Each one of them has its own sound signature. Personally, I prefer Classical the most as it reduces the treble sharpness a bit while still retaining the powerful bass.
Advantages
Crisp V-shape sound with powerful bass
Excellent ANC for the price
aptX and AAC support
Outstanding microphone
Mobile App with EQ settings
Long battery life
IPX45 splash-proof
Limitations
Average fit (at least for me)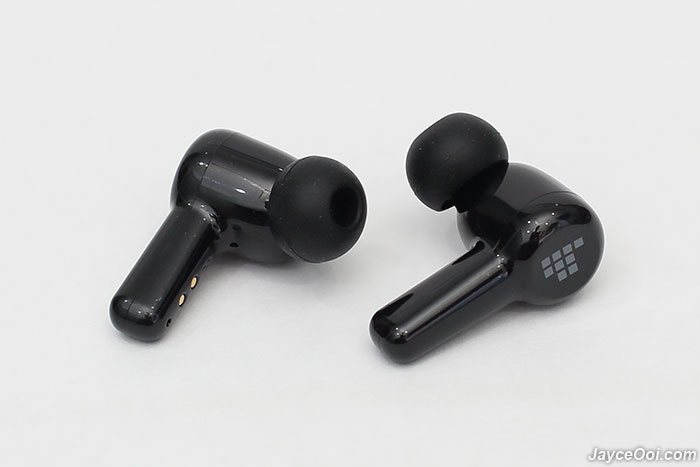 Conclusion
Hybrid ANC earbuds with sharp treble and powerful bass! Excellent ANC performance for the price. Don't forget the crystal clear call too. Interested? Get yours at Shopee or Lazada now.