BsB Tweaks v1.6 is a must installed application on HTC HD2. I forgot to mention it after using for several months. Too bad that it did not update since 27 December 2009. But the tweaks in version 1.6 are enough for you and me.
BsB Tweaks v1.6 Features:
Many Tweaks and Reg changes.
Rotation: Add rotation support to any applications easily.
Pinch to Zoom: Add zoom support to any application easily.
Data Connection: Enable/Disable Data connections.
Manila Language: Changes manila language.
Take screenshots of the screen when shaked!
Change Manila Left Softkey easily!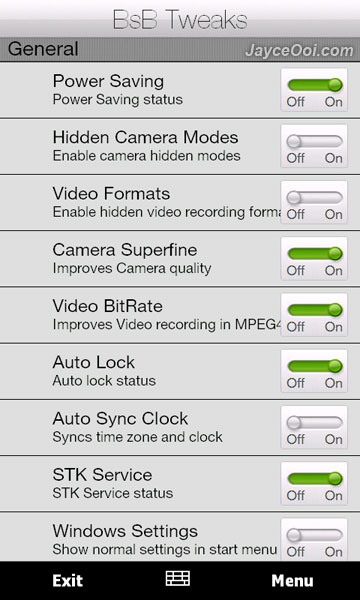 Tweaks list
General
Power Saving

– Enables the power setting options to save some battery.

Hidden Camera Modes

– Activates hidden camera modes (GPS photo mode & video share) .

Auto Lock

– Automatic lock the device when not in use.

Auto Sync Clock

– Automatic sync the clock and time zone.

STK Service

– Enable or Disable the STK Service (Sim ToolKit).

Windows Settings

– Show normal settings in start menu

SIM Contacts

– Show SIM contacts in your contact list.

SMS Mode

– Change SMS view, between Chat and classic view.

HTC Vibration

– Enable the vibration in HTC applications.

Customer Feedback

– Enable or Disable the custom feedback service.

Error Reporting

– Enable or Disable the error reporting service.

Owner Info

– Show or hide the Owner Info in settings.

Screen Sensitivity

– Decrease screen response sensitivity.

Polices

– Allow install and run unsigned applications.

HTC Magnifier

– Enable or disable the HTC magnifier option.

Phone Slide Cover

– Show or hide the incall slide cover option.

Windows Notifications

– Enable dismiss X time in windows notifications.

Radio Deemphasis

– Improves radio quality.
Performance
Glyph Cache

– Enable high glyph cache, graphics render for faster graphics.

TCP/IP Cache

– Increase cache of TCP/IP

Startup Animation

– Disable the startup animation for faster boot.
Graphics
System Menus

– Enable or Disable the default windows menu.

Manila Send Button

– Show send button in messaging applications.
Led Notifications
Message Notification

– Enable LEDS when you have a new SMS.

Voice Mail Notification

– Enable LEDS when you have a new entry in voicemaill.

Call Notification

– Enable LEDS when you have a missed call.

Reminder Notification

– Enable LEDS for reminder notifications.
Connections
Wifi N

– Enable Wifi N, to improve network throughput.
Opera 9.7
Opera Vibration

– Enable vibration in Opera browser.

Opera ZoomBar

– Show or hide the Opera zoom bar control.

Opera Visual Back

– Enable Opera visual back feature.

Opera Link Click

– Enable the ability to click links without zooming.

Opera Tabs

– Allow having 9 opera tabs in browser.
Download BsB Tweaks v1.6 for HTC HD2 here.