Introduction
Wow… 240W total power output! Can you imagine what kind of sound can it produces? Yes, I am talking about Vinnfier Champ 800 BTRM Bluetooth Multimedia 2.1 Speaker with Karaoke System. In addition, you are getting other useful stuff like FM radio, built-in media player (SD & USB), remote control and 2 microphone inputs. Yes, there is a free wireless microphone for you to sing karaoke all day long too. Sound great? Have a guess…
Special Thanks
This review is possible thanks to below companies. Be sure to check them out…
Vinnfier for this Vinnfier Champ 800 BTRM Bluetooth Multimedia 2.1 Speaker with Karaoke System
Zorloo for Zorloo Ztella USB DAC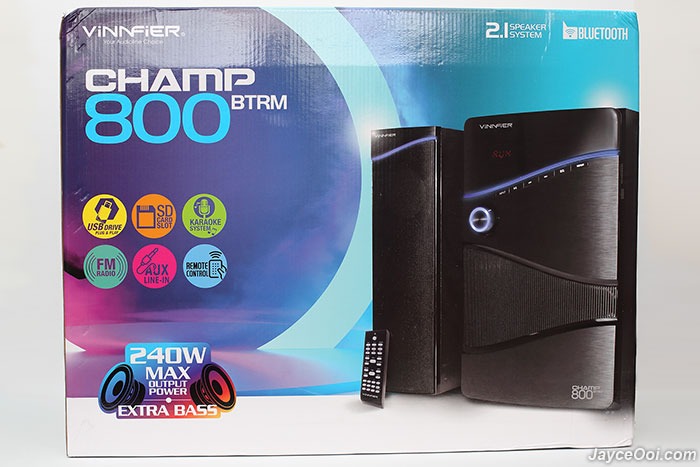 Package Content & Design
Champ 800 BTRM comes in a big packaging. Once taken it out, you can find wireless microphone, AUX cable, external FM antenna, multi-function remote control, 4 batteries (AA & AAA) and user manual. Be sure to go through the guide to get started.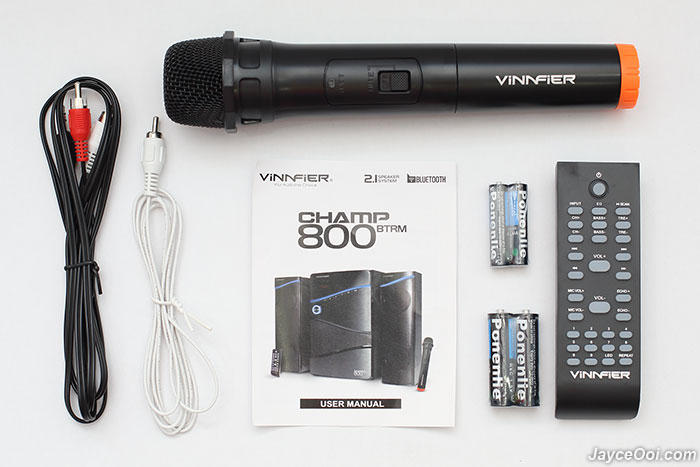 Build quality is decent with MDF wood as housing with front plastic panel. The speaker grill is metal by the way. No RGB light this round. Just the round volume control light up in blue when powered on. Stylish in design no doubt.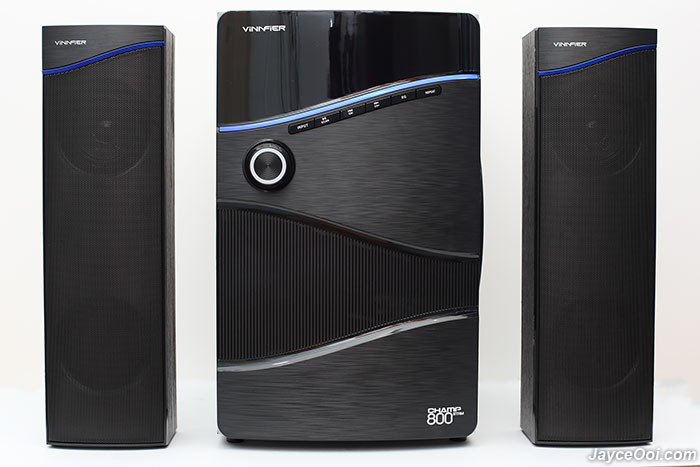 Alright, this is the 80W (RMS) subwoofer. A huge one with 8″ speaker driver on the right. 2 microphone inputs, SD slot and USB port are located there too. In the front, there is a master volume control with 6 playback buttons on top of it. Follow by LED display for audio modes.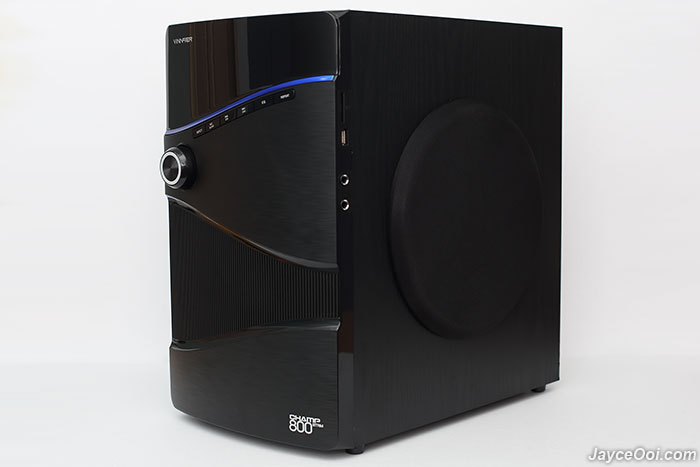 At the back, there are bass reflex port and all the inputs/outputs. FM radio antenna slot and on/off power switch are there as well.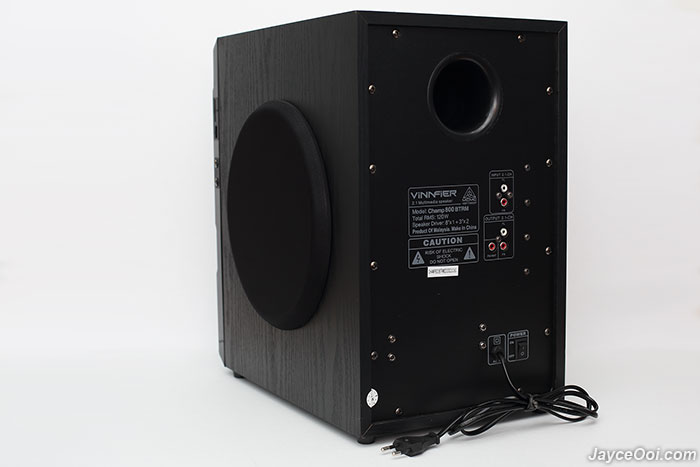 Here are the 2 tall satellite speakers that loaded with 3″ driver. Total satellite output (RMS) = 20W each. By the way, there is one driver only in each satellite speaker. The bottom one is blank.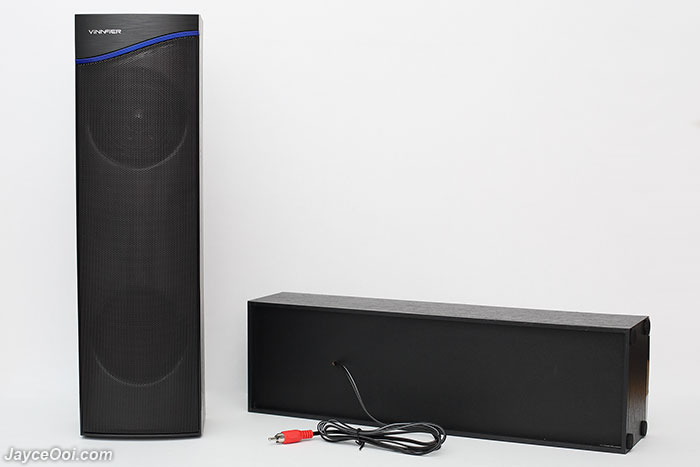 Performance Result
Excellent Bluetooth range! Stable connection and can reach up to 8m with obstacles like wall. And has virtually no lag between video and audio. This is great to watch movie, TV drama and play games on your mobile devices like smartphone and tablet. FM radio is signal is great too. Thanks to adjustable external antenna. As for the remote control, it can easily serve up to 8m in your big living room.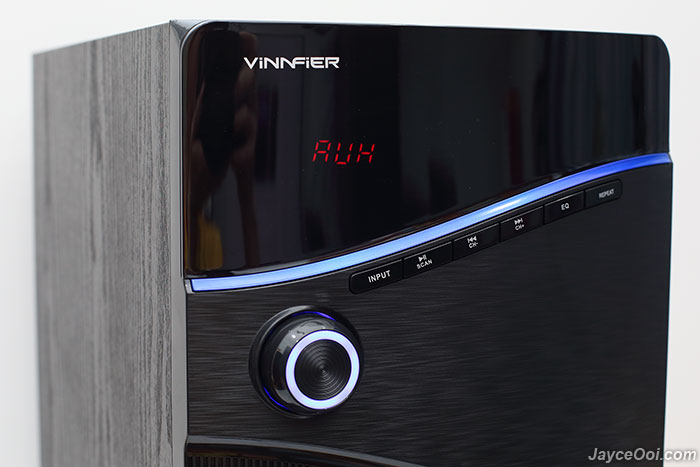 Yeah… Besides the usual MP3, Champ 800 supports FLAC music format as well. Just plug in SD card or USB flash drive and it will start to play music for you. Or continue to playback the period that stopped previously. Enjoy your favourite music all day long.
Sing non-stop too! Yes, the free wireless microphone is great for karaoke. Performance is decent thanks to dedicated microphone volume and echo control on the remote control. Adjust mic volume and echo level easily. Wide wireless range too. Do get Vinnfier WM1100DUO U for the best karaoke experience.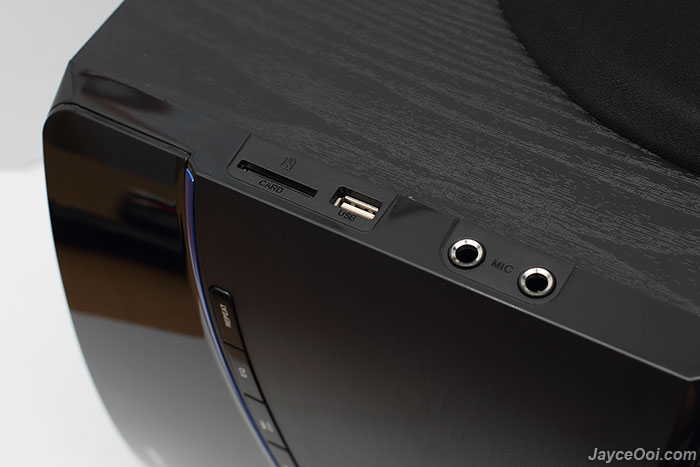 Thing to take note. It does not remember audio preferences, modes after power off. Therefore, do keep it as standby else you need to setup treble and bass settings again every time.
Sound Quality
120W total power output (RMS) will let you have party all day long. Powerful and loud enough for large living room. Just make sure that you won't disturb neighbours will do. Sound quality wise, it is decent for the price. It is a bright sound signature speaker out of the box. Thanks to equalizer modes, treble and bass volume control, you can adjust it to suit your personal taste. For me, I lower 3 steps for treble, increase bass for 2 steps and set EQ to number 4. In return, I am getting less harshness in the treble and more power in the bass department. Clear, loud and deep bass in return.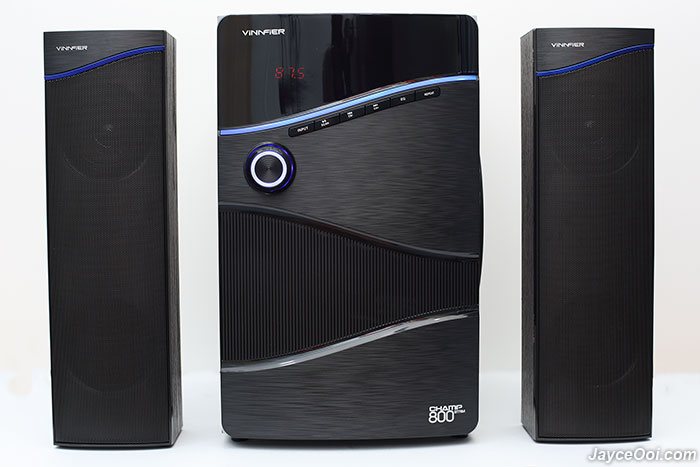 Vinnfier Champ 800 BTRM sounds great after proper calibrated. Highs are clear and sharp. Does not have the harshness out of the box anymore. Mids like vocal does add more warmness. Both female and male sound much more natural now. Bass is the star thanks to the large 8″ driver. Powerful and deep bass is what you get. Surely get a lot of excitements in movie and games especially in those action fighting and battle scenes.
Advantages
Clear & nice sound quality
Powerful deep bass
Wide wireless mic & Bluetooth range
Bluetooth, FM radio & MP3/FLAC player (USB & SD)
Great & sensitive mic
Mic slots for karaoke
Remote control
Decent build quality
Limitations
Can't remember last used audio source
Conclusion
Vinnfier Champ 800 BTRM performs well for the price. You can use it besides desktop PC or TV in the living room. Play non-stop games or karaoke all day long. Totally up to you. Interested? Get yours at Lazada or Shopee now.