Yeah… Received SMS from Celcom ~ Celcom Broadband Basic upgraded to 512kbps from 384kbps. However, the monthly volume quota is reduced from 5GB to 3GB based on Celcom website. Existing Celcom Broadband Basic customer should still get 5GB volume quota.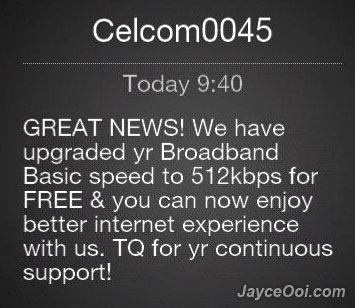 Does the new Celcom Broadband Basic really can get up to 512kbps? Let's benchmark it with SpeedTest.net.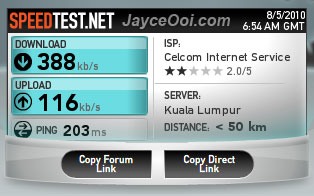 Well, it still cannot get the highest speed at 512kbps. It just reaches the previous speed of 384kbps. This is what we call an upgrade?
But I like the new Celcom Broadband Entry. It upgraded from 128kbps to 384kbps and increased volume quota from 500MB to 1GB. Perfect match for me since I did not use much data on my HTC HD2. And I can save RM20 per month on it. It's time to downgrade the data plan. 😛
Update ~ I just discovered there is another plan for me ~ Celcom Broadband Entry on Voice. It is a plan for those who have Celcom voice plan already. It is priced at RM38 with 500MB volume quota per month. I can save RM30 with it.