Introduction
Hey guys, check out my latest fanless mini PC – MINIX NEO Z83-4. It is powered by Intel Atom X5-Z8300 (64-bit). And loaded with 4GB DDR3L RAM and 32GB eMMC 5.0 as storage. Furthermore, it supports 802.11ac dual band Wi-Fi (2.4GHz/5.0GHz), Bluetooth 4.2 and Gigabit Ethernet. Have dual display output through Mini DP and HDMI. And comes with licensed Windows 10 Home (64-bit). How does this Multi-Purpose PC perform? Let's find out now…
Features
Palm-Sized Computing
Excellent Thermal Design
Desktop Performance
Multi-Purpose PC
Ready To Run Out Of The Box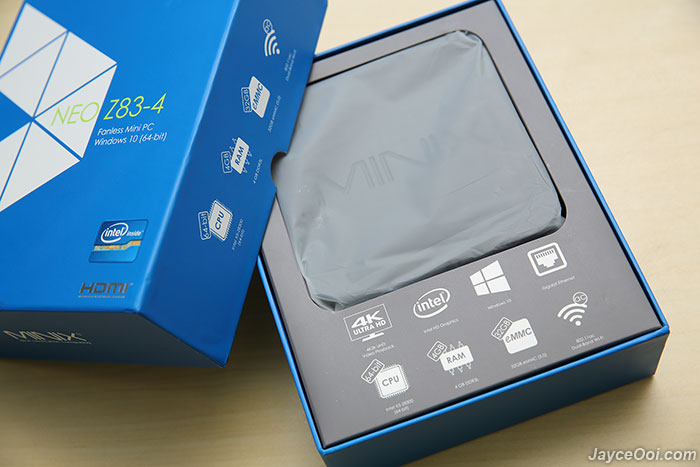 Package Content
NEO Z83-4 is well protected in the box. After took it out, you can find dual-band antenna, power adaptor, HDMI cable, product brochure and multi-language setup guide (English, Deutsch and Chinese) in the package too. By the way, the power adaptor is made by Delta Electronics. And you will get the correct plug for your region. Mine is UK plug as you can see.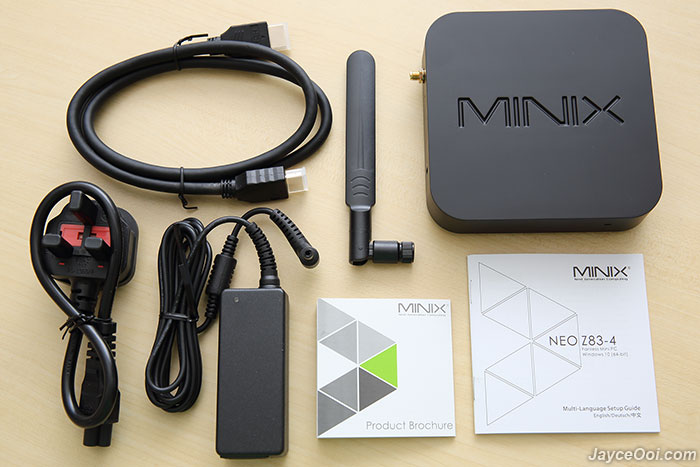 Build Quality & Design
MINIX NEO Z83-4 build quality is top notch as using sturdy plastic and metal (bottom) as housing. Besides providing protection, it also helps to reduce heat without the need of fan too. And still manage to keep it as compact as possible. Alright, let's talk about the design now. You find a LED status light indicator in front while a big MINIX logo on top. On the left, there are antenna, reset button and Kensington lock. And power button, micro SD slot, 3 USB 2.0 and 1 USB 3.0 slots on the right. At behind, there are microphone & headphone jack (combined), Mini DisplayPort, HDMI, RJ-45 Gigabit Ethernet and DC input. Finally, 4 round anti-skid pads at bottom. As usual, do refer to the photos to have better understanding.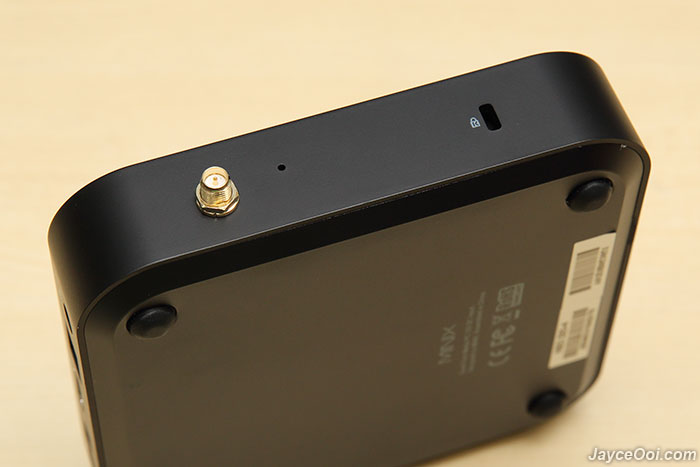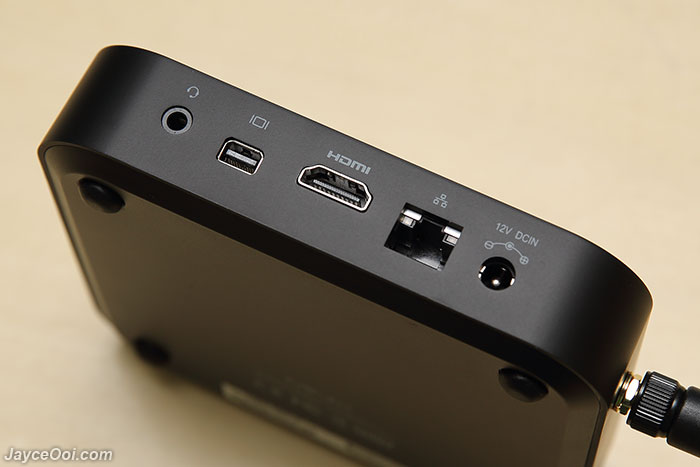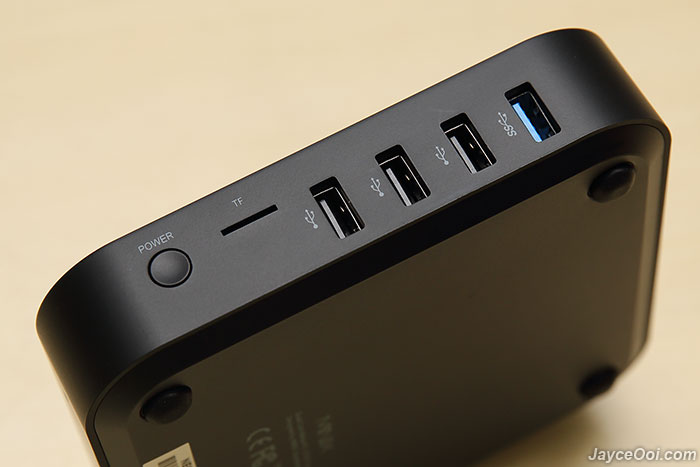 Specifications
Processor: Intel X5-Z8300 (64-bit)
GPU: Intel HD Graphics
Memory: 4GB DDR3L
Internal Storage: 32GB eMMC 5.0
Wireless Connectivity: 802.11ac Dual Band Wi-Fi (2.4GHz/5.0GHz), Bluetooth 4.2
Operating System: Windows 10 (64-bit)
Video Output: Mini DP + HDMI 1.4
Audio Output: 3.5mm Stereo Jack
Peripheral Interface: RJ-45 Gigabit Ethernet, USB 2.0 port x 3, USB 3.0 port x 1 Kensington lock ready, microphone & headphone jack (combined)
Power: DC 12V, 3A adapter included (CE, FCC certified)
Hardware
You should able to get some ideas on MINIX NEO Z83-4 hardware based on the specifications. More details from Hardware Info (HWiNFO) like Intel Atom X5-Z8300 features and frequency support, Intel HD Graphics Gen 8 GPU and single channel 4GB of RAM. And it is loaded with latest BIOS v1.4.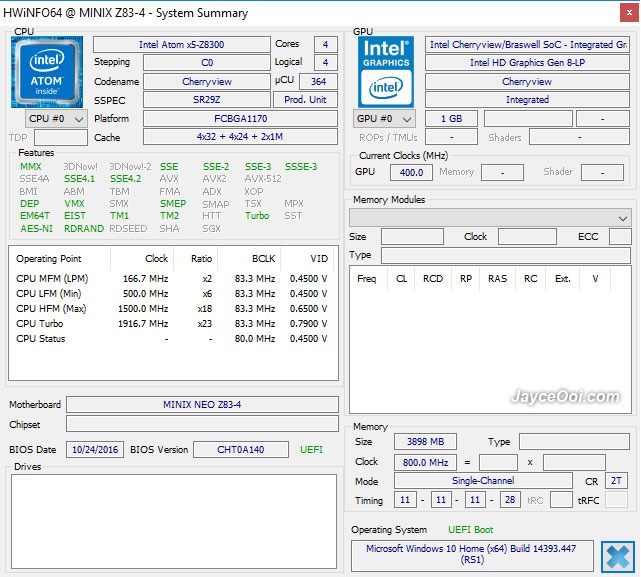 Software
NEO Z83-4 comes with pre-installed genuine Windows 10 Home (64-bit) – latest version 1607 (Anniversary Update). That's it. No other software or bloatware is included. Just install your own applications then, right? By the way, it will prompt you to setup Windows for the very first time after boot up. Yup, most of your full desktop Windows applications should work flawlessly thanks to 4GB of RAM. Rest assures that Windows Apps from Microsoft Store will run perfectly fine. And you will get around 15GB available free storage out of 32GB.

Benchmark
Okay, here are synthetic benchmarks data for those who like to see. PCMark 8, 3DMark and CrystalDiskMark should able to give you in-depth technical data on NEO Z83-4 overall performance. Home test was performed in PCMark 8. It does not have the best result like full desktop PC but does its job. Same apply to Intel GPU which run casual 3D games like Zen Pinball FX2 smoothly. Just don't expect to play high end fast paced games like Battlefield 1.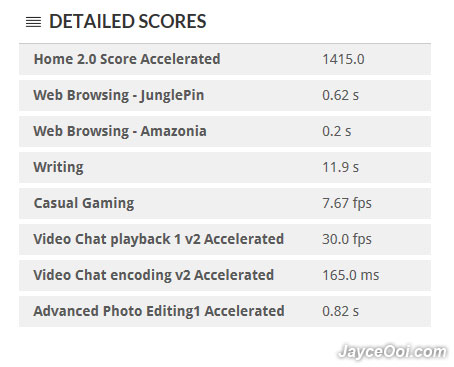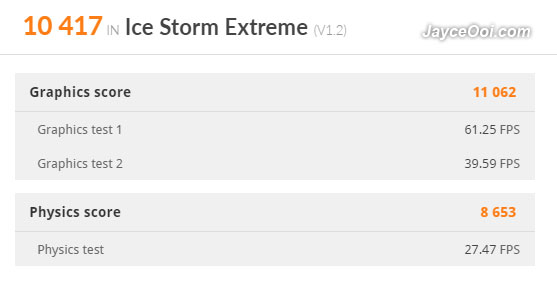 32GB eMMC 5.0 has decent performance. I manage to get 133 MB/s for reading and 65 MB/s for writing. MicroSD slot manages to get maximum reading from 64GB SanDisk Extreme microSD card but slower writing. As for USB 3.0 port, it is performing at best where my 2TB Toshiba HDD is getting maximum result for both reading and writing. You will get better result with SSD. Glad that MINIX includes USB 3.0 port here else transfer speed will be limited to 40 MB/s only when using USB 2.0 port.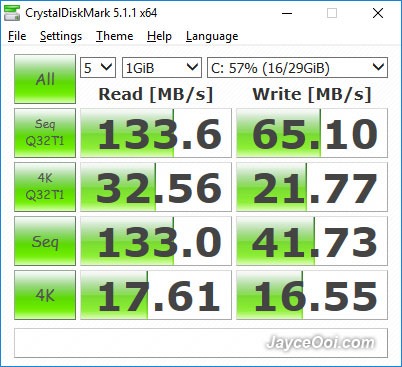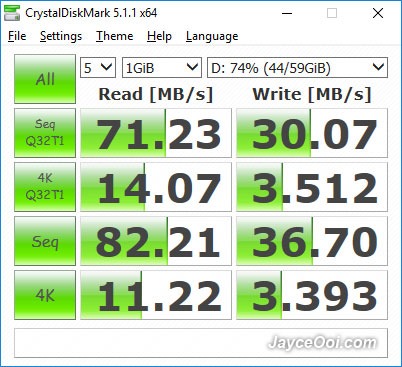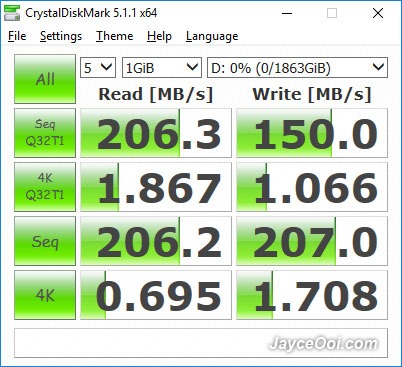 Performance Result
MINIX NEO Z83-4 took around 30 seconds to boot into Windows. And shutdown is fast too. All the connectivities are performing at their best except 5GHz AC connection. I manage to get 72Mbps on 2.4GHz connection, 433 Mbps on 5GHz and 1GB on Ethernet. File transfer performs well on 2.4GHz and Ethernet. However, I am not able to get maximum transfer rate on 5GHz – only half from my NAS. Maybe compatibility issue with my ASUS router. Need more time to troubleshoot on this one. Bluetooth range is excellent as Wi-Fi. Easily exceeds 10m Bluetooth range in straight sight line with no obstacle. Up to 7m with obstacles.
Dual display output is a plus for office work. Yes, you can have one display on HDMI and another one with mini DP. This will greatly increase your productivity. Furthermore, 4GB of RAM allow you to multi-tasking too. No problem to open up to 10 tabs in Google Chrome browser with 1080p YouTube video being playback. It use around half of the RAM only but utilize 100% CPU resource due to YouTube video playback. I can run Adobe Photoshop tasks just like desktop PC but slower. But hey, it is better than cannot run at all, right?
As a home theater PC (HTPC), NEO Z83-4 is performing very well too. It can play video up to 4K Ultra HD 3840 x 2160 H264 30fps smoothly with Kodi. 1080p videos in h.264 or h.265 codec are piece of cake for it. Same apply to popular audio codec like AAC (Dolby Digital), AC3 (DTS), Dolby True HD and DTS HD-MA 5.1 channels. Everything looks good until you throw in 4K 10Bit HEVC videos. Can't play these 10Bit videos. However, 8Bit ones are working fine. Do take note…
Intel Atom platform performs very well on Moonlight (NVIDIA GameStream). Same apply to NEO Z83-4. You can play games on 1080p 60fps on 20Mbps flawlessly. I don't have the exact latency number based on Moonlight Chrome version. But it is in sync with desktop PC with virtually no latency at all. Basically, it performs just like desktop version but on bigger TV screen through MINIX NEO Z83-4. And you can enjoy all your favourite games no matter fast paced or casual one with gamepad (like GameSir G4s Review) on big comfy sofa.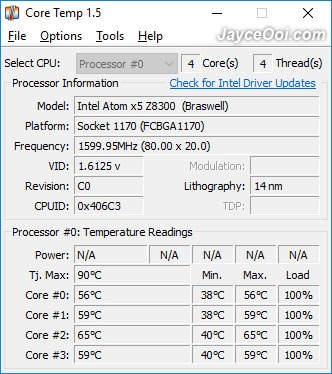 MINIX NEO Z83-4 remains cool even on 100% loaded. Yup, I ran CPU stress testing with Prime95 which basically used up all 100% of 4 cores. And above is the result after 1 hour of running Prime95. All the CPU cores are below 60°C except one touches 65°C. This is possible thanks to excellent thermal design and absolute silence due to fanless too. Furthermore, it is using much lesser energy compared to desktop PC.
Advantages
Decent overall performer
Licensed Windows 10 Home included
Great wireless & Ethernet
Dual display output
USB 3.0 + 3 USB 2.0 ports
Perfect performance on GameStream
Excellent build quality
Limitations
Slow 5GHz Wi-Fi (need to troubleshoot)
Can't play 4K 10Bit HEVC video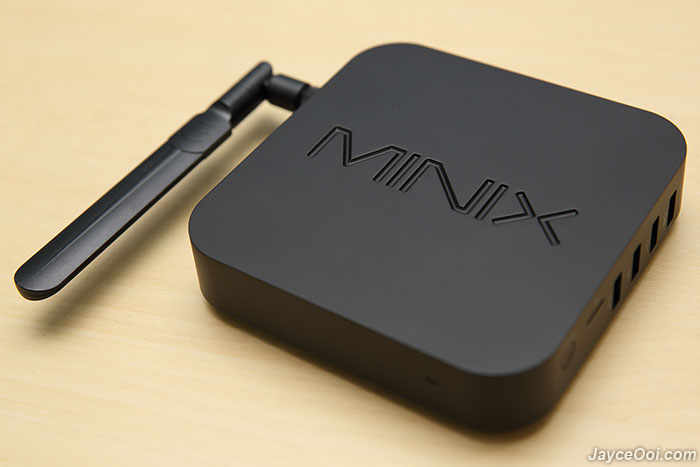 Conclusion
MINIX NEO Z83-4 Fanless Mini PC is a decent overall performer no doubt. 4GB of RAM is more than enough daily use and give you smooth multi-tasking experience. Don't forget dual display output too. With fanless design and energy-efficient, NEO Z83-4 is perfect to use as Multi-Purpose PC / HTPC for both home and office. Interested? More information can be found at MINIX Website. And buy yours at Amazon or GearBest.