Introduction
"Want to get connected to Internet anytime, anywhere? And share the connection with friends and family?" Maxis WiFi Modem (E5832) is the one that you need. It provides simultaneously connection up to 5 devices. And give you Internet access at anytime, anywhere (as long as there is network coverage). Sound good? Let's see how it performs…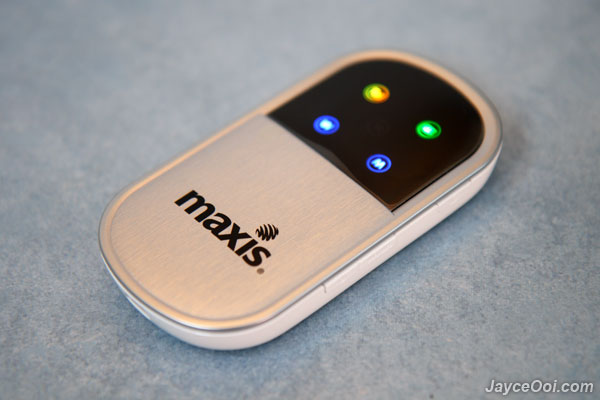 Maxis WiFi Modem (E5832)
Package Contents & Design
Maxis WiFi Modem (E5832) is a small and light portable modem. It is easy to carry around like in your pocket, handbag or even laptop bag. For detail features and specification, please check this post ~ Maxis WiFi Modem (E5832) Hardware Tour.
Software
Maxis Broadband Connection Manager is the application that bundled along. You can install the application into your PC and use it when connected with USB cable. You can send and receive SMS, access to SIM card contact and Statistics page with it. Or just access to Maxis Broadband Connection Manager Page with Wi-Fi connection. You can change the all the modem settings there. More details at Maxis WiFi Modem (E5832) Software Tour.
Battery Life
Battery life is one of the important factor on portable device. You don't want a device that cannot last long enough for you to finish all your works. Based on 1 week++ of testing, Maxis WiFi Modem (E5832) is able to provide Internet access for around 5 hours on single charge. And can be fully charged with 2.5 hours.
Connectivity
Maxis WiFi Modem (E5832) Wi-Fi signal is good when fully charged with USB powered. It is on par with my home ADSL wireless modem router. Both of them are located at the same place on 1st floor living room while my PC is on ground floor bedroom. My PC, iPad and smartphone are able to access Internet flawlessly at the same time. However, Wi-Fi signal strength dropped when on battery mode. Not an issue though when you just carry it around with you on the road. As for wireless broadband connection, that's purely depended on Maxis Wireless Broadband speed and coverage at your place.

Modem Wi-Fi Signal Strength
Fully Charged with USB Powered | Battery Mode
Wi-Fi 802.11g (54 Mbps) is not working. 802.11b (11 Mbps) is the maximum speed that I can get from the modem even force it connects as 802.11g. It does not affect Internet access performance but heavily increase file transferring time between 2 devices. It took around 6 minutes to transfer 100 MB file from PC to iPad.
Conclusion
Maxis WiFi Modem (E5832) is easy to carry around as it is a small and light. And can act as USB drive with microSD card inserted. A nice companion for your device like iPad no matter at home or outside. I only wish that 802.11g mode is working.
Interested in Maxis WiFi Modem (E5832)? Get yours at Maxis.