Introduction
Meet MINIX NEO Z83-4 Pro – the latest fanless mini PC from MINIX. NEO Z83-4 Pro offers a near identical configuration like previous variation – MINIX NEO Z83-4 but with 3 distinctive differences. It is loaded with licensed Windows 10 Pro that supports more commercial software applications, powered by Intel Atom X5-Z8350 and comes with VESA mount for easy mounting, removing cable clutter from desk. How does it perform compare to previous version? Let's find out…
Special Thanks
This review is possible thanks to below companies. Be sure to check them out too…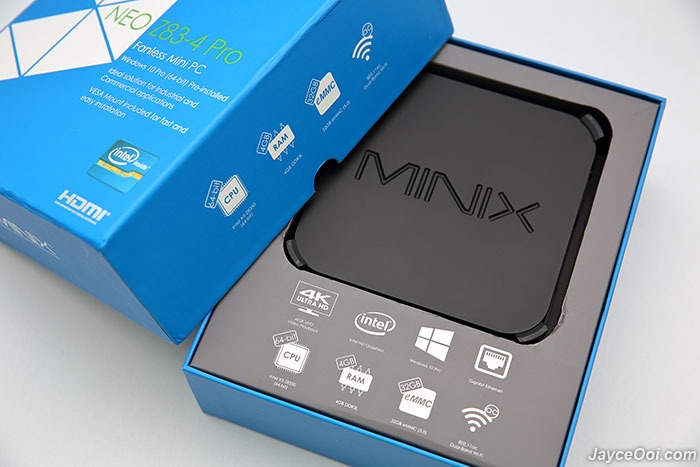 Package Content
MINIX NEO Z83-4 Pro comes well-protected as usual. There are the usual dual-band antenna, Delta Electronics 3A power adaptor, HDMI cable, product brochure and multi-language setup guide (English, Deutsch and Chinese). Plus the new VESA mount and 6 screws.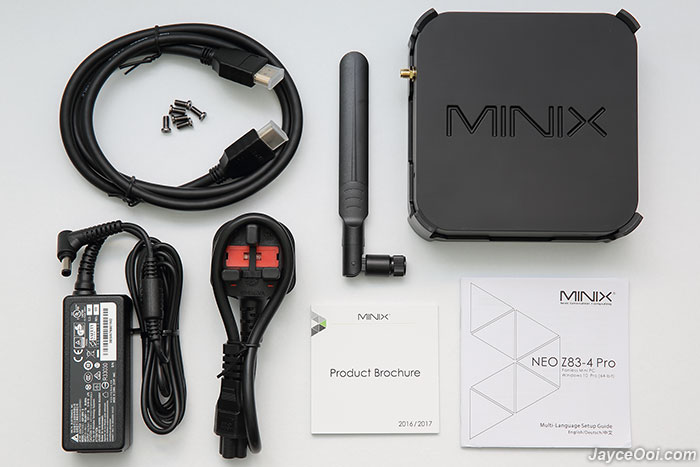 Build Quality & Design
MINIX NEO Z83-4 Pro has the same top notch build quality – sturdy plastic and metal (bottom) as housing. And having the same layout design as well except NEO Z83-4 Pro has Windows Pro logo at the bottom. Of course, the VESA mount too. Not going to cover them one by one here again. Do check out MINIX NEO Z83-4 Review for details. Or just refer to below photos. You should be able to get some ideas. In short, loaded with lot of stuffs.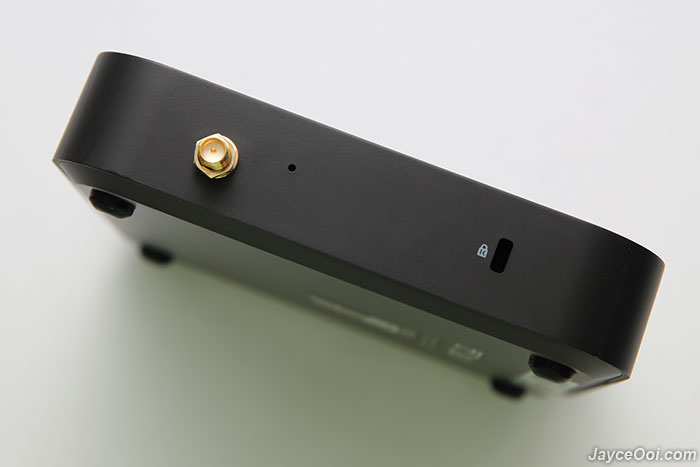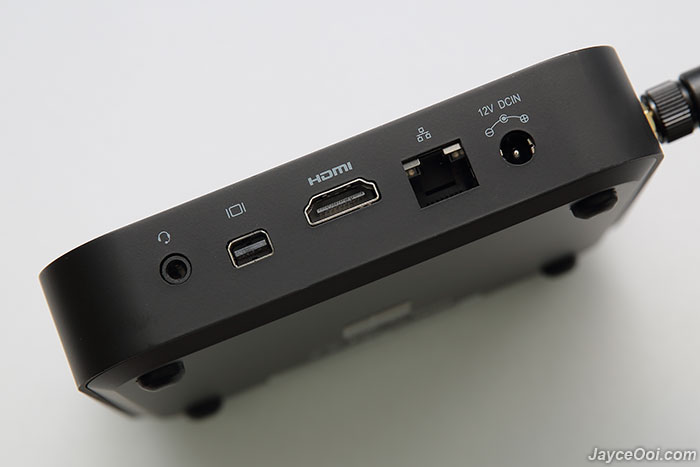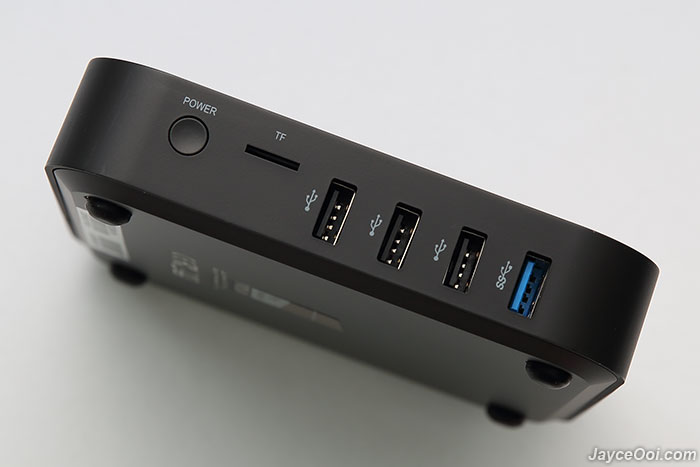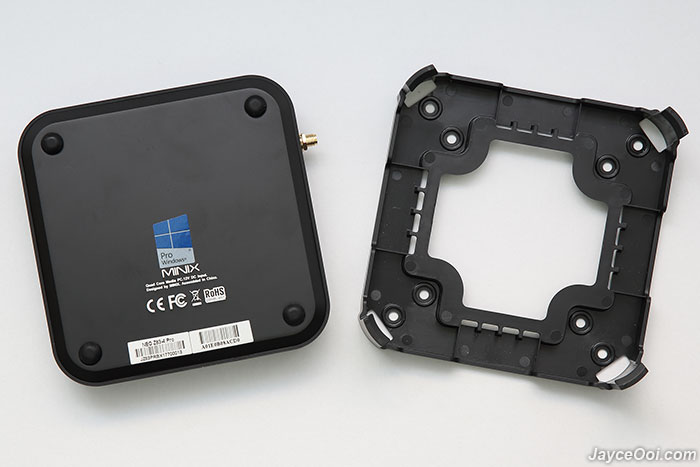 Hardware
NEO Z83-4 Pro comes with Intel Atom X5-Z8350 this round. Overall, it does have a little bit performance boost when compare to the specs. Hardware Info (HWiNFO) will give you some details about it. Basically, it is using the same Intel HD Graphics 400 GPU with 500 MHz max frequency. And loaded with 4GB DDR3L RAM and 32GB eMMC 5.0 as storage. Supports 802.11ac dual band Wi-Fi (2.4GHz/5.0GHz), Bluetooth 4.2 and Gigabit Ethernet.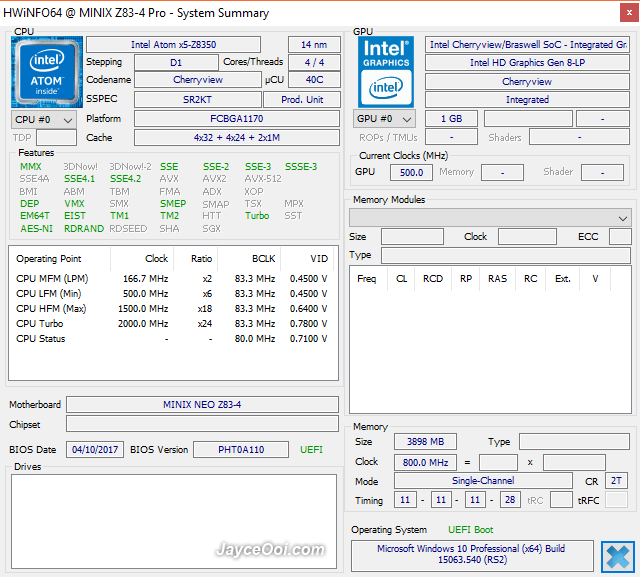 Software
Microsoft Windows 10 Pro Creators Update version 1703 is the one that you get. Genuine OEM version by the way. And you will be greet by Cortana, the personal assistant for Windows 10 to get Windows setup for the very first time. What is the different between Windows Home and Pro version? Here are some advantages that Windows 10 Pro has… Windows Information Protection and Bitlocker in Security, lot of stuffs in Business – Management and deployment and Windows Fundamentals. Great for business and enterprise as you don't need to purchase separate copy of Windows 10 Pro in order to use these features. It comes pre-installed.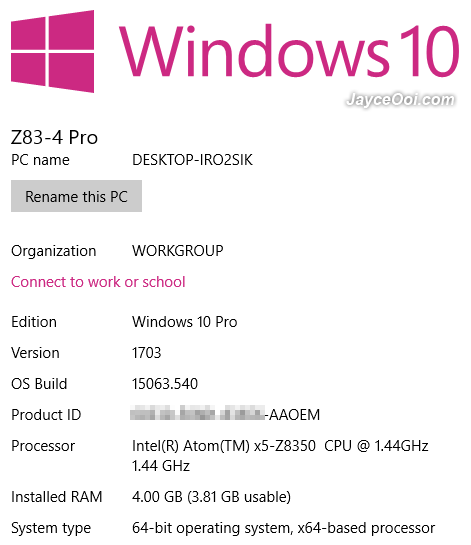 Benchmark
The synthetic benchmark results should be almost the same, right? Yes, and no. Just check out below PCMark 10, 3DMark Ice Storm Extreme, CrystalDiskMark and iPerf3 results to find out…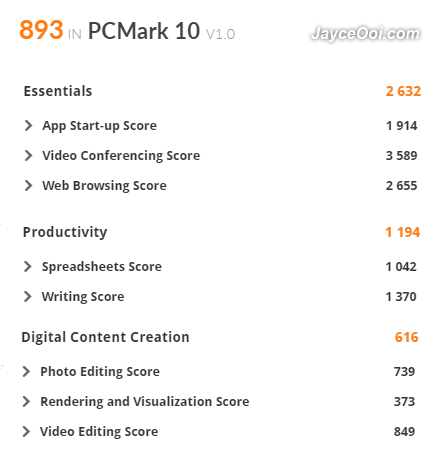 PCMark 10 is the latest version. And I will start to use it as reference from now on.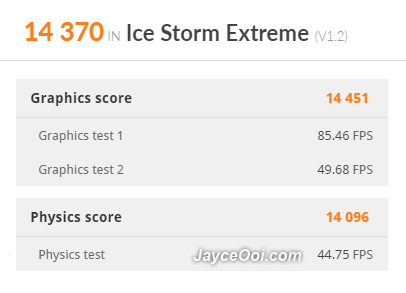 Surprise! 3DMark has better scores on NEO Z83-4 Pro. Maybe better GPU driver and higher frequency help here.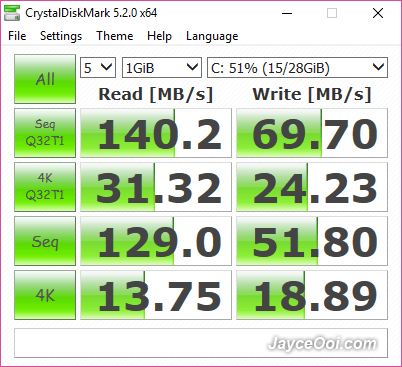 32GB eMMC 5.0 performs almost the same here.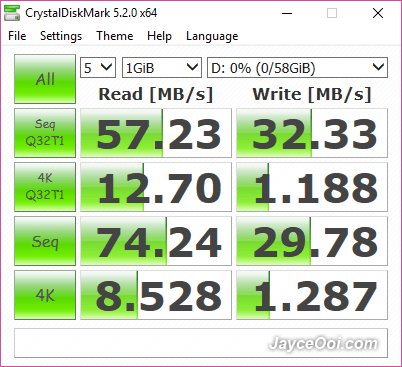 micro SD slot performance depends on your card – fast card == better performance in both write and read.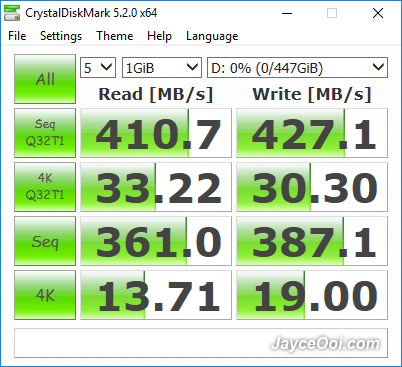 Here is the result of USB 3.0 port with external SSD. The best way to get more storage space and maximum transfer rate.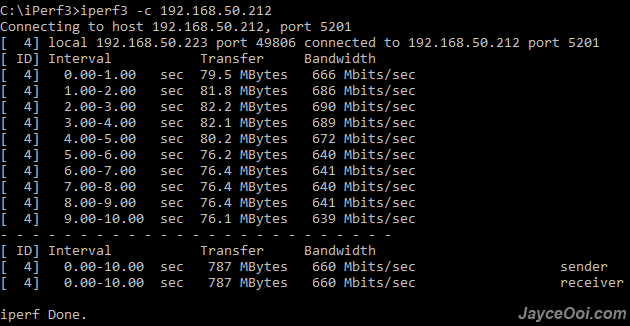 Connectivity test results are mixed. It manages to get connected at 72Mbps on 2.4GHz, 433 Mbps on 5GHz and 1GB on Ethernet. Based on iPerf3, 2.4GHz is getting 45MBit/s, 5GHz with 80MBit/s and 660MBit/s on Gigabit Ethernet as above. Facing the same slow 5GHz transfer too. On the other hand, Bluetooth range is great as usual.
Performance Result
MINIX NEO Z83-4 Pro continues to perform well as Multi-Purpose PC for both home and office. Better with Windows 10 Pro support as enterprise can take advantages of these Pro features such as Remote Desktop. And increase productivity with dual display output. Furthermore, 4GB of RAM is more than enough for office works and multi-tasking. Perfect for industrial application, digital signage, POS and thin client solution too.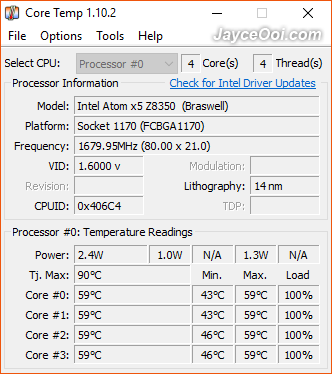 I like fanless passive cooling design because it is totally silent during operational. And does not have any moving parts and 100% solid state components to provide longer product life for sure. Just take a look on above Core Temp data, NEO Z83-4 Pro remains cool even on 100% loaded. Note – CPU stress testing with Prime95 ran for more than an hour. All the CPU cores are below 60°C and that's cool for passive cooling. In addition, it is using much lesser energy compared to desktop PC too. Cost saving no doubt.
NEO Z83-4 Pro performs well as home theater PC (HTPC) too. You can enjoy 4K Ultra HD 3840 x 2160 H264 30fps smoothly with Kodi media player. Yup, enjoy all your favourite movies on big comfy sofa at living room. Same apply to games streaming with Moonlight (NVIDIA GameStream) that I like most. It has virtually no latency at all on Atom X5-Z8350. Perfect to play PC games on bigger TV screen through NEO Z83-4 Pro with game controller.
Advantages
Decent overall performer
Licensed Windows 10 Pro included
Dual display output with VESA mount
USB 3.0 + 3 USB 2.0 ports
Perfect performance on GameStream
Excellent build quality
Limitations
Slow 5GHz Wi-Fi
Can't play 4K 10Bit HEVC video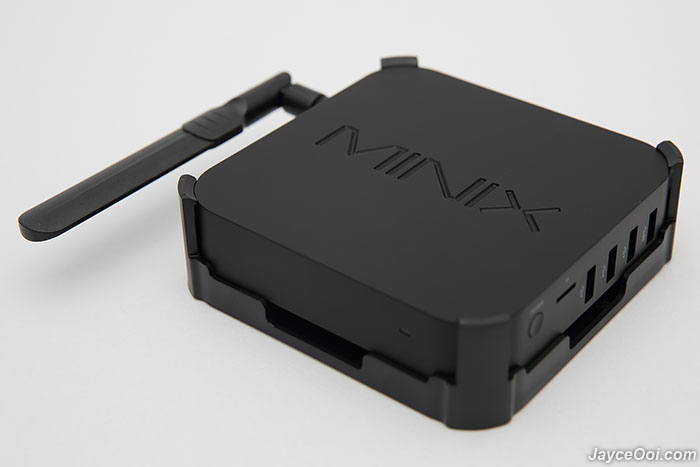 Conclusion
MINIX NEO Z83-4 Pro continues as a decent overall performer. And comes with extra goodies like Windows 10 Pro, VESA mount and upgraded CPU. An affordable, versatile mini PC that work great on both home and office no doubt. Interested? Buy yours at GearBest, Amazon.